Learning Commons
Writing Help, Research Help, and Learning Strategies
Learning Commons Workshops | All UofT Library Workshops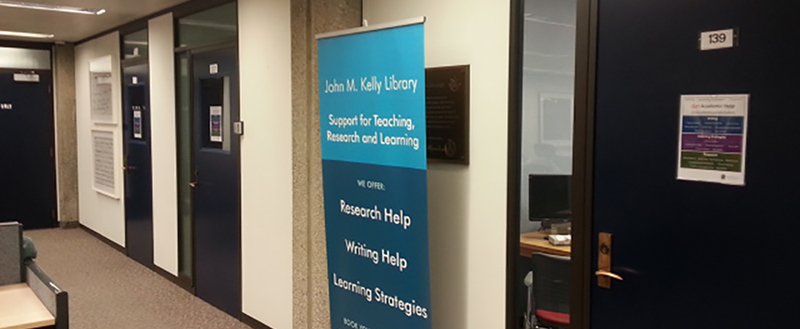 Writing a research paper? Try SMOLworld, our interactive research essay guide.
Cancellation Policy
If you need to cancel an appointment, please do as soon as possible, but at least 24 hours in advance. This will allow other students to get an appointment with an instructor sooner. Repeatedly failing to cancel appointments within the required time or failing to show up for scheduled appointments may result in you being blocked from booking further sessions.
Group Study Rooms
Rooms 201, 202, 205, and 206 are not bookable; they are first-come, first-served.
You can book the Presentation Practice Room online.
If you have questions, please ask at the Circulation Desk on the Ground Floor.
More group study rooms are available at other UofT Libraries.
Help Finding Library Materials
We can help you navigate databases, find journal articles, books, primary sources, and e-resources, and gain confidence researching so you can get your assignments off the ground.
Circulation Desk
To borrow books and DVDs.
Monday to Friday 8:30 a.m. to 4:45 p.m.
Reference Desk
To ask a librarian for help with your research.
Monday to Thursday 12:00 p.m. to 4:00 p.m.
Borrowing Library Materials
Anyone with a valid University of Toronto library card can borrow circulating materials.
People without a University of Toronto library card can purchase a Kelly Library Extramural Reader's card ($40.00 per year; $30.00 per year for USMC alumni).
Read more on library loan periods, renewals, holds, late/damaged materials, and inter-campus and interlibrary loans.
Personal Librarian Program
All first year St. Mike's students have a personal librarian at the Kelly Library. Your Personal Librarian is your UofT library contact.
Kelly InfoExpress for Graduate Students
University of St. Michael's College Graduate Students in the Faculty of Theology, Department of French, German, Italian, Slavic, and DMin students in the Toronto School of Theology can request a PDF copy of any journal article or book chapter available in U of T libraries. Requests are usually filled within four business days.
Manda Vrkljan
Kelly InfoExpress Co-ordinator