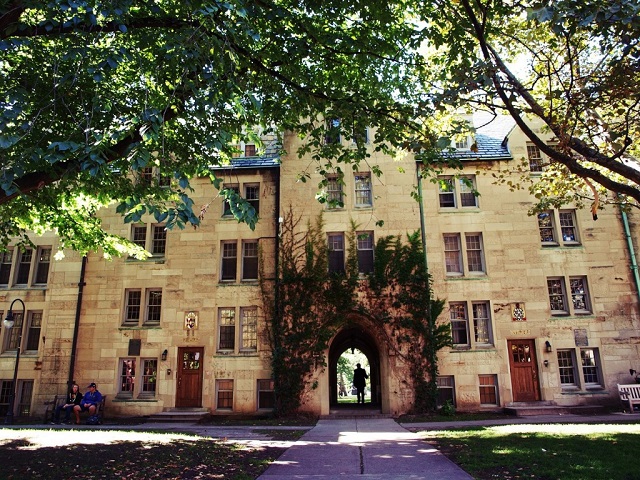 St Michael's College Residence (SMC Residence) is the oldest residential community at U of T. Founded in 1852 by the Basilian Fathers, St Michael's has been serving the needs of students from all backgrounds for over 150 years. Our residents come from all over the world and study in a variety of disciplines, at many different academic levels. Situated on the eastern side of the St. George campus, our residence is located in the center of the college's spacious and beautiful grounds in the heart of downtown Toronto. SMC Residence provides accommodation for 568 students within 5 buildings that range from older Victorian-style homes to larger, more modern structures.
Convenience – You are just steps away from your classes, as well as all the other unique opportunities our urban campus has to offer.
Experience – Enjoy the independence of living on your own in the heart of downtown Toronto with a support network to help guide you through the transition.
Support – Each house has its own 'don' who is responsible for fostering community, promoting social and academic events, and enforcing residence rules.
Community – Our community promotes active participation in a variety of ways that help foster a supportive environment of friendship and well being.
Living at St. Mike's

Buildings

SMC has 5 different residence buildings:

-Sorbara Hall
-Elmsley Hall
-Queen's Park
-Historic Houses
-Brennan Hall

Discover our residence buildings further here.

Meal Plans

SMC offers diverse all you-care-to-eat meal plans. Residents choose either a 5-day or 7-day meal plan and eat in the Canada Room, St. Mike's beautiful dining hall.

Applying to St. Mike's

Application

*New student applications for the 2016-2017 academic year will open on March 1st, 2016*

Ready to submit your application for the 2015-16 academic year? Apply to residence now.

Waitlist

As vacancies may arise later in the summer or during the actual academic year, we encourage students interested in SMC Residence to apply to our waitlist. Join our waitlist.

Summer Housing

Want to live at SMC in the summer during the months of May to August? Learn more about summer housing.

Residence Leadership

Dean's Office

SMC Residence is managed by the Office of the Dean Students. Meet the residence team.

Dons

Dons live in residence and supervice the residence houses while helping students transition into university life. Learn more about the dons.

Residence Council

St. Mike's Residence Council are the elected representatives of all students living in residence and coordinate a variety of events and initiatives. Learn more about the SMRC.

Take a Tour

Want to see why SMC Residence is the place to be? Come to one of our drop-in tours!

Tours begin Monday January 18th and run through to April 1st, 2016 and are offered every week on:

Monday                2:30pm-3:15pm

Monday                6:15pm-7:00pm

Tuesday               1:00pm-1:45pm

Tuesday               2:00pm-2:45pm

All tours depart from Elmsley Hall (81 St Mary Street) at the Porter's Desk. No registration is required. Learn more about our residence tours.

Contact Us

Frequently Asked Questions

Have a question?

Residence Office

Still have a question that wasn't answered in the FAQ's? Contact our office:

Brennan Hall, Room 203
81 St. Mary St.
Toronto, ON M5S 1J4
TEL (416) 926-7127
FAX (416) 926-2268
smc.residence@utoronto.ca