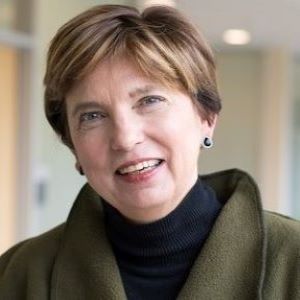 Associate Professor of Eco-theology
Director of The Elliot Allen Institute for Theology and Ecology
Room 309, Alumni Hall
Dr. Hilda P. Koster joined the Faculty of Theology as an Associate Professor in Eco-theology. Dr. Koster comes to St. Michael's from Minnesota's Concordia College, where she held joint appointments in Religion, Gender Studies and Environmental Studies.
Dr. Koster will help shape the activities and certificate program of the Faculty's Elliott Allen Institute of Theology and Ecology (EAITE), which was established in 1991 to allow students to acquire a specialization in theology and ecology.
Dr. Koster received her Bachelor of Arts and Master of Divinity degrees from The University of Groningen. After further study at Princeton Theological Seminary and the Candler School of Theology at Emory University in Atlanta, she earned her doctorate at the University of Chicago.
Dr. Koster's research interest is in ecological theology, eco-feminism, climate change and resource extraction.
Dr. Koster is currently developing an eco-feminist, de-colonial theology of the cross in response to the multiple challenges research extraction and climate change pose for marginalized and Indigenous communities.
Areas of Expertise

Systematic Theology
Theologies of the Cross
Ecological Theology
Eco-Feminist Theology
Political Theology
Religious and Christian Environmental Ethics
Theology and Science
Feminist/Womanist/Mujerista Theology
Religious and Theological Responses to Climate Change
Environmental Humanities
Anthropocene Studies
Petro-Culture Studies
Indigenous Cultures and Spirituality
Affect Theory and New Materialism

Links

Publications

Edited Books

The T&T Clark Handbook on Theology and Climate Change, joint editor with Ernst M. Conradie (London, UK: Bloomsbury Press, 2019).

Planetary Solidarity: Global Women's Voices on Christian Doctrine and Climate Justice joint editor with Grace Ji-Sun Kim (Minneapolis, MN: Fortress Press, 2017)

Theology as Gift: The Contribution of Kathryn Tanner to Contemporary Theology joint editor with Rosemary P. Carbine, (Minneapolis, MN: Fortress Press, 2015).

T&T Clark Explorations in Theology, Gender and Ecology (Bloomsbury Press), Book Series, first editor.

Articles in Academic Journals

"Questioning Eco-Theological Panentheisms: The Promise of Kathryn Tanner's Concept of God's Radical Transcendence for Ecological Theology," Scriptura: International Journal of Bible, Religion and Theology in Southern Africa, Vol. 111 (2012), 385-394.

"Greening the Imago Dei," Contribution to the Book Forum on Kathryn Tanner's Christ the Key, Theology Today, 68/3 (2011), 317-323.

Chapters in Multi-Author Volumes

"God's Work of Salvation In and Through Us," in The T&T Clark Handbook on Theology and Climate Change, ed. by Ernst M. Conradie and Hilda P. Koster (London, UK: Bloomsbury Press, 2019), 417-431.

"Trafficked Lands: Sexual Violence, Oil, and Structural Evil in the Dakotas," in Planetary Solidarity: Global Women's Voices on Christian Doctrine and Climate Justice ed. by Grace Ji-Sun Kim and Hilda P. Koster (Minneapolis,, MN; Fortress Press, 2017), 115-178.

"Creation as Gift: Reading Kathryn Tanner's Theology of Creation as Ecological Theology," in Theology as Gift: The Contributions of Kathryn Tanner to Contemporary Theology ed. by Rosemary P. Carbine and Hilda P. Koster (Minneapolis, MN: Fortress Press, 2015), 257-285

"Ecological Evil, Evolution and the Wisdom of God: Reimaging Redemption for Eco-Feminist Religious Practice in an Age of Global Ecocide," in Christian Doctrine for Global Gender Justice ed. by Jenny Dagger and Grace Ji-Sun Kim (London, UK: Palgrave, 2015).

Book Reviews

Kevin J. Obrien The Violence of Climate Change: Lessons of Resistance from Nonviolent Activists in Lutheran Journal of Christian Ethics (Summer 2018).

James B. Martin-Schramm Climate Justice: Ethics, Energy and Public Policy in Journal of Religion (September 2012).

Sallie McFague A New Climate for Theology: God, the World and Global Warming in Anglican Theological Review, 91/4 (Fall 2009).

Catherine Keller Face of the Deep: A Theology of Becoming in Anglican Theological Review, 88/4 (Fall 2006).

Sallie McFague Life Abundant: Rethinking Theology and Economy for a Planet in Peril in Journal of Religion (April 2004).

Richard Bauckham ed. God Will Be All in All: The Eschatology of Jürgen Moltmann in Journal of Religion (July 2002).

Ivone Gebara Longing for Running Water: Eco-Feminism and Liberation in Journal of Religion (October 2001).

Elaine Graham Making the Difference: Gender, Personhood and Theology n Journal of Religion (January 2000).

Endorsements of Books

Rachel S. Baard Sexism and Sin-Talk: Feminist Conversations on the Human Condition (Westminster John Knox Press, 2019).

Else Marie Pedersen ed, The Alternative Luther – Lutheran Theology from the Subaltern (Fortress Academic, 2019).

Celia Deane-Drummond A Primer in Ecotheology: Theology for a Fragile Earth (Cascade Books, 2017).

Celia Deane-Drummond Ecology in Jürgen Motmann's Theology (Wipf and Stock, 2016).

Richard A. Floyd Down to Earth (Wipf and Stock, 2015).

Presentations

"Eco-Feminist Theology as an Intersectional Theology," University of Groningen (The Netherlands), School of Theology (Theologische Faculteit), March 8, 2019.

"Climate Justice, Fracking and Native Women: The Case of the Dakotas," invited speaker Arctic Circle Conference, Iceland, October 2018.

"God and Climate: The Promise of Jürgen Moltmann's Kenotic Theology of Creation for Being Human in the Anthropocene." Lecture delivered at a conference in honor of the German theologian Jürgen Moltmann's Ninetieth Birthday, Candler School of Theology/Emory University, October 19, 2016

"Een Diepe Solidariteit: Klimaatsverandering, Vrouwen en Gerechtigheid," ("A Deep Solidarity: Climate Change, Justice and Women"). Plenary speaker at the Ecumenical Women Synod, Delft, The Netherlands, March 25-26, 2016

"In de Voetstappen van Sara en Ruth: Bijbelse Verhalen over Vrouwen, Vluchetlingen en Migranten" ("In the footsteps of Sara and Ruth: Biblical Stories about Women, Refugees, and Migrants.") lecture on the Bible, Women and the Syrian Refugee Crisis. Speaker

Ecumenical Women Synod, Delft, The Netherlands, March 25-26, 2016

"Planetary Solidarity: Gender and Climate Justice in a Global Perspective," invited keynote speaker, St. Paul's University, Ottawa, Canada, March 8, 2016.

"Climate Change, Sin and Justifying Grace: A Proposal," International Colloquium on Sin, Pre-Conference AAR, November 2019.

"Sin-talk and the Violence against Native Women and The Earth: The Case of North Dakota." International Colloquium on Sin, Pre-Conference AAR Annual Meeting, November 2018.

"Sextrafficking, Fracking and Ecological Evil in the Bakken Oil Fields," Book Panel on Planetary Solidarity: Global Women's Voices on Christian Doctrine and Climate Justice, AAR Annual Meeting, November, 2017

"God in an Age of Ecocide: Thinking with Kathryn Tanner," Book Panel on Gift of Theology, AAR, Annual Meeting, November 2015.

"Nature, Evil and the Wisdom of God: An Eco-Feminist and Theological Response to Holmes Rolston III and Lisa Sideris," AAR, Annual Meeting, November 2012.

"Greening the Imago Dei: The Ecological Promise of Kathryn Tanner's Christ the Key," AAR, Annual Meeting, October 2010.

"Missio Dei, Missio Mundi: Towards a 'Green' Missiological Ecclesiology" AAR, Annual Meeting, November 2009.

"Eschatology Re-visited: Ecological Apocalypse and Religious Hope," AAR, Annual Meeting, November 2008.

"Fractured Lands/Fractured Bodies: Petro-Culture and Violence against Indigenous Women" International Society for the Study of Religion, Nature and Culture, Cork, Ireland, June 2019.

"Fracking, Sex-trafficking and the Doctrine of Sin: An Eco-feminist Retrieval." Presentation at the Collegeville institute, Collegeville, MN (October 19, 2016)

"The Theology of Kathryn Tanner," Book launch of the Publication of The Gift of Theology, Philosophy Colloquium, Concordia College, Moorhead MN (March 18, 2016)

"An Eco-Feminist Response to Pope Francis' Laudato Si" Presentation at Interfaith Panel on Climate Justice, Concordia College (Concordia College, Moorhead MN, February 14, 2016

"Sin no More?" Retrieving the Doctrine of Sin for the Anthropocene," International Colloquium on Sin at the University of Stellenbosch, Stellenbosch, South Africa (August, 2015)

"Green Religion or Why the Environment is a Religious Issue," Presentation at the Faculty at Large Colloquium at Concordia College, Moorhead MN, March, 2015

"Larry Rasmussen on Lutherans and Ecology," Presentation for the Dovre Centre's Faculty Reading Group, Concordia College, Moorhead, MN, February, 2014

"Preaching and Teaching 'A Green Theology'," Presentation for Pastor to Pastor Study Retreat," Concordia College, Moorhead, MN, March 12, 2014

"Who is Afraid of the Big, Bad Wolf? Retrieving Divine Transcendence for Ecological Theology," paper given at the International Conference on 'Christian Faith and the Earth,' Stellenbosch, South Africa, August, 2012

"Towards a Just and Loving Christian Sexual Ethics: The Contribution of Margaret Farley to the Debate on Sexual Violence, Contraception, and Women's Rights," Contribution to Panel on Sexual Violence, Concordia College, Moorhead MN, March 12, 2012

"Ecology of Grace: Kathryn Tanner's Theology of Divine Gift-Giving," Presentation. Pastor to Pastor Study Retreat, Moorhead MN, October, 2011

"Towards a Protestant Theological Response to the Ecological Crisis," Presentation. Studium, St. Benedict Monastery, St. Joseph MN, June, 2009

"Eschatology, Ecology and Hope in the Theology of Jürgen Moltmann," Presentation. Faculty Colloquium, Concordia College, Moorhead MN, November 2008

"No Place in the Inn? Teaching Christian Theology as part of the Liberal Arts," Presentation Mid-West AAR Annual Meeting, Chicago IL, April, 2004

Education

PhD — University of Chicago

MDiv — University of Groningen

ThM — Princeton Theological Seminary

BA — University of Groningen