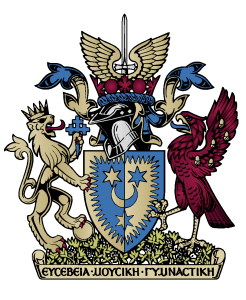 THE ST. MICHAEL'S COAT OF ARMS reflects our history and traditions. The design of the shield is based upon that of Armand de Charbonnel, second Bishop of Toronto, who, with the Basilians, founded the college in 1852.
The three star-like objects are spurs, and the crescent indicates that one of Bishop Charbonnel's ancestors took part in the Crusades. These symbols remind us that as Christian academics we must always be prepared to seek and defend the truth.
The tongues of fire around the edge of the shield allude to St Basil, known as the "Pillar of Fire" for his learning and charity.
The supporters (which are heraldic recognition of our status as a university), are an eagle, taken from the arms of the Hon. John Elmsley, who gave land to the college, and a Lion with a cross in its paw, the crest of Sir William Mulock, who helped bring about our federation with the University of Toronto.
The supporters stand upon a grassy hillock representing Clover Hill, the site of the first building erected to house St Michael's.
The Greek words of the motto stand for goodness and the development of mind and body. The words are taken from Psalm 118 and form the motto of the Basilian Fathers, "Teach me goodness, discipline and knowledge".