Ensure brand consistency across all platforms/devices.
Follow this format for contact information along with the optional official disclaimer.
Email Signature font and size
Font: Calibri Regular
Size: 10 pt.
Colour: Black
First Name Last Name, PhD
Your Job Title,
Official Department
University of St. Michael's College
in the University of Toronto
OFFICE: Building Name, 1 Street Name, Room 123
MAIL: 81 St. Mary Street, Toronto, Ontario, Canada M5S 1J4
TEL: 416-926-1300, Ext. 1234
EMAIL: firstname.lastname@utoronto.ca
WEB: stmikes.utoronto.ca/yourdepartment/
CONNECT:
www.facebook.com/uStMikes
twitter.com/uStMikes
www.instagram.com/uStMikes
This email (together with any files transmitted with it) is intended only for the use of the individual(s) to whom it is addressed. It may contain information which is confidential and/or legally privileged. If you have received this email in error, please notify the sender by return email (or telephone) and delete the original message.
Do
To Change Your Email Signature
From the email view In Microsoft Office 2010 go to
File > Options > Mail
Once the Mail window is open, look down the right side for the third option labelled Signatures.
After clicking on Signatures a new window will open. Click on 'New' and type a name into the box. Then click 'OK'.
Copy and paste the example into the 'Edit Signature' space. Fill in your full name, official title and office information. Refer to the official departmental addresses on the USMC branding website.
All departmental specific social media should be set without the social media icon(s).
Why No Images or Icons?
Icons should not be used because the images may be blocked from other email programs and they often appear as attachments.
Optional Simple Signature for Internal Audiences
The office and mailing address may be omitted for internal facing email.
First Name Last Name, PhD
Your Job Title,
Official Department
TEL: 416-926-1300, Ext. 1234
Don't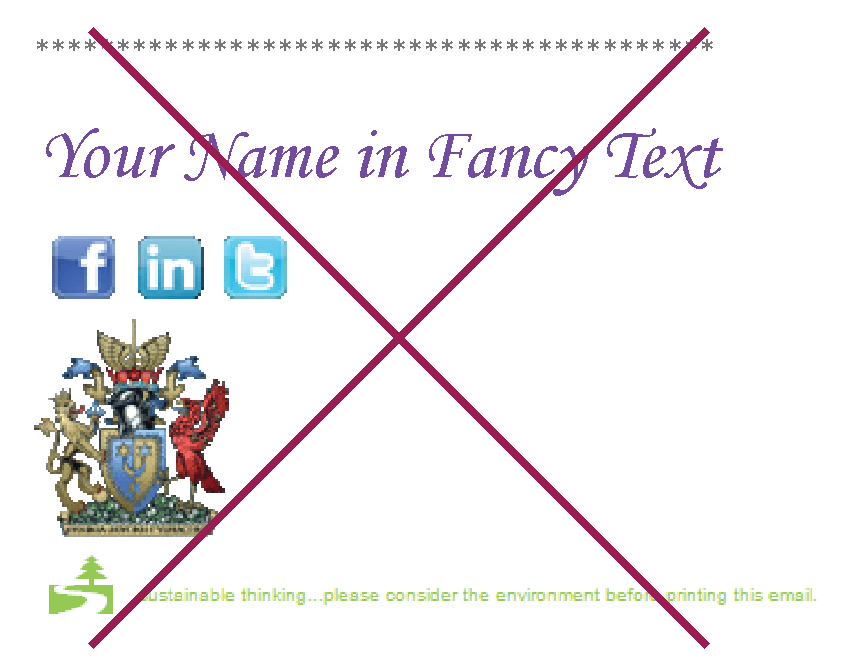 Don't include your email address. If your audience receives your email, they already have your email.
Don't "personalize" your signature. Avoid using different fonts, alternate colours or variations in font sizes.
Don't substitute "Your Name" with "fancy" or "handwritten" fonts.
Avoid links to personal social media accounts.
Don't include inspirational messages, disclaimers, sustainability notices or anti-phishing statements.
Consider Accessibility and Bandwidth
Don't add logo images, graphics or social media icons to the signature.
Here's Why
Not all recipients use MS Office and images, icons and coloured text may not display properly in other email programs.
Recipients may have preferences set to "Text Only"so they will not see the images or icons.
Images and icons are treated as attachments (which is a bandwidth cost on phones/devices) and can clog up a user's in-box or may cause the email to be filtered as spam.
Don't add any typographic borders or additional characters such as *****, =====, +++++, or ______ to separate email signature elements.
Use a line break instead.