Information Literacy Instruction
Arrange Information Literacy Instruction
For Undergraduate classes:
Silvia Vong 416-926-1300, ext. 3092
Richard Carter 416-926-1300, ext. 3444
For Graduate Theology classes:
 Noel S. McFerran 416-926-1300, ext. 3472
How it Works
Reference Librarians at the Kelly Library can come to your class and present a session on research skills and tools specific to your subject area. Alternatively, you can bring your class to the electronic classroom on the second floor of the Library. We can focus on whatever aspect of research you think would be most helpful for your students. We can also tailor our instruction to your assignments.
Kelly Library Syllabus Service
Portal, and Course Reserves)The Kelly Library Syllabus Service comprises:
Course Reserves
Online Links in Your Course Reading List
Creating electronic course readings
Linking to articles and books
Uploading of PDFs directly to Blackboard
Amending the loan period of books and DVDs
We will add permanent, copyright-compliant links to reading lists on your Blackboard course sites. These links will enable students to access readings quickly and efficiently by directing them to:
Full-text versions for online sources.
Catalogue records for print titles.
Contact
Kayla Gregg 416-926-1300, ext. 3471
Blackboard Portal Services
Get an introduction to Blackboard.
Fix problems you are encountering.
Customize online library resources for your course site in Blackboard.
Learn about more advanced Blackboard tools such as the Grade Centre, the Discussion Board, and Online Tests, Surveys, and Assignments.
Discuss ways of making the site more useful for your students and convenient for you.
Library Resources Pages for your Blackboard course sites
One difficulty students face is not knowing which sources to use–or where to find them. To solve this problem, the Kelly Library has customized library resources pages for many courses at St. Michael's. You can find these pages in the main left-hand menu for your course website in Blackboard. With our work, and your expertise, we can select the resources most appropriate for your course.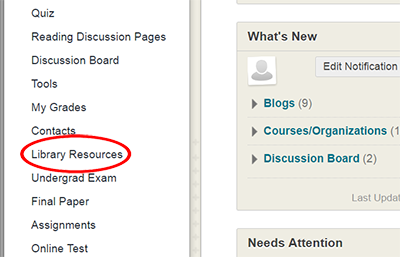 Each Blackboard course site includes a link in the left-hand menu to this resources page. Although the page chiefly promotes the increasing number of scholarly e-resources at U of T, it also helps students find relevant print titles. Each page contains:
a catalogue search box.
selected article databases (e.g. MLA International Bibliography).
online encyclopaedias and dictionaries (e.g. New Catholic Encyclopaedia).
Top Resources (intended for free web sources).
 Contact
Richard Carter 416-926-1300, ext. 3444
Silvia Vong 416-926-1300, ext. 3092
You can also get key UofT Blackboard information online.
Get Help with Copyright
Clarifying copyright guidelines
Reviewing readings for Blackboard
Locating alternate sources
Obtaining copyright clearance
Contact
Silvia Vong  416-926-1300, ext. 3092
Manda Vrkljan 416-926-1300, ext. 3430