This year witnessed the re-launch of one of the great traditions at the University of St. Michael's College: The John M. Kelly Lecture in Theology. On Monday, March 21, 2016, we were honoured to have Cardinal Peter Turkson, President of the Pontifical Council for Justice and Peace, present a lecture entitled Laudato Si': Let's Redefine Progress. Cardinal Turkson spoke to a crowd of more than 350 in St. Basil's Parish, and attended a reception following in Brennan Lounge, where he mingled with guests.
The Kelly Lecture, with its mandate to address theological issues, has a rich history within the university. The initial lecture, delivered by Roderick MacKenzie, S.J., on March 4, 1980, was entitled Relevance of the Old Testament in the '80s. Since then, the diverse list of guest speakers has included Peruvian theologian Gustavo Gutierrez, O.P., Quebec politician Claude Ryan, Archbishop Marcel Gervais, philosopher and humanitarian Jean Vanier, and noted Vatican journalist John Allen.
The lecture is named in honour of Fr. John Kelly, C.S.B., who was President of the University from 1958 to 1978, and is made possible through the Kelly Lecture Trust, a fund established by the University of St. Michael's College Alumni Association.

For a list of past speakers, please see below.  
To read a text of the 2016 Kelly Lecture, please click here.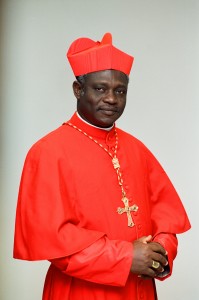 About Cardinal Turkson
Cardinal Peter Turkson is the President of the Pontifical Council for Justice and Peace and Archbishop Emeritus of Cape Coast, Ghana. He served as President of the Ghana Catholic Bishops' Conference from 1997 to 2005, and has served as Chancellor of the Catholic University College of Ghana since 2003.
A passionate supporter of Laudato Si': On Care for our Common Home, Pope Francis' recent encyclical on the environment, Cardinal Turkson told attendees at last year's UN Summit on Climate Change that we "cannot remain blind to the grave damage done to the planet, nor can we remain indifferent to the plight of the millions of people who most bear the burden of such destruction."
For a complete biography of the Cardinal, please click here.
Past Kelly Lectures
"To Evangelize the Culture"

(Rev.) Robert Barron

September 28, 2011

"Covering the Vatican and the Church Today:A Vaticanista Reflects on Challenges Facing the Church Today"

John L. Allen, Jr.

September 28, 2010

"The Leader's Mantle: Creating Connection, Community and
Continuity in the Midst of Chaotic Times"

Prof. Donna Markham

November 18, 2004

"Anamnesis, not Amnesia: The Healing of Memories and the Problem of Uniatism"

(Rev) Robert Taft, S.J.

December 1, 2000

"Hope for Reconciliation in the New Millennium"

Jean Vanier

October 27, 2000

"Hope and Concern: The Church and Culture on the Eve of a New Millennium"

(Rev) Ronald Rolheiser OMI

March 25, 1999

"Unity and Disunity in the Church"

Monsignor Philip Murnion

March 25, 1999

"The Reform Accomplished; the Renewal Awaited"

(Rev.) John Melloh, S.M.

March 20 1997

"The Passion and Death of Jesus: Issues Biblical, Historical, Theological"

(Rev) Raymond Brown, S.S.

March 27, 1996

"Democratization in a Hierarchical Church"

Archbishop Marcel Gervais

March 9, 1995

"The Search for the Living God"

Elizabeth Ann Johnson, C.S.J.

March 8, 1994

"Pacem in Terris after 30 Years; A New Opportunity"

(Rev.) Bryan Hehir

February 2, 1993

"The Conversion of the Churches as a Condition of Christian Unity"
[The Group of Les Dombes text]

Ladislas Orsy, S.J.

March 31, 1992

"Preparing for 1992: Five Hundred Years of European Presence in the Americas"

Gustavo Gutiérrez

March 19, 1991

"Sexuality, Commitment, and Parenthood"

Lisa Sowle Cahill

November 7, 1989

"Between Challenge and Opportunity: Catholic Theologians Today"

Monika Hellwig

February 3, 1987

"Roman Catholicism in the Third Millennium: prospects for Unity"

Cardinal Joseph Bernardin

February 25, 1987

"Reacting to Vatican II: "Have we received the Council?"

Jean-Marie Tillard, O.P

October 24, 1985

"Beyond Nuclear Deterrence"

Douglas Roche, M.P.

March 5, 1984

"The Church Today: Identity and Social Responsibility"

Francis Schüssler Fiorenza

February 20, 1983

"A Quebec Perspective"

Claude Ryan

November 14, 1983

"Christian Spirituality and Social Justice"

Matthew Lamb

February 8, 1982

"Social Justice in the Western Hemisphere"

Bishop Remi de Roo

January 26, 1981

"Relevance of the Old Testament in the '80's"

Roderick MacKenzie, S.J.

March 4, 1980