By: Martyn Wendell Jones. Photos by Sheila Eaton.
---
"Does mine have a tail?"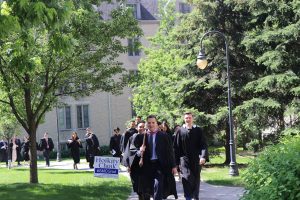 "Yes; look–"
"Is this a tail?"
A small group of St. Mike's graduands helped one another adjust their black academic gowns on the stones in front of Brennan Hall. The "tails" in question were the points of the long furred hoods draped across their backs.
Similarly clad in black, Beadle Duane Rendle walked up and down the two columns of students at 10:15, ceremonial mace in hand. The object, topped with a metal figurine of St. Basil, conferred upon Rendle the authority to lead the students in procession around the front of campus and into St. Basil's Church for the 10:30 AM Baccalaureate Mass.
"What a wonderful way to begin our time together—at the Mass," Vice President and Principal Boyagoda said during his introductory remarks. Around 90 students RSVP'd for the event, which was followed by a barbecue on the Coop Patio behind Brennan. About 200 additional students joined for the food.
Rain was predicted in early forecasts, but by the morning of June 16 the threat of precipitation had vanished. A bright and hot sun brought temperatures up to the low 30s by mid-afternoon when students had assembled at University College for a second procession across the grass in King's College Circle into Convocation Hall.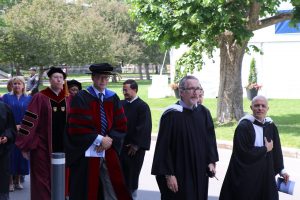 This time the processing line of gowned graduands was over seven hundred students long, giving St. Mike's the honour of having the largest convocation of the year at the University of Toronto. Students walked single-file for several minutes before being followed in by the Chancellor's procession, which included President David Mulroney, Principal and Vice President Boyagoda, University of Toronto Chancellor Michael Wilson, U of T representative and Vice President of Human Resources and Equity Kelly Hannah-Moffat, USMC Collegium Chair John Bennett, and the convocation speaker, Mississauga Mayor and USMC alumna Bonnie Crombie. Esquires Leslie Belzak and Effie Slapnicar walked alongside the Chancellor's procession holding standards, and Beadle Duane Rendle—carrying a much larger mace this time—led the way.
"My goodness! Good afternoon, everyone," Mayor Crombie said to open her address. "I'm a little awestruck. It's been 35 years since I last set foot in this hall." The mayor congratulated St. Mike's students for the achievement of their degrees. "You have earned this day," she told them. She also thanked the friends and relatives who made their academic careers possible.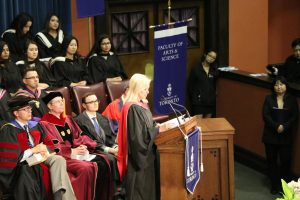 Mayor Crombie gave students a number of pieces of advice for navigating their post-university lives. Among these were recommendations to pursue lifelong learning, to work hard, to have a mentor, and to be bold in taking calculated risks. After she spoke, students ascended the stage in pairs to receive their degrees and shake hands with President Mulroney and other members of the Chancellor's procession.
A rendition of "O, Canada" concluded the ceremony, and students recessed outside to find friends and family waiting on King's College Circle. Many in the crowd held bouquets of flowers, and a trio of large metallic balloons spelled "YAY." New graduates met with professors for the last time, and many took photos with friends and family. Greetings and congratulations filled the air in numerous languages.
At 5:00 PM, a number of graduates and families convened in the Coop for a reception, which preceded a 5:30 awards presentation in Brennan Lounge. Principal Boyagoda emceed the event and gave out awards, introducing one student as "my Dante hiking buddy." By a little after 6:00 PM this final event had concluded as well, and another class of St. Michael's grads was off to make its own way in the world.
---
Martyn Wendell Jones is a writer in the Office of Communications at the University of St. Michael's College.