During Advent, we at USMC will be publishing articles that bring light to different facets of the season as it is celebrated on our campus. Today, Martyn Wendell Jones in the Office of Communications offers this report on the annual USMC Toy and Clothing Drive.
---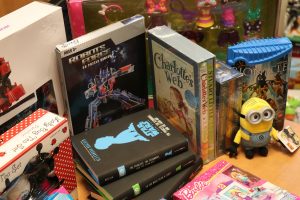 On a recent Monday, St. Mike's Campus Minister Erica Tice sat at her desk behind a wall of plush toys, children's books, and train and tea sets. These items had come out of a group of large boxes next to her office door, and including the stuffed animals, action figures, and surprise bags that she had not unpacked, Erica estimates the current tally of donated gifts to stand at around 75. However, this figure does not include the toys that U of T Campus Police have been collecting in their own office. "Next week, they're going to be bringing [their] toys over," she said, "and they'll stay in my office until St. Vincent de Paul comes to pick them up on Friday."
This is the third year to see gifts pile up in the front office at Brennan; the USMC Young Alumni Committee launched the first St. Mike's toy drive three years ago, and, as in years past, the alumni community has generously contributed a substantial portion of the current pile. This year, St. Mike's Campus Ministry and U of T Campus Police are cosponsoring what is now known as the USMC Toy and Clothing Drive, and after it concludes, the Society of St. Vincent de Paul will distribute the donations among families that have requested help for the holidays.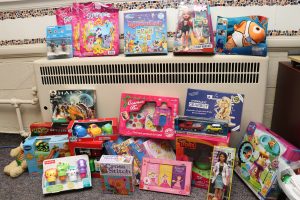 The Society of St. Vincent de Paul (SSVP) is a lay Catholic charitable organization that supports families in need across the city as part of their global ministry. Each year before Advent, the SSVP reaches out to families they've supported during the preceding year to ask whether they would like help for Christmas. If they say yes, they are matched to an anonymous family that prepares a "Christmas hamper" for them that includes a toy for every child.
Pascal LaRouche, the President of the Toronto West Particular Council of SSVP, oversees 14 "conferences," or parish chapters, of the SSVP in west Toronto, where donations from the USMC drive will be received. Parishes that lack their own SSVP conferences are covered by SSVP conferences in neighbouring parishes to ensure that every parish receives support from the society. "If someone calls and asks for help and there's no conference in that parish, the closest one picks it up and goes to see them," LaRouche said over the phone. "We don't ask [about faith affiliation]. We are ecumenical; we help them all."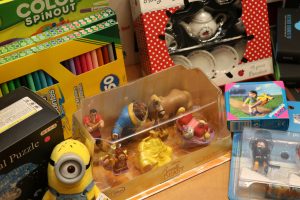 This year, volunteer drivers will deliver all donations directly to families in their homes on Saturday, Dec. 16. Five SSVP conferences in west Toronto will be receiving the majority of St. Mike's donations, with a small number of items reserved for LaRouche's own parish in order for SSVP members to make last-minute home visits. These visits will continue until the last hour of Christmas day.
St. Mike's also receives used clothing and financial gifts as part of the drive, and these go into the Christmas hampers that SSVP prepares as well. Proceeds from "Begotten of Light," a St. Michael's Schola Cantorum concert that was given at St. Basil's on Monday, Dec. 11, make up the bulk of monetary donations to the drive, and most of these will be converted into gift cards that families can use for groceries. "[E]very penny … goes directly to the poor in the form of food, clothing, or also, sometimes, beds," LaRouche said. "Nothing is spent on administration. Every penny goes straight to the poor." Erica expects most of the clothing donations for this year's drive to also come in this week. "As [students] start packing up to leave for the holidays, they're going to be editing their clothing, at which point I'm going to be getting all kinds of clothing donations," she said.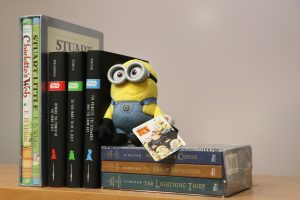 As for the toys themselves, St. Mike's alumni have provided almost all of the items currently sitting in Erica's office; the campus minister describes their response to the drive as "overwhelming." To launch this year's Drive, St. Mike's alumni families brought donations to the Santa Claus Parade party, which was hosted on Nov. 19 in the Dodig Family Coop by Alumni Affairs. Many guests to the USMC Annual Alumni Christmas Tea & Caroling on Thursday, Dec. 14, will also bring items for donation.
The best part of the toy drive in Erica's eyes has been the sight of children placing unwrapped gifts in the donation box on behalf of their families. "They know what that means," she said, "when you tell a child there might be someone like them who might not get anything for Christmas." When these children are given the chance to donate a gift to someone they might never meet, "they know that [another] child is going to be happy on Christmas morning." They know, perhaps, that they are helping someone else to hope.
---
Martyn Wendell Jones is a writer in the Office of Communications at the University of St. Michael's College.