By Martyn Wendell Jones
---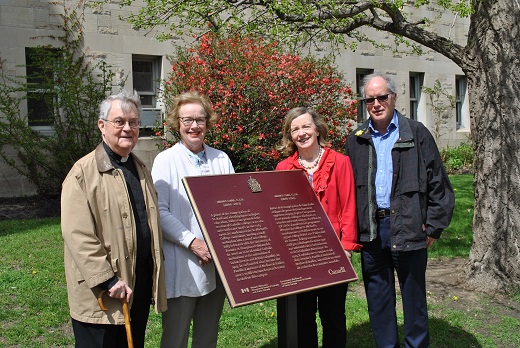 Born in 1880, Father Henry Carr, CSB first came to St. Michael's College in 1897 to teach a beginner's German course in return for room, board and the ability to take a free class on rhetoric. The precocious young man helped his students to ace their end-of-year language examinations. From this starting point, Fr. Carr would go on to transform the structure of St. Michael's College, to push for federation with the University of Toronto, and to set a precedent for other religious institutions to pursue federation with secular universities across Canada. He would also become president and superior at St. Michael's from 1915-1925, and over the course of his life would serve in a variety of comparable leadership roles at similar institutions in other parts of Canada.
In recognition of these achievements, Parks Canada recently installed a historical plaque on St. Joseph Street commemorating the life and work of Fr. Carr. Just outside the entrance to eponymous Carr Hall, it stands less than half a block away from a similar plaque commemorating the life and work of Marshall McLuhan. Fr. Carr was designated a person of historical significance in 2012, and the recently installed plaque was celebrated almost one year ago at a reception during Spring Reunion. A number of descendants of Fr. Carr's sister Elizabeth Carr Hatch attended the event.
In order to understand Fr. Carr's achievement properly, "I think we have to begin with the Basilian Fathers," Father James McConica, CSB said on a recent afternoon at the Flahiff Centre. Fr. McConica wrote to Parks Canada to initiate the process of recognizing Fr. Carr with a plaque, and like Fr. Carr, he served as president of St. Michael's. As Fr. McConica said, the French Basilians had come to Protestant Anglophone Ontario "through a series of historical accidents" in the middle of the 19th century to care for and grow St. Michael's College, a brand-new institution in Toronto serving the local Catholic population.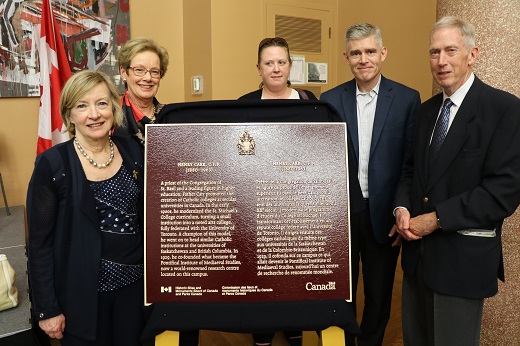 "When they came, they carried with them… the reluctance to become involved with the non-Catholic world and the government, which was the prevailing attitude in France, because France was very anti-clerical and the church [kept] a very low profile," Fr. McConica said. The normal approach of the order in Carr's time would have been to create "a school for aspirants to the priesthood."
At the turn of the 20th century, the Basilian teachers as St. Michael's taught a classical curriculum that prepared these aspirants well. However, many Catholic students in Toronto at this time had hopes for different careers—in law, or medicine, or engineering—and were not effectively prepared for matriculation into public university by their classical training at St. Michael's.
Just a few years after teaching his first class in German, Fr. Carr took a direct approach to meeting this need. "Carr had the brilliant idea, here in Toronto… of collaborating with the secular government of the day by adopting their curriculum," Fr. McConnica said. Referred to in years after as the "matriculation experiment," Fr. Carr used public school materials to teach every subject for a cohort of high school-age students from 1905-1907 who hoped to enter public university. According to Henry Carr: Revolutionary, a book by fellow St. Michael's president Fr. Edmund McCorkell, CSB, those students received "surprisingly good" results on their matriculation examination for the U of T after just two years of Fr. Carr's teaching, even though the curriculum he used was designed for a three-year course of study.
De-emphasizing Latin in favour of mathematics and science put the St. Michael's College program for its high school-age students in line with that of public schools. The change also put those students on a pathway that led naturally to the U of T, and after the success of the "matriculation experiment," Fr. Carr's attentions turned to the next logical step for St. Mike's: federation with the University of Toronto, which was achieved in 1910 with the first full graduating class to come from St. Michael's College.
Fr. Carr saw an important opportunity for St. Michael's to help "[prepare] young laymen for a role in civic society," Fr. McConica said, and it was in order to "spread the faith" that he pointed St. Michael's in the direction that he did. By breaking with the presiding French spirit of the Basilians, Fr. Carr helped to orient the school towards inclusion in a much larger educational world in Canada. Not only did his work set St. Michael's on the trajectory that it continues to maintain today, but it also created an important precedent for other Catholic institutions to follow "in Windsor, and in Saskatoon, and in British Columbia, in St. Mark's in Vancouver," as Fr. McConica said. As the Parks Canada website states, "Federation broke the long period of isolation from the mainstream of Canadian university life and made St. Michael's College one of the earliest English-language Roman Catholic colleges in Canada to provide higher education in partnership with a secular institution."
Fr. Carr made numerous other contributions to the revolution in Catholic post-secondary education that began at St. Michael's. He helped to attract scholars of worldwide renown to the school, and the Parks Canada website describes him as having been "instrumental in the establishment in 1929 of the Institute of Mediaeval Studies as a centre for scholarly research and publication." In almost every significant aspect, the University of St. Michael's College today shows signs of Fr. Carr's influence and direction.
---
Martyn Wendell Jones is a content specialist in the Office of Communications.