A widow with two adult daughters, Rev. Mr. Kevin D'Souza reflected on his first day of seminary six years ago: "you know, most men are dropped off by the parents… but here, the tables were turned." The 58-year-old also mentioned his response to his calling into the priesthood after the passing of his wife: "I said, 'are you serious, Lord?'"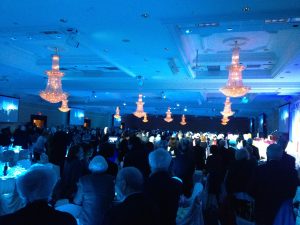 Rev. D'Souza was one of eleven Ordinandi, or men about to be ordained to the priesthood, who spoke on March 7 at the 27th annual Ordinandi Dinner at the Pearson Convention Center in Brampton. Sponsored by Serra International, the dinner is intended to celebrate and encourage "vocations to consecrated religious life in the Catholic Church."
The University of St. Michael's College reserved three tables for the event. President Mulroney and a variety of faculty, staff, and St. Mike's students joined 1400 other guests in a hall long enough to require car-sized monitors to be placed at intervals on both lengthwise walls in order for attendees to be able to see each speaker. Several members of a St. Mike's student group called "Quo Vadis" attended; led by Fr. Seamus Hogan, a professor at St. Augustine's Seminary in Scarborough, the group helps young men to discern whether they might have their own priestly vocations in the Catholic Church.
Cardinal Collins, Archbishop of Toronto and Chancellor of USMC, was at the centre of numerous group photographs during the afternoon reception. During the dinner that followed, he gave a blessing over the event before a Knights of Columbus honour guard escorted the eleven priests-to-be into the hall. Bedecked in full regalia, the Knights processed and recessed to the cadence of a leading bagpipe. Before the Ordinandi spoke, priests celebrating 50 and 60 years of ordination were also honoured.
This year's Ordinandi range in age from 25 to 58, and among them are two brothers, the Reverends Favin and Ryan Alemão. While the brothers hail from Abu Dhabi, other members of the class of 2017 come from India, Italy, the Philippines, and a number of towns across Canada.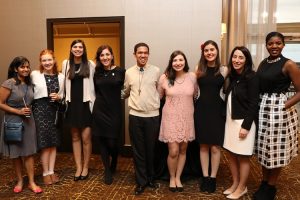 Each Ordinandi spoke for five minutes during the dinner about the path that led to his vocation, and these speeches were the only part of the evening that commanded the full silent attention of the hall. Rev. Mr. Favin Alemão, one of the brothers from the UAE, remembered lying about perceiving his own vocation while still in high school in a bid for a chaplaincy award; he was otherwise awards-stricken that semester, and now recommends taking care in what you wish for. His brother Rev. Mr. Ryan Alemão attended an Ordinandi Dinner himself in 2006, and returned in 2007. Rev. Mr. Stephen Bruzzese attended St. Mike's for a year to play football for the U of T Varsity Blues before entering seminary, and Rev. Mr. Justin Bertrand decided against pursuing a professional figure skating career in order to pursue a priestly vocation.
Attendees departed with new rosaries compliments of Catholic Cemeteries and Funeral Services, and a chartered bus brought the St. Mike's contingent back to Toronto, where many of the new priests will be assigned to serve.
---
Martyn Wendell Jones is a writer in the USMC Office of Communications.