By: Martyn Wendell Jones
On Monday, October 2, Toronto Mayor John Tory, City Manager Peter Wallace, University of Toronto President Meric Gertler, a bevy of city councillors, and a group of U of T faculty gathered at City Hall to observe the signing of a Memorandum of Understanding between Toronto and its famous university. The agreement "reveals the extent [of the] invaluable collaboration already happening" between the city and the U of T, Gertler said in his opening remarks.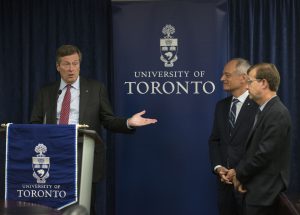 Negotiated over the past year, the memorandum outlines "those areas of common interest which offer potential for activities in which collaboration on their shared goals may benefit the Toronto community, the City, and the University." In supplementary materials included with the memorandum, the MOU document offered five examples of "collaborative projects being undertaken in partnership" by U of T faculty and the city.
One of these projects—titled "City of Toronto UNESCO Creative City Designation"—involves the development of an application for the city of Toronto to be included in UNESCO's Creative City Network, an application that emphasizes Toronto's "accomplishments in the field of media arts," according to the website for the initiative. The professor taking the lead on this collaborative project is USMC Assistant Professor Paolo Granata.
Before coming to the University of St. Michael's College, Dr. Granata spent 15 years as the University of Bologna, and two years as a Visiting Professor at the McLuhan Centre for Culture and Technology in the University of Toronto. It was during the latter tenure that he first began to develop the UNESCO application project.
Dr. Granata's project has a unique cultural emphasis when set alongside the other example projects, which primarily address social and policy issues. The Creative City designation would create opportunities for international partnerships with other member cities while also providing "international recognition of the creative industries and capacities present in Toronto." If the application is accepted, Toronto will become the second Canadian city in the network after Montreal; other North American cities in the network include Detroit, Austin, and Santa Fe.
"It's time for Toronto to take its place among the greatest and leading creative cities of the world," the St. Mike's Assistant Professor said on behalf of the U of T while addressing city councillors in May of this year. He continued: "if designated, Toronto will be the largest creative city of the Network in North America."
---
Martyn Wendell Jones is a writer in the Office of Communications at the University of St. Michael's College.