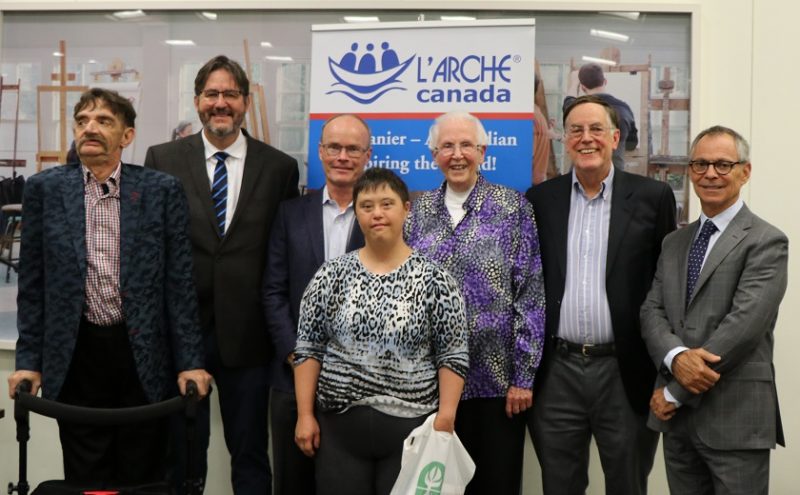 Sister Sue Mosteller, CSJ remembers clearly the invitation to a lecture in Brennan Hall some 50 years ago. She recalls not really wanting to attend, given that she knew nothing about the man from France who was to speak but, in an era when religious sisters were still required to travel in pairs, she agreed to accompany her friend.
The speaker was Jean Vanier, back in Toronto to give a series of guest lectures, and Sr. Sue says listening to him proved a turning point in her life.
"I was spellbound," she told a crowd gathered at the John M. Kelly Library this week for the launch of Vanier's latest book, A Cry is Heard: My Path Towards Peace (Novalis Publishing Inc.) The book was translated into English from its original French by St. Mike's alumna Anne Louise Mahoney.
For Sr. Sue, who then attended a retreat Vanier led in Lourdes and made an effort to attend every lecture he gave over the years in Toronto, Vanier soon became "the mentor of my life, who has taught me a spiritual path."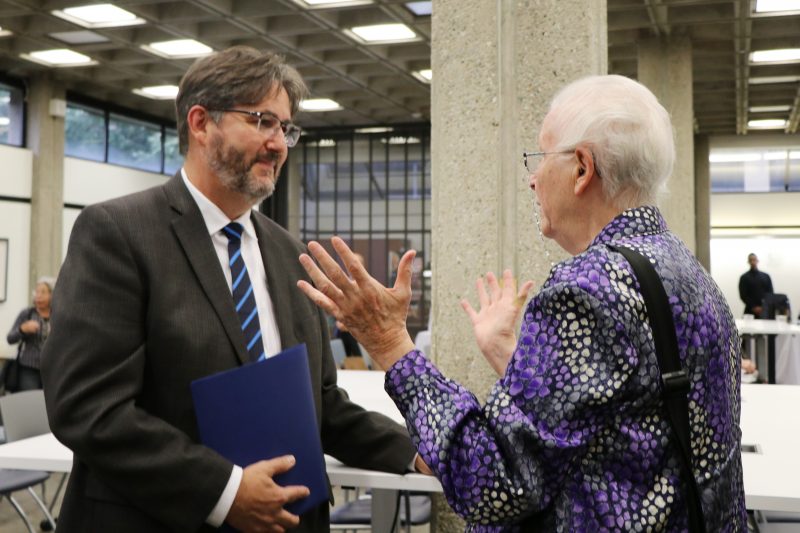 In time, Sr. Sue was able to convince her order to allow her to live and work at L'Arche Daybreak, in Richmond Hill, just north of Toronto, instead of in the convent with her religious community. She remained at Daybreak for more than 40 years, eventually assuming Vanier's role as Community Leader.
The Kelly Library was a fitting place for Sr. Sue and others to share their encounters with Vanier and to celebrate the launch of the memoir, given the many ties the humanitarian has to the University of St. Michael's College. It was, as university President David Sylvester said in his opening remarks, "a chance to bring Vanier home to St. Mike's."
Gary Sim, president and CEO of the L'Arche Canada Foundation, told the gathering that Vanier discovered his love for teaching while a member of the faculty at St. Mike's. But while here, he noted, Vanier also found a deeper call to live with people with intellectual disabilities, a call that resulted in the creation of L'Arche, a network of communities for people with intellectual challenges to live with dignity and hope alongside the people who care for them.
Vanier taught ethics at St. Mike's in the Winter semester of 1964. As he writes in A Cry is Heard, his students "listened to me with great interest, and I became fond of all these young people. No one was more surprised than I at the success of my classes. I would never have believed I had the slightest gift for teaching."
When the semester wrapped up, Vanier listened to what he describes in the book as his "small inner voice" and returned to France, where he created the first L'Arche community in Trosly-Breuil. Today, there are 149 L'Arche communities in 37 countries around the world, including 30 in Canada.
While Vanier taught only briefly at St. Mike's, his presence continues to be felt here. Many materials relating to him can be found in Kelly Library, in both the Henri J.M. Nouwen Archives and Research Collection (priest and writer Henri Nouwen lived at L'Arche Daybreak, in Richmond Hill, north of Toronto) and in the L'Arche fonds, which contain photos, recordings and published materials. A special temporary display in the library lobby honours his time on campus and in Toronto.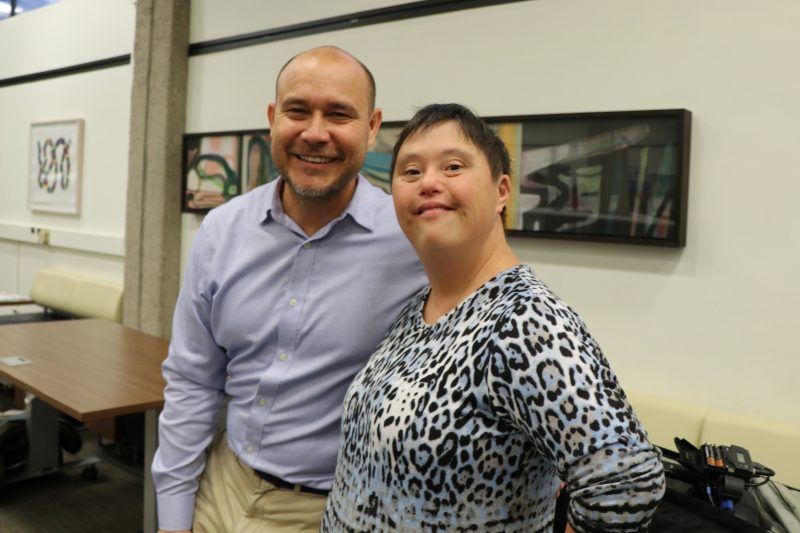 In the President's opening remarks at the book launch, he noted that Vanier visited Vancouver several times while Sylvester was president of Corpus Christi College and principal of St. Mark's College, adding wryly that after one visit when students heard him speak, several went off to work with him rather than staying behind to finish their studies.
Sylvester also noted that eventually he would like to see St. Mike's form an alliance with King's University College's Disabilities Studies, a program modeled on the insights of Jean Vanier.
In thanking the guests and participants at the launch, the president noted that one of the great takeaways from the life and writings of Vanier, regardless of one's circumstances, is the importance of being present to others. With that, he extended an invitation to return to St. Mike's, and carry on the conversation.