John Paul Farahat is Director of Music and Principal Organist of St. Basil's Church. He conducts St. Basil's Schola Cantorum and Parish Choir. He received the Doctor of Musical Arts degree in Organ in 2019 from the University of Toronto, where his research focused on the life and improvisations of Victor Togni (193 –1965), internationally-renowned organist of St. Basil's and St. Michael's during the 1960s.
---
Liturgical Music in this Long Lent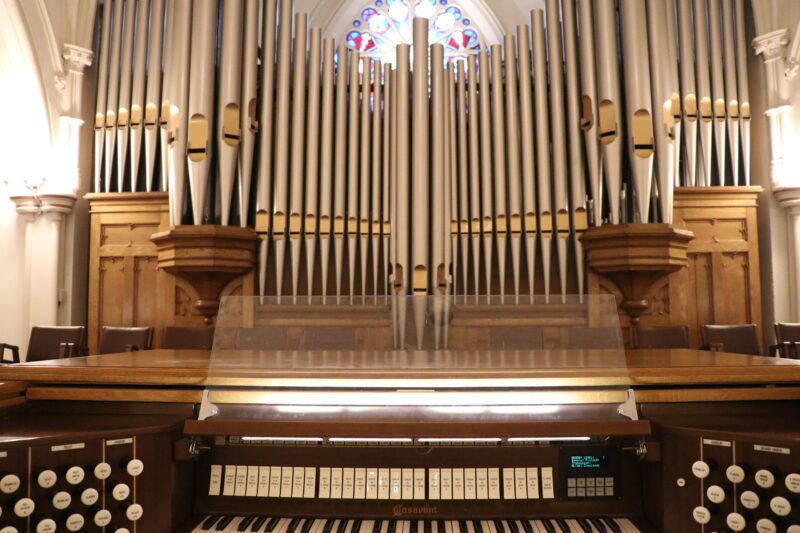 Liturgical music in Lent can sometimes feel like a trimmed-down version of what we would experience in Ordinary Time. In Lent, the Gloria and Alleluia are omitted. The organ is only used to support singing, and there are no preludes or postludes (with the exception of Laetare Sunday, and the solemnities of the Annunciation and St. Joseph).

In normal times, these changes are felt with a particular intensity over a 40-day period. But much of the liturgical music of the last 12 months could be said to reflect that pared-down character of the Lenten season.
The most noticeable change in liturgical music since March 2020 is the suspension of congregational singing.
The 1967 document Musicam Sacram: Instruction on Music in the Liturgy was a product of the Second Vatican Council. It spoke beautifully about the importance of congregational singing, a directive wholeheartedly embraced by the St. Basil's community. But in a context in which congregational singing is suspended, how do we understand the role of music in worship? While Musicam Sacram justly emphasized the role of outward congregational song, it expanded on this by underscoring that congregations "should also be taught to unite themselves interiorly to what the ministers or choir sing, so that by listening to them they may raise their minds to God" (Art. 15).
St. Basil's has adopted and applied this directive with care by reintroducing the regular use of entrance and communion antiphons in the liturgy. In listening to and praying with the antiphons, the congregation enters more fully into the celebration of Mass. Like the readings, psalm, and gospel acclamation of the Liturgy of the Word, the antiphons change daily, set as part of the lectionary cycle. The antiphons are scriptural, appointed for each Mass, and are intimately linked to the texts of the liturgy. Take, for example, the Entrance Antiphon of the Second Sunday of Lent, connected to the Gospel reading of the Transfiguration: "Of you, my heart has spoken: Seek his face. It is your face, O Lord, that I seek; hide not your face from me" (Ps. 27). Or, alternatively, the Antiphon at the beginning of the Palm Sunday liturgy: "Hosanna to the son of David: blessed is he who comes in the name of the Lord, the King of Israel. Hosanna in the highest!" (Mt. 21).
The music ministers of St. Basil's have also adapted their roles to the realities of the pandemic. St. Basil's Schola Cantorum, an octet comprised of students who would sing both on weekends and select weekday feasts and solemnities, has restructured into small and safely distanced quartets. In addition, they have supplemented the roster of cantors who sing for Mass (in person and live-streamed). St. Basil's Parish Choir, usually a hallmark of worship on Sundays at the 10:30 Mass, has been rehearsing weekly online since last March, and occasionally recording virtual choir videos. The next video will be released during Eastertide. The St. Basil's Singers, too, have met regularly online.
I am confident that the community will reclaim its collective voice at the end of the pandemic. Once we exit this long Lent of many months, we will once again be able to come together as a community in worship in a way that resembles normalcy. In the words of St. Paul, we will "sing songs, hymns, and spiritual songs" (Col. 3:16).
And, surely, we will sing an Alleluia or two as well.
---
Read other InsightOut posts.
Norm Tanck, CSB is the Associate Pastor of St. Basil's Parish. He entered the Basilian Novitiate in Erindale, ON in 1967 and made his first profession of vows in 1967. He received his M.Div. from USMC in 1973 and was ordained a priest in 1974. Norm served as St. Mike's Director of Campus Ministry and College Chaplain from 1982 to 1985.
---
A Different Kind of Lent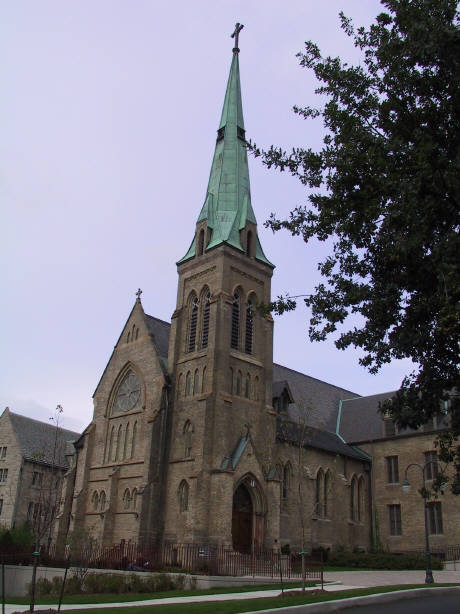 As I write this, I do not know what Ash Wednesday and Lent will look and feel like this year. St. Basil's Parish has plans for when and how ashes will be distributed. We will have short continuous services during the day. If you are on campus, you can check St. Basil's Parish website to see how you can register for a time to receive ashes (Information for Ash Wednesday). The way we receive them this year will be different. If you can come in person, they will not be smeared on your forehead as in the past, but sprinkled on the top of your head, as they do in Rome.
Every year in the past St. Basil's Church would have overflow crowds of people coming to receive blessed ashes on their foreheads. Parishioners, members of the USMC community, local residents, government workers, businesspeople and shoppers would leave the church and go into the world around them bearing the Cross of Jesus Christ for all to see.
There may have been a sense of solidarity in the church, but on Bay Street, in Eataly, in the MacDonald Block, or Robarts Library, I imagine one could feel conspicuous, self-conscious, even vulnerable. Some, however, may have felt proud to profess their faith in such a public way.
There may be a sense of relief this Ash Wednesday that we might not have to face the stares and quizzical looks, maybe even the ridicule of others. We may not even have to face the challenge to look at our lives and assess what needs to change for us to live a good life in relationship to God, others, the rest of creation, and ourselves.
This kind of self-focus, self-assessment and call to personal conversion, transformation, and change is only part of what Ash Wednesday and Lent is about. Often, we forget or maybe ignore the call the is given to us, to the Church.
The first reading for our Ash Wednesday liturgy tells us: "…call a solemn assembly; gather the people. Sanctify the congregation; assemble the aged; gather the children, even infants at the breast" (Joel 2:15-16a). The people, a corporate reality, is called to change. The Lenten call to repentance is a call to the Church herself to change, and a warning to humanity that the path it is on will result in ruin. The prophet Joel uses the image of a famine to portray a people, a nation, in crisis. Joel is not one of the happiest books in the Bible. But I think he is a relevant prophet for us today.
Walter Bruggeman, a Scripture scholar who specialized in the Psalms and the Prophets, said that a prophet has three functions. The first is to announce that the old order is ended—not that it is going to end but that it is already over. The second function is to let the people sing their songs of lamentation, to grieve their loss. The third is to give the people a new hopeful and energizing vision for the future.
This year, as I reflect on what Ash Wednesday may mean as we begin the second year of our pandemic crisis, I am struck by this corporate call to repentance and change. It is a call that is given to the Church so that like Joel we can become a prophetic witness to the world. COVID-19, like Joel's agricultural crisis, is emblematic of the cumulative issues and many crises that threaten the common good of the human family and of all of creation.
In his latest book reflecting on our present COVID-19 crisis, Pope Francis says, "Every now and then, however, great calamities awaken the memory of (our) original liberation and unity. Prophets who sought to recall the people to what really matters, to its first love, suddenly find eager audience. Times of tribulation offer the possibility that what oppresses the people – both internally and externally – can be overthrown, and a new age of freedom begin… Crisis has shown that our people are not subject to blind forces but in adversity are capable of acting" (Pope Francis, Let Us Dream: The Path to a Better Future. New York, Simon & Schuster).
The Pope uses a familiar model to reflect on the issues and respond effectively. We begin by seeing what is going on, being attentive to the situation. Then we must discern what needs to be done and choose a plan of action. And finally, we must do it.
This model is good for our personal Lenten discipline and conversion, but this year, it comes as a special challenge for the Church and our prophetic witness. What do we have to announce? How do we let go of the past? And what is our hope for the future, not only for ourselves but for the world in which we live?
Pope Francis in the epilogue of his recent book writes, "A crisis forces you (us) to move, but one can move without going anywhere. In lockdown many of us left the house for essentials or walk around the block to stretch our legs. But then when we get back to where we were and what we were before, like a tourist who goes to the sea or the mountains for a week of relaxation, but then returns to her suffocating routine. She has moved, but sideways, only to come back to where she started".
He goes on to say, "I prefer the contrasting image of the pilgrim, who is one who decenters and so can transcend. She goes out from herself, opens herself to a new horizon, and when she comes home, she is no longer the same, and her home won't be the same… This is a time for pilgrimages".
This is a time for us to look, choose, and act.
---
Read other InsightOut posts.
Because public masses have been cancelled due to the coronavirus pandemic, Dr. Darren Dias, O.P., has shared his homily for Easter.
Dr. Dias teaches in St. Michael's Faculty of Theology, specializing in Trinity, Religious Diversity, and teaching methods. He is currently working of a SSHRC funded project with colleagues Gilles Routhier (Laval) and Michael Attridge (St. Michael's) entitled: "One Canada Two Catholicism: Divergent Evolutions in the Catholic Church in Quebec And Ontario, 1965–1985."
---
Seeing the God of Life
Easter Morning: John 20:1-18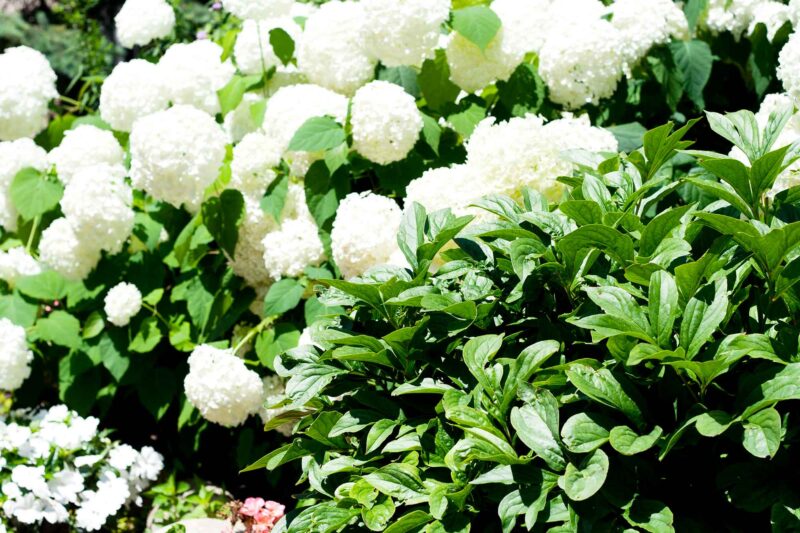 The resurrection narrative of John's Gospel account centres around the words "saw/look." In the lection today we hear multiple instances. Mary Magdalene arrives in the dark, sees the stone removed from the entrance from the tomb and runs. The beloved disciple sees the wrappings in the tomb, but does not enter; he stops at the entrance. Peter goes into the tomb and sees the wrappings and the cloth rolled up. And then the beloved disciple enters the tomb and sees and believes. Mary stands outside the tomb weeping, and looks in and sees two angels there; she turns and sees Jesus but does not recognize him. And what are Jesus words to her?: "Whom are you looking for?" And when Mary realizes that she has encountered the risen Jesus she declares: "I have seen the Lord."
The contrast of light and darkness, blindness and sight runs throughout John's Gospel account. Today we discover what, ultimately, John is speaking of: the darkness of Good Friday to the brightness of Easter; from Mary initially arriving at the tomb in the dark, a darkness that left her unable to see, to her encounter with the light of the risen Christ that enables her to declare: "I have seen the Lord."
Mary's declaration is not only testimony of the man Jesus being raised from the dead, but a witness to something more. Indeed, the God and Father of the risen Lord is our God and Father, too. A new relationship has been established in the cross and resurrection that we have all been made children of God: "I am ascending to my Father and your Father, to my God and your God."
Celebrating Easter during the global COVID-19 pandemic raises many questions for us. Some of us stand at the entrance of the tomb staring in; some are looking at the linens confused; some have witnessed miracles and are still unsure of what's going on; some have had a profound encounter with the Lord and don't know which way to run. Each of us is on a unique journey of faith, a journey that is a constant back and forth from the darkness of Good Friday to the light of Easter. We all stand in the empty tomb this morning and ask ourselves: what's going on? What could this mean?
In the midst of a health crisis that has resulted in suffering, illness, anxiety, and death, a situation that has affected every aspect of our daily lives —even our ability to celebrate Easter as we normally do—it may seem difficult to find God. But our narrative today reminds us that we are often unaware that what we are looking for in right in front of us. Like Mary who is looking for the dead body of Jesus when she is staring right at it—fully alive. The resurrection surely teaches us that ours is a God of surprises. None of Jesus' followers ever expected him to be crucified, and even less could they imagine a resurrection. The God of life is often revealed in the places and spaces beyond any expectation or imaginings.
Today we stand at the entry of the empty tomb, the linens are wrapped up, and we don't quite know what to make of things. All the resurrection accounts we read this Easter season are the stories of coming to see with the eyes of faith, whether Doubting Thomas next week or the Emmaus narrative the week after.
This morning the reality of the empty tomb confronts us. The experience of the risen Lord and the reality of COVID-19 empower us to see the world and our own lives like never before; to declare: I have seen the Lord.
Dr. Jean-Pierre Fortin is Assistant Professor of Practical Theology in the Faculty of Theology. Dr. Fortin teaches the Theology of Ministry and Reflection Seminar classes and also oversees field placements, an essential aspect of the Master of Divinity and Master of Religious Education programs at the Faculty. His research includes work in ecumenical dialogue.
---
Challenging Our Usual Ways of Living
According to the Gospel of John, when Jesus is brought before Pontius Pilate, he tells the Roman governor: "For this I was born, and for this I came into the world, to testify to the truth. Everyone who belongs to the truth listens to my voice" (John 18:37, NRSV). Jesus was born, came among us to bear witness to the truth. For Christians, who profess to be followers of Jesus, a fundamental task and challenge is to bear witness to Jesus. As it invites us to experience and celebrate the mystery of Christ's Passion, death and resurrection in particular fashion, the Lenten/Easter season is a most suited time for us to reflect on the quality of the witness we bear to Christ.
The current COVID-19 pandemic has so challenged our usual ways of living, relating to, and serving one another that we are summoned to be creative and devise new ways of being faithful disciples of Christ. What does it mean to bear witness to Christ, celebrate and give praise to him in times of social distancing and isolation? How is the truth about the human condition (flaws and blessings) unveiled when humankind is confronted with challenges such as a global viral pandemic?
The recent closing of the USMC campus and the transfer of courses to online platforms have enabled me to witness both the turmoil that such a sudden change creates: administrators, professors, staff and students struggling to learn how to give/take courses, hold/participate in meetings, and host all sorts of academic activities online. The cancellation or postponing of so many public events, lectures, conferences, liturgies—even pub nights—led me to perceive that this year's Lenten season would in a very real sense last much longer than 40 days. The extent of the transformation to which my working environment was being subjected fully came home when I realized I no longer had access to campus libraries and my office. At the same time, I have also witnessed how instructors and students have managed to break through technological walls to recreate communities of learning that enable insightful reflection and sharing.
In a time such as this, when we are likely to feel deeply unsettled, inadequately equipped, and summoned to take initiative and exercise leadership in unprecedented ways, we may relate to Pontius Pilate, who admits to being profoundly challenged by the person and words of Jesus when he responds to his testimony with an honest question: "What is truth?" (John 18:38) Pilate opens himself to the fact that he is encountering a reality he did not foresee. This encounter with truth in person may alter who he is in profound ways.
During this Holy Week and the following Easter season, then, as we face the COVID-19 pandemic, we may reflect on the ways Jesus questions our assumptions about our usual way of living and following him. We may also think about the questions we have been carrying with us for some time (perhaps a long time) which we know we should ask to Jesus in person. What are the questions that would liberate us, allowing us to pursue the truth revealed in Jesus in more faithful, complete fashion—especially now, in challenging times? We may bring these questions before Jesus in our prayer, with the desire and hope of being transformed so as to be able to bear witness to the truth that he is in and for times such as these.
---
Read other InsightOut posts.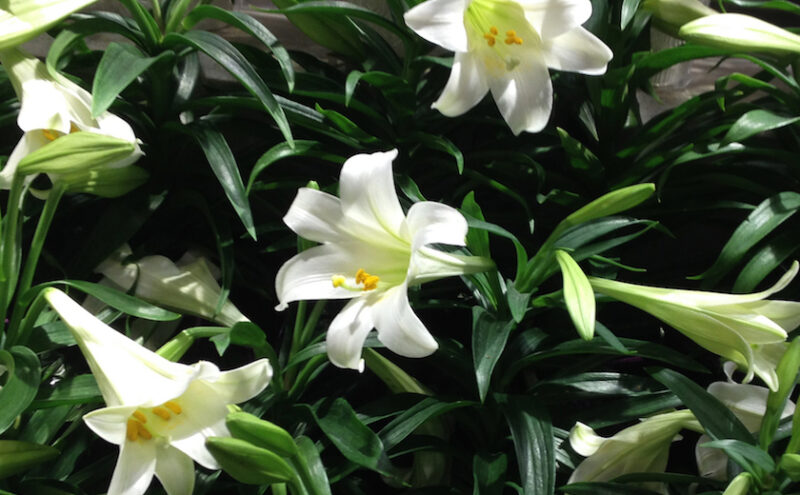 Then Jesus went with them to a place called Gethsemane; and he said to his disciples, "Sit here while I go over there and pray." He took with him Peter and the two sons of Zebedee, and began to be grieved and agitated. Then he said to them, "I am deeply grieved, even to death; remain here, and stay awake with me." And going a little farther, he threw himself on the ground and prayed, "My Father, if it is possible, let this cup pass from me; yet not what I want but what you want." Then he came to the disciples and found them sleeping; and he said to Peter, "So, could you not stay awake with me one hour? Stay awake and pray that you may not come into the time of trial; the spirit indeed is willing, but the flesh is weak." Again he went away for the second time and prayed, "My Father, if this cannot pass unless I drink it, your will be done." Again he came and found them sleeping, for their eyes were heavy. So leaving them again, he went away and prayed for the third time, saying the same words. Then he came to the disciples and said to them, "Are you still sleeping and taking your rest? See, the hour is at hand, and the Son of Man is betrayed into the hands of sinners. Get up, let us be going. See, my betrayer is at hand."
Matthew 26.36-46
The isolation of the Garden of Gethsemane takes on new meaning for many of us in this unprecedented experience of the season of Lent. As we move toward the Triduum, the pinnacle of the Church year, the COVID-19 pandemic and the resulting physical distancing which has closed churches to the public has forced all of us to rethink how we worship, as well as to remember why we do.
Normally at this time, our campus would be alive with students handing in papers, doing last-minute check-ins with professors, returning library books, and preparing for exams. They would also be visiting St. Basil's, our beautiful collegiate church, attending one of the two daily masses, receiving the sacrament of reconciliation, and preparing to observe the passion, death and resurrection. There would be a sense of completion to the students' year, as there would be for faculty and support staff. An academic year would be drawing to a close, just as Easter was about to herald new life.
In our current reality, however, norms have disappeared, which poses multiple challenges. But St. Michael's is a collection of communities, including a community of faith, and so we thought we'd share a few thoughts on how to support each other as we prepare to say, once again, "He is risen!"
St. Michael's alumni members have a long tradition of a Lenten retreat. When they were unable to meet together, Dr. Colleen Shantz, who was to lead the retreat with Dr. Darren Dias, O.P, created a virtual retreat, which you can find here. Thanks to both professors for their efforts.
Dr. Dias, who teaches Trinity in the Faculty of Theology, reminds us there are many ways to mark this holiest of seasons, even if we are not able to access our normal traditions.
For example, "people could do a solitary stations of the cross by walking outside and stopping to say a station prayer 14 times," Fr. Dias suggests. "This would get people outside and attentive to the season."
As well, "families could read and meditate upon the readings of the day. We can promote the domestic church in this way," he adds. He also suggests calling an elderly or isolated person to pray with them over the phone, a very powerful reminder of the injunction of when two or more are gathered.
If you watch our website in the coming days, you'll see homilies from Fr. Darren posted for both Palm Sunday and Easter, and Fr. Morgan Rice, CSB, will contribute the Holy Thursday post to InsightOut, our COVID-19-related blog, on Holy Thursday.
St. Basil's links to some useful supports for prayer during Lent, and we applaud their efforts to help people in prayer at this unusual time. So, too, does the Archdiocese of Toronto, and we are grateful.
One of the nicest links we've seen is this one, which offers a heartfelt alternative to the usual Palm Sunday traditions.
While we may not be physically together on this Lenten journey, we are very much together in spirit, and we look forward to the day when we can gather together and say, "He is risen. Alleluia!"
Because public masses have been cancelled due to the coronavirus pandemic, Dr. Darren Dias, O.P., has shared his homily for Palm Sunday.
Dr. Dias teaches in St. Michael's Faculty of Theology, specializing in Trinity, Religious Diversity, and teaching methods. He is currently working of a SSHRC funded project with colleagues Gilles Routhier (Laval) and Michael Attridge (St Michael's) entitled: "One Canada Two Catholicism: Divergent Evolutions in the Catholic Church in Quebec And Ontario, 1965–1985."
---
Plunged into the Reality of Suffering and Death
Today is "Palm Sunday of the Passion of Our Lord." It juxtaposes two events: Jesus' triumphant entry into Jerusalem (Palm Sunday) and the immediate events surrounding his betrayal, arrest, trial and execution (Passion of Our Lord). These two contrasting events are captured in the liturgical celebration that begins with the proclamation of the Gospel narrative about Jesus' triumphant entry into Jerusalem (this year Matthew 21:1-11). Normally this is followed by a joyful procession from outside the church to inside or within the church itself. We ritually perform what the evangelist describes: a rather chaotic scene of crowds, animals, cloths being thrown down, people chanting and waving branches.
But the exuberance of the triumphant entry into Jerusalem is short-lived. In the reading from Isaiah we are introduced to the maltreated teacher-servant and in Paul's letter to the Philippians, a theological reflection on the death of Jesus. By the time we read the second Gospel lection, the passion according to Matthew, we are plunged into the reality of death. The lection ends with Jesus' lifeless body being guarded in a sealed tomb.
On this Sunday, we go from the joyous chorus of "Hosanna to the Son of David! Blessed is the One who comes in the name of the Lord! Hosanna in the highest heaven" to the solitary cry of Jesus: "My God, my God, why have you forsaken me?" to the silence of the sealed tomb.
Death is an inescapable, existential, and mysterious experience. Yet it often catches us by surprise, no matter how prepared we think we are. When my own father died after a lengthy battle with cancer, knowing he was palliative, it still came as a shock. Nothing really prepares us for the mystery of death. In Matthew's Gospel account the death of Jesus is predicted several times (Mt 16:21-28, 17:22-23, 20:17-19, 26:1-2), and yet we stand at the tomb plunged into the silence of this existential, inescapable and mysterious experience.
A few weeks ago the whole world was plunged into the reality of suffering and death as the COVID-19 virus swept across the globe. Though there were many warnings, no one seemed really prepared for the novel reality we are now living. We still don't really know what will happen, we don't yet have control of the situation. Today we stand in Golgotha, at the foot of the cross, lamenting that many have become ill and many have died, anxious because even more will become ill and die. We stand silent at the tomb.
Our Western culture has an odd relationship to death. We try to escape the reality of death and aging, celebrating youth, and constantly chasing after it. We sanitize our field of vision from human misery and suffering, yet we are bombarded with images of violence and death on our screens. Our fear of suffering and death is evidenced in our attempts to control death through the legalization of assisted suicide.
COVID-19 forces us to confront the inescapable, existential, mystery of death. We should not be too quick to say this will pass, that we will get through it, true as these sentiments may be. We want to get hurriedly to Easter and to the empty tomb, without keeping a long vigil at the foot of the cross. This year will be a long Good Friday. Jesus's cry from the cross resounds with our own: My God, my God, why have you forsaken me?
In many societies and communities around the world, suffering and death is sadly the norm. Latin America theologian Gustavo Gutierrez, OP, draws our attention to the plight of so many millions who live in situations of death every day. For Gutierrez, the poverty he lives means death, lack of food, housing, education, healthcare, respect, dignity, freedom. Exploitation of the vulnerable and systemic violence is the never-ending lot of so many. He asks: how can we proclaim a God of life in this situation of death?
We are plunged into the reality of suffering and death in today's liturgy and in our lived experience. I invite you to listen to Anton Bruckner's moving setting of Philippians 2:8-9, Christus factus est, performed by the Choir of King's College, Cambridge. This music draws us into the depths of the mystery of death and into the God of life.
Because Sunday Mass has been cancelled due to the coronavirus pandemic, Dr. Darren Dias, O.P., has shared his homily for this, the Fifth Sunday of Lent.
Dr. Dias teaches in St. Michael's Faculty of Theology, specializing in Trinity, Religious Diversity, and teaching methods. He is currently working of a SSHRC funded project with colleagues Gilles Routhier (Laval) and Michael Attridge (St Michael's) entitled: "One Canada Two Catholicism: Divergent Evolutions in the Catholic Church in Quebec And Ontario, 1965–1985."
---
Tears of Compassion
John 11:1-45
"Jesus began to weep" is the shortest verse in the NRSV English translation of the New Testament. Yet this short verse says something terribly important about Jesus and his solidarity with us in our moments of difficulty and suffering.
In John's Gospel account, Jesus' friend Lazarus is ill and Jesus is summoned to his side by his sisters, Martha and Mary. But instead of hurrying to be with them, he waits another two days. He says that the death of Lazarus is an occasion for Jesus to be glorified. Jesus confidently refers to Lazarus' death as "merely sleeping" and even says, "I'm glad I was not there so you may believe." Jesus is strangely sanguine about his friend Lazarus' death.
But as Jesus' gets closer to the tomb, he becomes increasingly emotional. Twice, the Gospel lection says, "Jesus was greatly disturbed." And then he began to weep. But why how do we account for this change of emotional state? One moment he seems placid and confident and the next he weeps. Does Jesus not think he will be able to "awaken" Lazarus anymore? Does Jesus suddenly doubt the life of the resurrection? Or the power of God to be glorified? Why the change?
In the Gospel lection, we read that "When Jesus saw Mary weeping, and the Jews who came with her also weeping, he was greatly disturbed in spirit and deeply moved…Jesus began to weep." It was in his encounter with those who suffered loss and were grieving that Jesus began to weep. He is not weeping for Lazarus. He is weeping with, sharing in the suffering of others. Compassion is the source of Jesus' tears.
Though Jesus is confident in his belief in the life of the resurrection, it doesn't negate the real suffering of those who loved Lazarus, his sisters Mary and Martha, their friends, and Jesus himself. At the coming celebration of the Lord's Passion on Good Friday we will read about Jesus in the letter to the Hebrews: "For we do not have a high priest who is unable to sympathize with our weaknesses, but one who has similarly been tested in every way."
Compassion comes from the Latin word "to suffer with." We often experience the suffering of others, whether vicariously or else because we have memories of similar suffering. Suffering is part of our human condition. And solidarity in suffering reveals the depth of our humanity.
The current COVID-19 crisis reminds us how interconnected the human family really is. We are "deeply moved" by the dedication of medical professionals and other front line workers. When I've gone to the store to buy necessities, I've been struck by the friendliness and dedication of workers in drugstores and grocery stores in very difficult circumstances. We are "disturbed in spirit" by the lack of ventilators for all those who may need them. We "weep" at the deaths of so many around the world, and of their families who are unable to bury them at this time. We are experiencing a deep sense of togetherness around the globe because we are all affected, and we all wait with some anxiety, for an unknown future. As we stand at the entry of the tomb, we ask what will Easter look like this year.
Our Gospel lection today reminds us that the God of life is not unaffected by our situation. Indeed "the Christ, the Son of God, the one coming into the world," our "high priest" weeps with us, with compassion for the suffering, anxious, sorrowful and grieving.
Because Sunday Mass has been cancelled due to the coronavirus pandemic, Dr. Darren Dias, O.P., has shared his homily for this, the Fourth Sunday of Lent.
Dr. Dias teaches in St. Michael's Faculty of Theology, specializing in Trinity, Religious Diversity, and teaching methods. He is currently working of a SSHRC funded project with colleagues Gilles Routhier (Laval) and Michael Attridge (St Michael's) entitled: "One Canada Two Catholicism: Divergent Evolutions in the Catholic Church in Quebec And Ontario, 1965–1985."
Finding God in Challenging Times
John 9:1-41
Amid this global COVID-19 pandemic, isolation and physical distancing are necessary to diminish the spread of the virus. In our time we can definitely understand the link between illness and isolation. In Jesus' time, illness, and particularly something like blindness, was believed to be a punishment for the sins of one's parents or ancestors. Thus, the question of the disciples to Jesus about the man born blind: "Who sinned this man or his parents?" Of course, Jesus' answer is neither one; the very question misses the point. The man born blind would have been marginalized because his blindness was thought to be the product of divine punishment and so he would have been excluded from the normal network of social relations. We read that he had to beg for his livelihood. Like many other healing accounts, when Jesus heals this man he not only cures him physically but removes the reason for him to be excluded and isolated from his community. Jesus heals him and tells him to purify himself in the pool of Siloam so that he might be re-born into his community. 
In the narrative the man born blind is cured of his blindness but only gradually begins to see. When initially questioned by Jesus' critics about who opened his eyes, the man responds rather journalistically by recounting the events as they happened, not even mentioning Jesus by name. When pressed his questioners ask, "what do you say about him?"  The man responds with the conviction: "He is a prophet." His questioners react with a strong judgment against Jesus, calling him a sinner because he works on the Sabbath. Yet again they ask the man how is it that he now sees. Seemingly frustrated by their criticism of Jesus — and with firm conviction — the man says that Jesus is not a sinner but one who obeys and worships the true God of Israel and to whom God listens. The man's questioners, those in power and authority, are scandalized that this poor beggar, a man born in sin else he would not have been blind, someone neither named nor vouched for by his own parents, would dare to teach them and so "they drove him out." The man born blind, cured by Jesus, about to leave the isolation of his blindness behind, on the cusp of entering into social relationships, is driven out of the community he was never really a part of but longed to have a place. It is at this point, a low point for the man who has just been healed of his blindness, that Jesus seeks him out and finds him. In the brokenness and vulnerability of the man born blind, someone who has just gone from marginal to outcast, Jesus shares himself by revealing who he is: I am he, the one speaking to you is the Son of Man. Jesus chooses to reveal his true identity not to the powerful but to the outcast. Because of this intimate moment the man can finally answer the question that had been put to him throughout the narrative about the person who cured him. The man now sees who Jesus really is.   
In our Gospel selection today the man born blind, though he had a powerful experience of healing, is only gradually able to see God's vivid presence in his midst in the person of Jesus Christ. In these days, weeks and even months ahead, many will experience the difficulty of isolation and loneliness, and be challenged to see the God who seeks us and finds us in our vulnerability and fear. But just as Jesus revealed God's presence in his very person, maybe God's presence reveals itself to us in the midst of this present crisis: in the selfless dedication of medical workers; in the store workers who ensure our access to food and other supplies; in neighbours who check in on the elderly or vulnerable; in our prayerful solidarity with those who are ill from the virus.      
Ash Wednesday marks the beginning of the Season of Lent in the Catholic tradition and liturgical calendar.  It is a season of penance, fasting, and almsgiving which prepares us for Christ's Passion, Death and Resurrection (Holy Triduum), which culminates with the celebration of Easter Sunday.
Beginning on Ash Wednesday, our foreheads are marked with Ashes to humble our hearts and remind us that life on earth is only temporary and we acknowledge our mortality in the hope and promise of the Resurrection.  We remember this when we are told, "Remember you are dust, and to dust you shall return".
It is in the season of Lent that we are reminded of two major themes.  It emphasizes a spirit of penance.  Over the next forty days we draw closer to God's Word and prayer, as we prepare to celebrate the paschal mystery.  Secondly, Lent is also a time to reconcile our sins against God.  We need to pay special attention to how we live out our faith and treat others, therefore we are reminded of the social and grave consequences to sin.  Let us not forget that all is made known by God and that we cannot remove ourselves from the presence and love of God.  Allow God to do wonderful things during this most holy season and be gracious and open in receiving His Grace and mercy.
And so we pray,
Lord God, your sons and daughters stand before You in humility and trust.  Look always with compassion on us and heal our wounds.  Stretch out your hand to save us and raise us up.
Keep us free from harm as members of Christ's body, as sheep of your flock, and as children of your family.  Do not allow evil or death to trimph over us, for you have raised us to new life in Baptism.
Hear Lord, our prayers and lead us back to your ways of Holiness.  Protect us now and always, and may we receive openly your gift of unending love and divine mercy.  Amen.
St. Michael the Archangel; pray for us.
Join us on Tuesday February 28 from 11a..m.- 2p.m. in Brennan Hall as we celebrate our 2nd Annual USMC Carnival Day in anticipation of the start of Lent (Ash Wednesday), which marks the beginning of the Season of Lent in the Catholic tradition and liturgical calendar.
The feast of Carnival, at its origin, is a Christian festival that precedes the beginning of Lent (Shrove Tuesday).  It is during this time that as Christians, we indulge, celebrate, eat, and dance, in order to allow for a strong sense of unity as we prepare over the next 40 days to enter into the holiest week of the Christian calendar (Holy Week), where we enter into and participate in the paschal mystery, that is, the Passion, Death and Resurrection of our Lord, Jesus Christ.
Let us therefore come together and enjoy and honor each other's presence by celebrating this great feast.  We do so by collaborating with USMC student clubs, the participation of our Commuter and Residence Dons, all departments, as well as our faculty, staff and alumni.  Do not miss out!  Looking forward to seeing you.
Angelo Minardi, Director of Campus Ministry