Cianna Choo and Jessica Sorbara are this year's Orientation coordinators. Cianna is a 3rd-year student majoring in Neuroscience and Molecular Genetics and Microbiology, while Jessica is a 4th-year English and History major. They have been involved with Orientation throughout their time at St. Mike's and, as they say, "becoming a part of Orientation has undoubtedly been one the best decisions we've made throughout our time at UofT so far."
---
Welcoming the Class of 2024 Virtually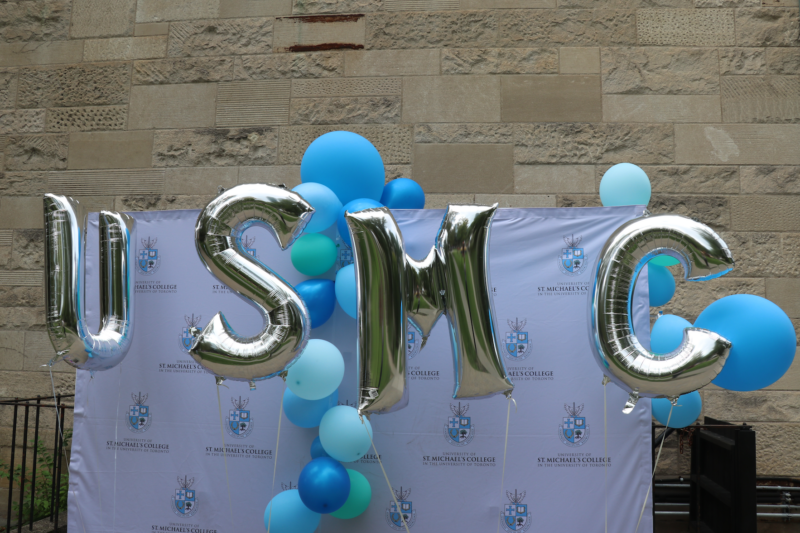 Welcoming incoming students to the St. Mike's campus and university life at UofT is always exciting and rewarding, but this year we are even more excited to be greeting students in a new, innovative way, adjusting to life amidst the COVID-19 pandemic.
Organizing a virtual Orientation for upwards of 1000 incoming students was definitely not something we expected when we started to plan our events in April, and we have had to adapt and reconstruct mostly all of our original plans. We have faced challenges of accessibility, social distancing guidelines, and scheduling with people located around the world. With the changing and complicated circumstances around us, we were constantly in a cycle of adjusting and re-imagining our plans for Orientation 2020. Because we are unable to have a traditional in-person Orientation we have had to think of fun events that would substitute for our usual elaborate on-campus activities. While changing plans and adapting to virtual methods of Orientation is extremely challenging, it has also allowed us to explore so many different delivery methods, activities and events that we would have never thought about before.
Something new and exciting this year has been the shift from Orientation being one week of amazing events and activities in September, just before school starts, to organizing an entire summer leading up to that week. Planning Orientation has been both a challenging and exciting process, trying to figure out ways to build the St. Mike's community with incoming students who have never been on campus before. With the transition to an online approach, we have had to find new ways to make sure students can feel—through their computer screens—the welcoming, positive energy that radiates throughout St. Mike's.
Throughout this summer the two of us, along with our amazing Orientation team, have had to find a way to create a virtual community; thankfully, we've managed to do that through our SMC Online Orientation page on Quercus and our various social media pages. Our SMC Online Orientation page is filled with modules introducing different programs, professors, clubs, events, and all aspects of life at SMC.
We have also been able to interact with students directly via our Summer Workshop Series—a new concept we are both so happy to have made possible this summer. Wanting to make sure the incoming class was prepared for their first year of university, we took a moment to reflect on our own first-year experiences and all the questions we had asked regarding university life. Our Orientation team then created and facilitated the Summer Workshop Series sessions, where we would share our own experiences and advice to help incoming students with their transition into university. We got the chance to host some amazing sessions, including ones offering ideas on how to get involved at St. Mike's, study and time management tips, ways to explore Toronto, and so many more!
Even though we have had to eliminate some of our traditional Orientation events, we were able to create such amazing aspects of Orientation we would have never thought about previously. We also began thinking about all the different ways we wanted students to get excited about Orientation before the week itself. We wanted to make sure this incoming class wasn't missing out on the sense of spirit that we have at St. Mike's, so we had to get creative. We have introduced many contests this summer on our social media pages to get students engaged—learning the Hoikity Choik, getting excited about bed races, and showing off SMC spirit! We have also been extremely lucky to work with an amazing group of leaders and marshals who, throughout the entire summer, have shown everyone how much SMC means to them. By facilitating events and creating videos about campus, TikToks, Instagram takeovers, and so much more, everyone on our Orientation team has shown the incoming students how amazing and welcoming the community is at St. Mike's.
Organizing a week of fun, informative events online was a completely new experience for the two of us, but it was something that got us to think about Orientation in a completely new way. With all the changes that have come our way, we are so excited to meet our incoming class and to see that SMC spirit—even if it is through our computer screens!
---
Read other InsightOut posts.
Anthony De Feo is the Programs Coordinator at the Faculty of Theology at the University of St. Michael's College. He began his time with the Faculty of Theology back in November of 2019, taking over for Catherine Mulroney. He graduated with his Honours B.A. in Religious Studies and Italian from McMaster University and his Master of Divinity degree from USMC. He lives in Stoney Creek, ON with his wife, Cristina, and their three-year-old daughter, Catarina.
---
Rethinking How We Do Things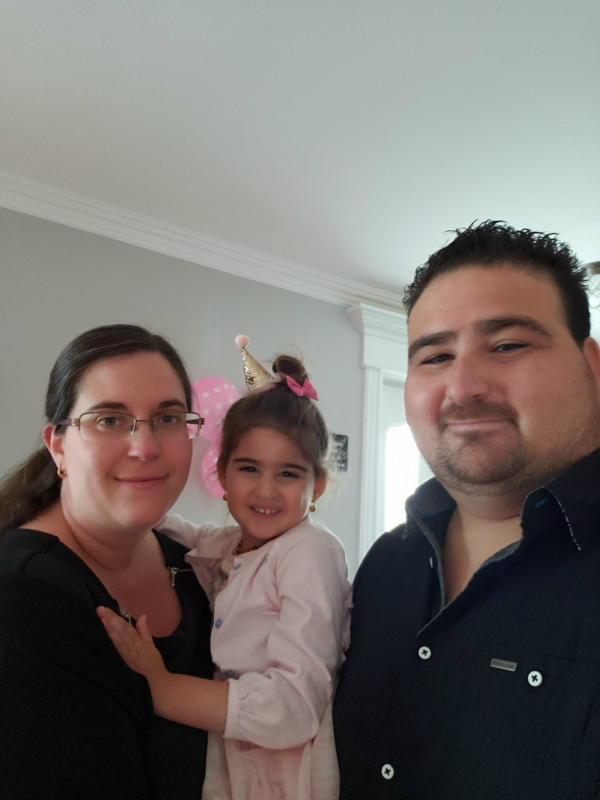 Five a.m. alarm clock: I sulkily hit the snooze button and slowly roll out of bed, ready to begin my journey to the office in Toronto. The train leaves promptly at 7:20 a.m. from Aldershot station, about a 20-minute drive from my house in Stoney Creek. To make it to the train on time so I am in the office by 9 a.m., I leave the house no later than 6:45, providing time for a proper parking spot and to load up my PRESTO before the train leaves. Shower, get dressed, eat a quick breakfast, and out the door I go; then on the train to Union Station, where the second "adventure" of getting onto the TTC awaits. I get off at Bay Station and hit the Tim's on Wellesley to get my morning cup of coffee, then on my way to Alumni Hall. Emil is usually already hard at work, ready to greet me as I saunter past his office, stopping for a brief chat about the previous evenings' Leafs game or how neither of our children slept the night. The day usually starts with checking the many emails that came in overnight, from students asking about information on their courses and reaffirmations that they are on the right track. Diana comes in not too long after, and the three of us chat a bit before getting "lost" in our work; though, before long one of us would usually ask "Is it lunch time yet?" as we couldn't wait to go to our favourite lunch hot spot: EATALY! As you can imagine, the afternoons were a little harder to get through because of having eaten delicious food and especially after a bombolone (Italian doughnut). However, we got through the days easily with the help of student drop-ins, conversations with faculty, and many phone calls and emails being made.
Fast forward to mid-March. No longer being woken up by a 5 a.m. alarm to remind me I had to catch a train, the commute from Stoney Creek to Toronto turned into the commute from my bedroom to my "living room office." No longer worried about getting on a crowded GO train or TTC subway. The worry now was whether my internet would hold up for the Zoom appointments I had that day; or whether my three-year-old would make an appearance at our Faculty Council meeting. Face-to-face conversations with students turned into many back-and-forth emails; morning conversations between colleagues turned into many WhatsApp messages and frantic Zoom meetings to talk about what had to be done that week. It very soon became "the norm" and we had to adapt quickly to our new circumstances. Course planning in the lounge turned into strings of emails between me and TST, making sure we had the right course information for the upcoming academic year. Zoom became a normal way of communication between me and our students, meeting to plan for what courses they had to take in the Fall and Winter. Since the COVID pandemic has caused many to re-think how we do things, we as a Faculty of Theology have decided to run our Fall courses remotely, not yet knowing what the Winter term will hold. The hope is that we can return to some in-class learning, but only time will tell. For now, we will continue to forge ahead and are planning a virtual Welcome Day, many Zoom liturgies to come, and a possible online Convocation.
Only a handful of times does my daughter want to know what "papa is doing," or decides to peek her head into one of my student appointments. I have the benefit of not having to juggle working from home and taking care of my daughter at the same time because my wife has also been home since March; this has been a blessing in disguise. Though there have been challenges, it has been nice to be home with my family and be able to experience some of the things I would otherwise miss while away at work. We are lucky to be able to enjoy nice lunches together outside on our deck in the beautiful summer weather; It isn't EATALY, but it is perfetto!
---
Read other InsightOut posts.