Today, we hear from two of the voices working to keep the campus in safe and beautiful condition. Angela MacAloney-Mueller is Physical Plant Coordinator. She's been a part of the USMC community since August 1994, and notes that the comfort of students and staff are her top priority. Michael Chow is the Director of Facilities & Services. He joined the USMC community in August of 2019, and is dedicated to making USMC the most beautiful campus in Canada.
---
The New Normal on the St. Mike's Campus
Angie
Anyone who's visited my office knows how much of a Harry Potter fan I am. During the last few weeks a line from one of the movies keeps running through my mind. In Order of the Phoenix, Mrs. Figg assists Harry in escaping two Dementors—flying, soul-sucking monsters—who have attacked Harry and his cousin, Dudley. "Dementors in Little Winging! Whatever next? The whole world's gone topsy-turvy!" Some days it does feel like that.
In early January, the coronavirus was something discussed but not really worried about—at least not by me. Then I was asked to source order hand sanitizer for the campus. It was then I started to worry a little; it wasn't as easy to source as I had thought, although I was able to order some. Once it arrived I distributed it to various departments. At that time, I think we were all hoping the coronavirus wouldn't affect our lives—it was happening "out there." February came, the virus became more widespread, and senior managers discussed emergency plans.
Then everything seemed to happen so fast. Students were asked to move out early, classes moved online, and plans were made for the staff who could to work from home. I woke up one March morning to find myself using a laptop for the first time, logging in remotely from my kitchen. It took a couple of weeks to get used to working from home. I still get up at the same time and follow my morning routine. I do this for two reasons: one, my cat won't let me sleep in and, two, I know it is better for me mentally to stick to my regular routine wherever I can.
I am grateful I can work from home and don't have to take public transit, but I miss the camaraderie with my coworkers, going to lunch at my favourite sushi place, and just being on campus. I have worked on campus for more than half my life. Sixteen years at the Pontifical Institute of Medieval Studies, and it'll be ten years this August that I have worked for the Facilities Department. The campus is like a second home, and it's taken some adjusting to not being there as often.
This time of year is normally one of the busiest times for the Facilities Department. Students move out at the end of April, and we do room inspections and repairs in May, when we normally prepare to host summer camps. I missed the hustle and bustle of that this year. Still, we must keep moving forward, so we are now getting some work done in the campus buildings.
I go to campus once a week to do paperwork and other tasks I can't do from home. I always go for a walk around the mainly quiet campus. Signs of spring are everywhere. The lilacs are in bloom, the birds are singing, and the tulips planted last fall are showing off their lovely colours. The day I'm in the office feels the most normal. It's nice to see and chat with a couple of coworkers, to have a sense of normalcy, even if only for a day.
I don't know if we will ever go back to the way things were, but I know we will all adjust to a new normal. Yes, it does feel very "topsy-turvy" right now, but we must keep going and not let fear take away the joy in our lives. I know this is not forever, and I need to keep reminding myself of that. I look forward to the day we are all on campus together again.
Michael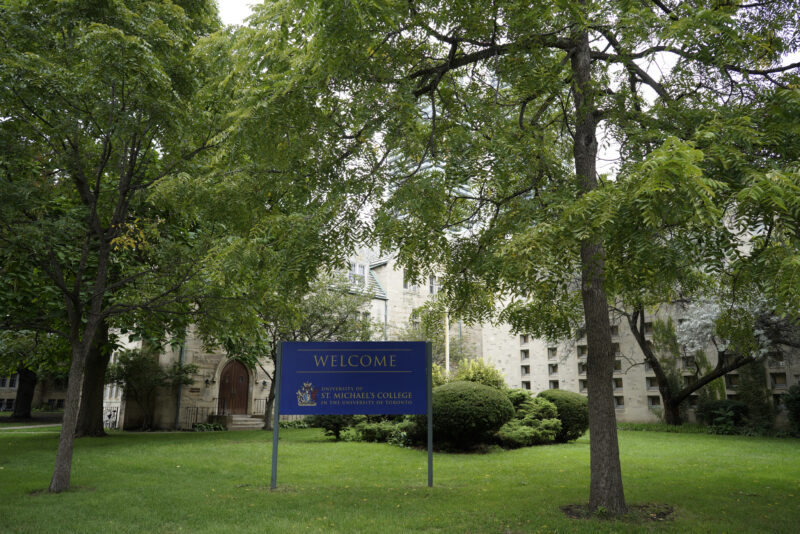 The campus and the world are not the same today as they were three months ago.
As a commuter, it is now hard for me to believe I had problems finding a parking spot at the GO train station ahead of my 6:28 am train. After March 12, parking was no longer the issue, but rather the frequency of trains. Ridership dropped drastically, which I originally attributed to March Break but quickly learned was a sign of people staying away from the "germ tube." I followed suit and decided to drive to campus. To my surprise, I was able to make it to campus in about 25 minutes or so, the equivalent of making the same drive prior to sunrise on a Sunday morning.
Self-isolation, self-quarantine, border closures, and a state of emergency were the hot topics in mid-March, replacing the usual campus discussions surrounding mid-term results, lectures, final exams, and convocation. After the campus closure was announced and the majority of the students had moved out, a surreal dream started playing out in Technicolor.
Imagine walking through Canada's largest university campus in March and only encountering three people. Weird and eerie are two words to describe the overall ambiance.
While other USMC staff were able to work from home, the same opportunity was not available for the Facilities & Housekeeping staff. The courageous and dedicated staff from F&H persevered, and many of them braved public transit to ensure uninterrupted services for those students unable to return home due to travel restrictions.
Behind the scenes—and often unnoticed—the F&H staff have faced the challenges of the pandemic as essential staff and turned them into opportunities as guardians for the university. Deep cleaning and disinfecting of all campus spaces, polishing and waxing of large common floor areas and meeting rooms, lowering utilities by managing equipment set-points and turning them off where possible, and pushing forward with maintenance projects which might otherwise not be feasible with a full campus.
As we all try to predict what the "new normal" will look like, the staff and students can be assured that the USMC campus will continue to be one of Canada's most beautiful, safe and ready to welcome everyone back once we are able to.
A card in the Facilities office from the Dons of 2019/2020 reads: "Not all superheroes wear capes." Please stop a F&H staff member upon returning to campus; a simple heartfelt "thank-you" will have a lasting impact.
---
Read other InsightOut posts.