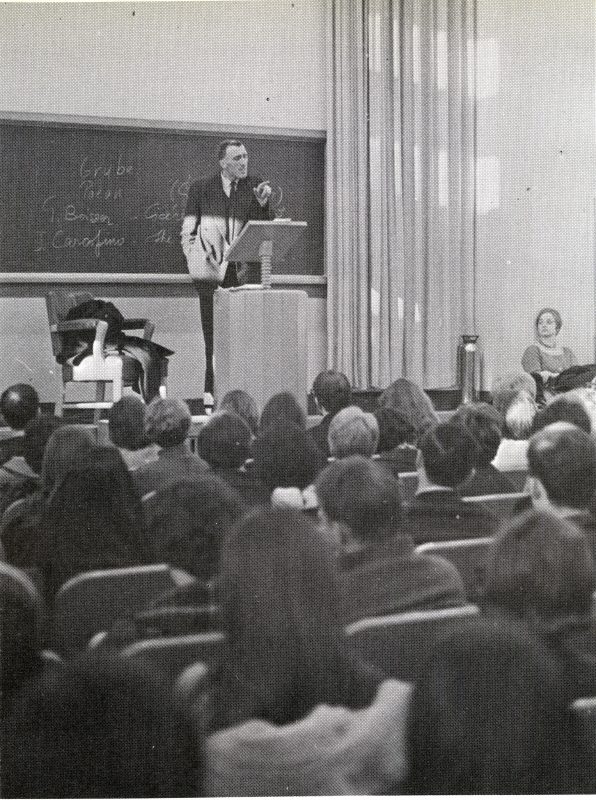 The University of St. Michael's College commemorates the life of Jean Vanier, a philosopher, theologian and advocate for people with disabilities, who passed away in Paris on May 7, 2019.
Religious and humanitarian figures around the world remember Dr. Vanier for founding L'Arche International, a unique network of communities in which people with intellectual disabilities live alongside people who care for them. He created the first of these communities in the French village of Trosly in 1964, and the network has since grown to include 149 communities in 37 countries, including 30 in Canada.
Born in Geneva in 1928, Jean Vanier received a PhD in philosophy from the Institut Catholique de Paris, marking the beginning of an intellectual career that would result in the publication of 30 books. He came to St. Michael's in January of 1964 to teach a course on ethics, which would remain his sole experience teaching at the university level.
St. Michael's alumnus Brian Halferty took the class that spring, and later recalled "[Vanier's] way of being with people, of listening with his eyes as well as his ears." Vanier would leave for France later that year to found L'Arche, and Halferty joined him in Trosly in 1966. He and his family would live in L'Arche for 15 more years.
Halferty gave an introduction to precede a lecture by Vanier at St. Michael's in the fall of 2000, and in his remarks described the nature of a L'Arche community in this way:
A L'Arche community may have one or many houses where people come together to live with and assist those who have developmental handicaps. It is a movement, Vanier would say, of "downward mobility" – moving from the comfort and the self-sufficiency of our modern consumer age towards valuing and embracing those who have been marginalized and rejected as of little worth to society. It is, for Vanier, a response to the call of Jesus to reach out to "the least ones" among us.
Though Vanier left St. Michael's to build L'Arche, he remained close to the institution in spirit with visits to campus over the years and partnerships of other kinds. The John M. Kelly Library houses a variety of L'Arche-related materials in its special collections, including recordings of events hosted by and involving members of l'Arche International/Internationale between 1968 and 1992; organizational, administrative and community records collected by L'Arche Daybreak between 1969 and 2009; and recordings of lectures and retreats given by Henri Nouwen while living at the original L'Arche community in Trosly.
In the fall of 2018, St. Michael's hosted the launch of Dr. Vanier's latest book, A Cry is Heard: My Path Towards Peace (Novalis Publishers), which was translated from French into English by St. Michael's alumna Anne Louise Mahoney. The event provided a further opportunity for the St. Michael's community to celebrate the legacy of compassion that characterizes the work of L'Arche, and which has touched the lives of thousands around the world.