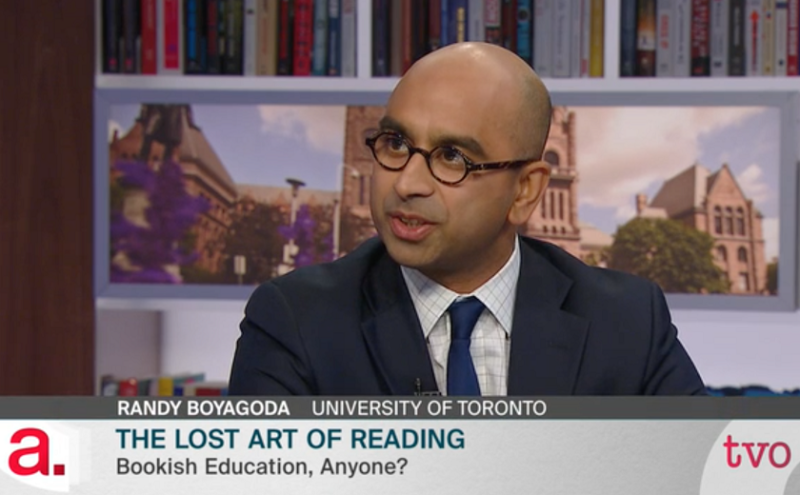 Principal and English professor Randy Boyagoda appeared on The Agenda with Steve Paikin to discuss the future of reading in an age of distraction. As a professor, Dr. Boyagoda noted the way that reading a physical book helps to concentrate his first-year students' attention. Students in SMC One: The Gilson Seminar in Faith and Ideas begin the class by reading The Confessions by St. Augustine, and physical books also feature prominently in SMC One: The McLuhan Seminar in Creativity and Technology and SMC One: The Boyle Seminar in Scripts and Stories. St. Michael's SMC One Seminars are among the most popular at the University of Toronto, and students prize their rigorous, engaging, and reading-intensive experiences.
Dr. Boyagoda also admitted that his own reading habits have been changed by technology, something he noticed when news apps on his smartphone made reading physical books for longer than five-minute stretches difficult. (In response to the latter issue, Dr. Boyagoda got rid of his smartphone in favour of a "dumb" phone, an experience he wrote about for the Globe and Mail.) It's important for professors to model good reading practices as part of their pedagogy, Dr. Boyagoda said—something that professors at St. Michael's do exceedingly well. Dr. Boyagoda's appearance on The Agenda can be viewed here.
Earlier in the day, Dr. Boyagoda joined other members of the Giller Prize jury to announce the shortlist for this year's $100,000 award on the CBC. The annual award carries the largest monetary value of any literary prize in Canada, and the winner will be announced at a gala event in Toronto on Nov. 18. As the chair of this year's prize jury, Dr. Boyagoda will also help choose this year's winner—one more way in which the St. Michael's principal and professor is himself helping to shape the future of reading. The shortlist announcement can be viewed here.