One of the first people I seek out as I arrive on campus these spring mornings is Groundskeeper John Scarcelli. Our discussion focusses on just when we can expect to see blooms on the two Eastern Redbuds (Cercis Canadensis) that grace the western side of Elmsley Place. Spring, as John regularly states, is the very best time to be on campus, and there is a delicate, cloud-like quality to the redbuds in bloom that is the quintessence of the season. The trees are described in gardening guides as being "spectacular and hardy,'" not unlike the institution they grace.
But this spring is different. Along with the familiar sense of anticipation is the conviction that we are introducing transformative people, plans and programs,  changes that will shape our future.
By way of example, I am also busily engaged in what will become another rite of spring at St. Michael's. Principal Randy Boyagoda and I are working the phones, extending invitations and scholarship support to the wonderfully talented students who will make up the first cohort of the Gilson Seminar on Faith Ideas, a group of young scholars who will begin classes in the 2017-18 academic year. Before making each call, I re-read the essay that each applicant has submitted. These never fail to inspire me as I open a conversation that will begin what we believe will become a life-long association with St. Michael's.
The coming of spring has also seen a quickening of the pace of our engagement with the Metropolitan Andrey Sheptytsky Institute of Eastern Christian Studies (MASI), which will be joining our St. Michael's community this summer. The process is led by MASI's Acting Director, the dynamic and indefatigable Fr. Peter Galadza, who has become a regular commuter from Ottawa (MASI's current home) as he oversees all aspects of the move to the St. Mike's campus. Fr. Peter is often joined by his confrere Fr. Andriy Chirovsky, a great scholar and the founder of MASI.
Together, they convey that sense of joy and enthusiasm that marks teachers who live, breathe and celebrate what they share in the classroom. MASI is a community whose members begin every important event in prayer; their theology is participatory and powerfully experienced. Those of us who have had the pleasure of working with our MASI colleagues can testify to the great energy and inspiration they are bringing to this campus. Our partnership with them promises to be a transformative event in the life of this university.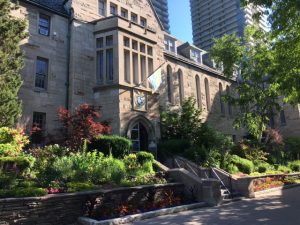 Spring is also a period of hyperactivity for Bursar and Chief Administrative Officer Effie Slapnicar, already one of the busiest people on campus. Not only is Effie hard at work creating new office space for the six new teachers we will be hiring for our undergraduate division, the College, she will also be overseeing a renewal of Brennan Hall. The first step of the process involves the move of the Registrar's Office from the less than ideal space it occupies in Alumni Hall to a new home that will be bright, accessible and, most important, technologically up to date. In making the move, we intend to update and renew our commitment to student services, something that will restore to Brennan Hall its role as the centre for student life.
You will be hearing more about this soon. Chief Advancement Officer Kathryn Elton and her team are creating a campaign that will make the renewal of student space and services and the hiring of exceptional teachers central to our fund-raising efforts.
Spring transforms our campus every year. But this year, the campus is showing other signs of new life, exciting developments that will distinguish us not just for a single summer, but for many years to come.
---
David Mulroney is the President and Vice-Chancellor of the University of St. Michael's College and was Canada's Ambassador to China from 2009 – 2012.