One of the most wonderful things about my job is that I get to meet some remarkable visitors to our St. Mike's campus. Last week was no exception. We were delighted to welcome Cardinal Joseph Zen of Hong Kong, who visited as a special guest of our Chancellor, Cardinal Collins.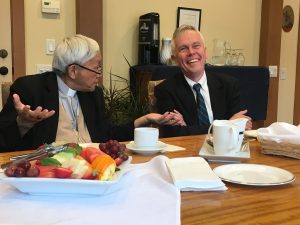 I first met Cardinal Zen while I was serving in China. I made annual visits to Hong Kong because it is home to human rights organizations that offer exceptional insight into conditions facing persecuted groups and champions of freedom within China. You can have conversations in Hong Kong that are just not possible across the border in the mainland. Although the indifference of Hong Kong's former allies (Canada, sadly, included) has allowed China to erode much of the city's autonomy, it still offers a helpful window on the mainland. I learned a lot from my visits.
I called on Cardinal Zen on my liaison visit as ambassador because, among many other things, he is a subject matter expert. The Cardinal was born in Shanghai and, although he was raised and educated in Hong Kong, he was able to make return visits to the mainland during a gradual re-opening of China in the 1980s and '90s. In addition to having reached out to the faithful through visits to Catholic seminaries and parishes, he also became a keen and insightful observer of how the Communist Party strictly controls all aspects of religious life.
Hong Kong is a city that has been badly let down by its leaders and elites, many of whom have made their own separate (and often profitable) peace with China, but the Cardinal has chosen a different path. Although he is particularly well known for his staunch advocacy of religious freedom for the Church in China, he has also spoken out in support of democracy and rule of law in Hong Kong, and on behalf of Falun Gong practitioners who have suffered tremendously at the hands of a fearful and vengeful Communist Party. Cardinal Zen is also a faithful witness to the memory of the courageous students whose peaceful protests were so brutally supressed in Tiananmen Square.
I asked him for an update on his thinking about possible rapprochement between the Vatican and China. I have read many interviews with the Cardinal, but it is deeply instructive to hear his views directly. It quickly becomes clear that his thinking is filtered through a pragmatism based on years of experience, and enriched by a deeply-felt charity that has much in common with the spirit of Pope Benedict XVI, who in 2007 authored a wise and deeply healing letter to Chinese Catholics. Cardinal Zen, like the Pope emeritus, energetically calls on mind, heart and deep Christian faith in an effort to find a way forward for the Church in China.
Equally important, the Cardinal is that rare China watcher who sees the country as it is rather than as we would like it to be. This is particularly important as the term of China's President Xi Jinping reaches what should be its half-way mark. Xi's leadership has been characterised by increasingly intense propaganda, nationalism and repression. Official calls for all religion to be "sinicised", or made more Chinese, seem targeted against faiths, like Catholicism, that transcend borders (not surprisingly, Tibetan Buddhists and Muslim Uighurs are also under steadily increasing pressure). Quick to take their lead from Party Chairman Xi, China's bureaucracy for controlling religion has reverted to its preferred marching order: one step forward and two back.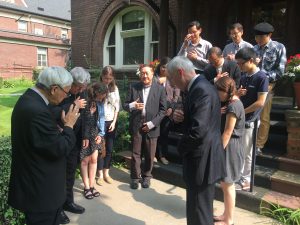 As grim as that all sounds, I felt anything but discouraged by conversation with the Cardinal. He conveys a deep respect for courageous Catholics in China, and a profound faith that a Church that has endured so much through centuries, will outlast an absolutist regime that nervously measures its life span in five-year increments, and that is increasingly incapable of inspiring courage, much less faith.
The best part of the visit was the opportunity to introduce some of our students to this special visitor. Among our student delegation were two young men from China who had sought out St. Michael's because they deeply desired a Catholic education. The conversation flowed on in English, Mandarin and the Cardinal's own Shanghai dialect. Conscious of the coming feast of our patron, we served up St. Michael's Bannock with our tea. The Cardinal blessed students and school before he left.
Afterwards, I asked the students to remember the visit, noting that although life provides but few encounters with true champions, these occasions have a way of warming and illuminating the years ahead.
---
David Mulroney is the President and Vice Chancellor of the University of St. Michael's College in Toronto. From 2009 – 2012 he served as Canada's Ambassador to the People's Republic of China.