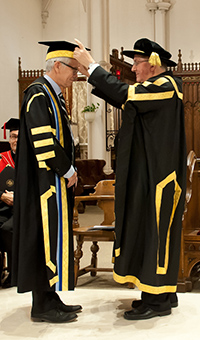 On Friday, I had the chance to respond, at my installation ceremony, to the invitation to re-join the St. Michael's community, this time as its President and Vice Chancellor.  My remarks, which follow, are my attempt to answer that wonderful and entirely unexpected invitation.
Your Eminence, Chancellor Wilson, President Gertler, distinguished guests, ladies and gentlemen.
Let me first offer my own words of welcome to a place that is in many ways my home. My family moved to St. Basil's parish in the late 1950s.  I was introduced to the first sacraments here, and served Mass here. Although Janet and I lived overseas, we had our children baptized here. And years later, my brother Brian and my sister Catherine and I buried first our mother and then our father from this Church.
So St. Basil's is a constant in an otherwise peripatetic life, a place to which I have naturally and happily returned for more than half a century.
It occurs to me that the next milestone that I mark here will in all likelihood not afford me a speaking role (unless a terrible mistake has been made).  So, while I will be brief, I intend to make the most of this opportunity.
If there is a common theme I have taken from the very generous advice offered by my predecessors—Fr. James McConica, Dr. Rick Alway and Professor Anne Anderson—it is that a successful President of St. Michael's must daily bring multiple perspectives into a single, truer focus.
Consider, for example, the question of just who we are as a community. I puzzled over this recently at an alumni function. What caught my attention was that although the cross section of attendees was in terms of age, vocation, and life experience exceedingly broad–indeed so broad as to portend the kind of atomization that worries us about society as a whole–they were instead as chatty, amiable and connected as they might have been on an afternoon in the Coop 10, 20, 30 or more years ago.
In fact, the amateur social scientist in me detected a degree of community spirit that is supposed to be vanishing, if not extinct. There was something more. Almost everybody I spoke to, whatever their career or status, however that is determined, had some kind of extracurricular interest, something that directed their energies outward, to people or projects that needed support. The group seemed at once contented in its diversity, and confident in its sense of shared mission.
I thought about this on the way home, and struggled to identify the common element. Had I been among a group of leaders who have chosen to serve, or servants who have decided to lead?
On reflection, this hybrid path has run through St. Michael's for generations. Think of Jean Vanier, who taught philosophy here in the 1960s and is in many ways the quintessential leader/servant.
Indeed, the phenomenon reaches back to our origins. John Elmsley, whose heart is encased in the walls of this church, made what constitutes, by any conventional reckoning, one of the most unorthodox career choices in Ontario history.
Elmsley was born into the establishment, the son of a Chief Justice of Upper Canada, a pillar of Toronto society. But he ultimately chose an entirely different life path. He became a Catholic and dedicated his life to the Church, which meant throwing his lot in with the Irish, people at the very bottom of the social order in this city in the first half of the 19th century.  We are assembled on Cloverhill, the parcel of land, then at Toronto's north end, that Elmsley donated to the Basilian fathers.
Elmsley enabled a vision–nurtured by the Basilians, by Bishop Charbonnel, our Chancellor's predecessor, by the Sisters of St. Joseph and the Sisters of Loretto–for a school that would offer higher education to those on the outside looking in. It is a vision that continues to inspire us, shaping our identification as leaders and servants.
The other seeming paradox that we explore on a daily basis revolves around the fact that it is our mission to serve as the centre for Catholic intellectual life in a large secular university. We are the place where the intellectual tradition of the church is passed on and where it is renewed through its engagement with the world. We are also a community that aspires to live in accordance with that vision.
That doesn't mean that we are closed off from the world. This is a diverse and welcoming place. But we are united in our respect for one another, in our dedication to the highest standards of scholarship, and in our appreciation of the interplay of faith and reason in deepening our understanding.
There is no paradox here. Nobody wants us to succeed more in our mission as a centre for Catholic intellectual life than does the leadership of the University of Toronto. And nobody wants us to succeed more as a centre for courageous scholarship, open to ideas and unafraid of intellectual challenges, than does our chancellor, Cardinal Collins.
Let me close with a final seeming contradiction.  You can't be involved in Catholic education without having a special devotion to that great 19th century champion of the university, John Henry Newman. Few were more dedicated to the life of the mind, yet his motto was cor ad cor loquitur, or heart speaks to heart. I have in fact chosen those words as my goal for my time with the community here at St. Michael's.
Education in a Catholic University is about hearts and minds, about bringing the whole person into the fullness of being. I know this because I lived it. My own happiest memories from my time here are about books, debates and ideas, but they also evoke St. Michael's as a place attuned to the rhythm of the seasons and their feasts, a place of signs and symbols, of liturgy and sacrament.
I wanted the Mass to be at the centre of my installation because it is the central, daily event in the life of any Catholic community. I struggled to express this adequately, until I remembered a passage in Peter Ackroyd's wonderful biography of Thomas More, that great patron of Catholic public servants.
Ackroyd reminds us that More attended Mass each day, and offers the reader a tour of the holy places where he did this, beginning in London's Church of St. Stephen Walbrook.  He writes, "More heard the Mass here with his family; he heard the same Mass at St. Thomas of Acon, where he worshipped with the mercers; he heard it with the monks of the Charterhouse and the students of Oxford, and would hear it with the King at Greenwich and with the judges in Holborn, with the villagers of Chelsea and with the prisoners of the Tower. It was the single most important aspect of his life, and the source from which much of his earnestness and his irony, his gravity and his playfulness, springs."
Let me close by expressing my gratitude for this opportunity to re-join a community of leaders and servants, of insiders who haven't forgotten what it is to be outsiders, a community of hearts and minds, distinguished by its gravity and loved for its playfulness, a community secure in its place at the heart of a great, global university, and confident of its home in the heart of the church.
Photo: Lisa Sakulensky