The short period between Spring Reunion, which celebrates current alumni, and Convocation, which creates brand new alumni, is a good time for reflection. I find myself pondering how we ensure that we are adding, with each graduating class, to that joyous, loyal and deeply dedicated community who make up our alumni.
This year, the challenge is very specific: are we up to recreating the Class of '67?
Chief Advancement Officer Kathryn Elton and I joined the members of that distinguished 50th anniversary class for the Mass that opened Spring Reunion. We arrived in time to join in as soloist Paula Owolabi (6T7) led a warm-up rendition of our Communion hymn, Canticle of the Gift. She assured us that we would recognize the tune after the first few bars. And she was right. It's a song that had been introduced to countless Catholic households, including my own, from the 1966 album of the same name. As Paula expected, the congregation was soon filling Loretto chapel with singing that had a 1960s level of energy, enthusiasm–and volume. This same wave of energy from the Class of '67 carried us all the way through the weekend.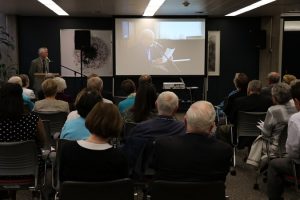 In my own remarks at the Annual General Meeting of the Alumni Association on Friday evening, I talked about the two themes that alumni almost always touch on when I ask them about their St. Mike's experience. The first thing they mention is the impact of remarkable teachers and mentors, people who shaped careers and encouraged a passion for life-long learning. Second, and related to this, is the appreciation our alumni feel for the sense of closeness and community that St. Michael's offers. This, more than anything else, is what brings people back for reunions. It becomes a self-fulfilling prophecy as each honoured year renews bonds and connections first established 50 years ago.
Our keen awareness of those special gifts that distinguish St. Mike's has shaped and will continue to shape our plans for academic and campus life. It is very much alive in the recent news that we will be hiring 6 new teachers and 2 new post-doctoral fellows, an ambitious investment in our future that is catching attention across the broader University of Toronto campus. Simply put, we are hiring tremendously gifted people who will teach, inspire and shape lives.
We expect much the same from the soon-to-be launched Gilson Seminar on Faith and Ideas. Taught by Principal Randy Boyagoda, the seminar is designed to be a rich and intimate academic experience, offering participants the time or opportunity to bond and connect–in Rome as well as in Toronto–with an array of gifted and enthusiastic classmates.
Of course every community needs a home. That's why we're working hard to renew Brennan Hall, ensuring that it is updated and re-equipped, enabling it to return to its traditional role at the very heart of student life on campus.
Believe me, we're very conscious of the challenge of living up to high standards set by our alumni. We are determined to ensure that the funds we raise contribute to hiring gifted teachers, creating challenging new academic programs and renewing facilities that enrich student life. Consider it our commitment to ensuring that the soon-to-be-graduating class of '17 and its successors share the energy, enthusiasm and deep affection that so distinguish the Class of '67.