When I arrive on campus each morning in these dark days approaching winter, I detect a lovely symmetry on Elmsley Place, the cobbled street that runs through the middle of campus.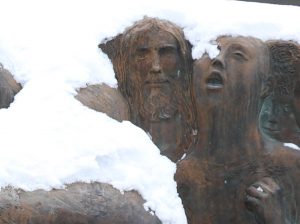 As I round the corner of the library, I see students yawning and stretching in the Kelly Café.  They've been pulling all-nighters, working through the wee hours to finish essays and study for exams. Before us stands the William McElcheran sculpture that graces the patio in front of Kelly. On one side are the faces of the thinkers whose books enrich our library. On the other are the upturned faces of anonymous seekers. There is of course another face in their midst, that of Christ the Lord, the answer to what we are seeking, the truth we are striving to know. He is at the very heart of our community.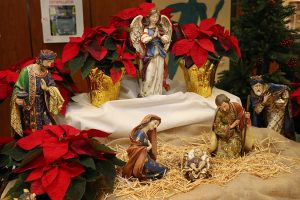 A little bit later, I do a quick tour of the campus. By the time I reach Brennan Hall, at the other end of Elmsley Place, daylight is growing and early-bird students are making their way to breakfast in the Canada Room. In these weeks before Christmas, Campus Minister Erica Tice has set up our crèche set in Brennan's entrance foyer, a busy hub for students, faculty and staff. And so, in this season of Advent, we are reminded that the one we seek has been born into our world. He is at the very heart of our community.