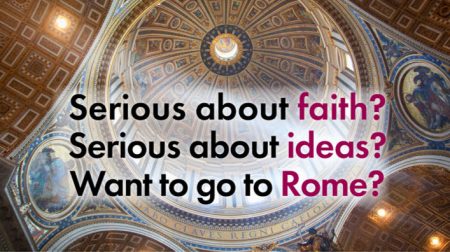 Thanks to the generosity of donors, St. Mike's offers first-year students the chance to join an exclusive seminar that explores the intersection of faith with today's most important questions.
The Seminar consists of two half-courses, each featuring lectures, small-group discussions, community events, and guest speakers. The Seminar is taught by New York Times contributor and novelist, Professor Randy Boyagoda.
Travel scholarships will be awarded to successful applicants who are registered at St. Michael's College.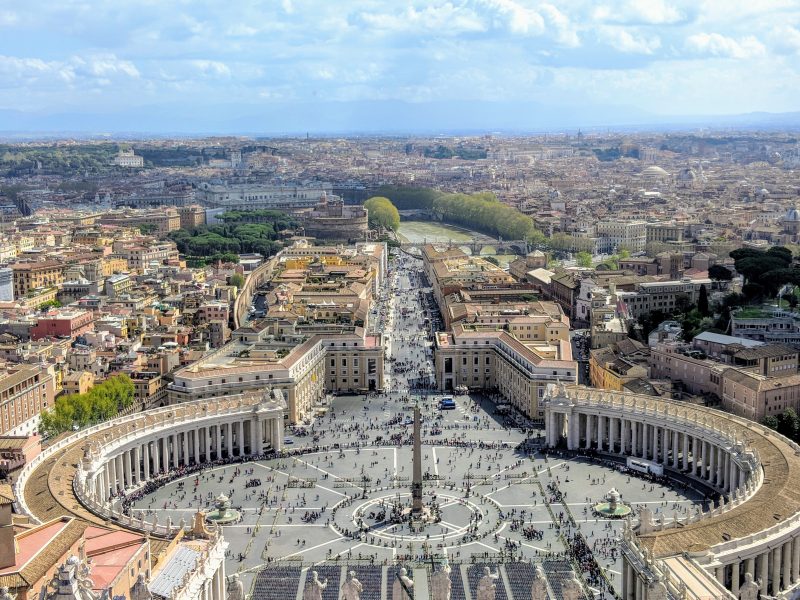 Why should I apply?

The Gilson Seminar introduces you to university-level studies on a small scale, with students who share your interest in faith, ideas, and international experience. Beyond your academic activities in the Seminar, you will have a chance to propose and participate in innovative social justice projects, and in community- and culture-building activities with your fellow students. As a member of the very first class you will inspire future generations, forge lifelong friendships, and help create exciting new ways for St. Michael's to flourish as the centre of Catholic intellectual life at the University of Toronto.

What are the courses?

Here's a look at the two half-courses:

Fall 2022: The Gilson Seminar in Faith and Ideas

Inspired by the Catholic intellectual tradition and from a variety of perspectives, we will explore questions related to faith and ecology, science, literature and politics. The Seminar features a weekly lecture on a major topic and a small tutorial in which you will have a chance to explore the subject in greater depth. Throughout this course, you will have a chance to read, reflect, discuss and write about timely issues while engaging with timeless ideas. You will receive 0.5 course credits for taking this course, which would be one of normally 5 courses that you would take in the Fall term.

Winter 2023: The Gilson Seminar in Faith and Rome

This course includes a two-week international learning experience in Rome, Italy, in May 2023, that explores the roles that the Catholic Church and Vatican have played in ecology, science, literature and politics. The Seminar features daily lectures and site-specific talks and tours in and around Rome. You will have a chance to immerse yourself in the living history of one of the world's great centres of belief and culture and in turn to reflect on, discuss, and write about this experience. You will receive 0.5 course credits for taking this course, which runs in the Winter term.

What will I be reading?

Some of the material you'll be reading could include selections from:

• St. Augustine's Confessions, an autobiography about what it means to search for truth and to believe in God when not very many people think there's a point to it, and Dorothy Day's The Long Loneliness, an autobiography about committing your life to social justice activism out of your belief in God

• Laudato si', Pope Francis's encyclical on the environment and what it means to care for each other and the Earth out of our highest aspirations and commitments

• Gerard Manley Hopkins's poems about creation and beauty, which were inspired by his life and travels as someone with vocations to both art and religious life

• Gene Luen Yang's Boxers and Saints, graphic novels about xenophobia and Christianity in early twentieth-century China

• Louise Erdrich and Sherman Alexie's reflections and poetry about the relationship between Catholicism, indigenous experience, and the life of the mind

• Gyorgy Spiro's Captivity, a novel about Jewish community life in first century Rome, where responding to God's presence can have dramatic personal and political consequences

What about Rome—when do I go? Are there fees?

The travel portion of the Gilson Seminar in Faith and Rome takes place in Rome, Italy, in May 2023.

The Faith and Rome Seminar is based at the Villa Palazzola, a lakeside residence just outside the city. In advance of the trip, you will receive more detailed information and also safety training and other preparation.

All students admitted to the Gilson Seminar in Faith and Rome are responsible for their own airfare and incidentals. The cost of room, board and programming are partially covered by an ancillary fee for this course that is applied to your student account during registration for this course. The fee amount is $2,000.

If you are registered as St. Michael's College student and you are accepted into the Gilson Seminar, you are eligible to $2,000 travel scholarship.

Please note that trip dates are subject to change. The University of St. Michael's College follows the guidance of government health authorities and the Faculty of Arts and Science when arranging student travel.
Courses
Apply