How to book an appointment
Andrea Graham is the Learning Strategist at St. Mike's.
You may book a one-on-one 50-minute appointment with Andrea Graham online.
You may book an appointment with Liam O'Leary and other strategists at the Academic Success Centre.
Try the Academic Success Centre's online chat system for making appointments!
What Learning Strategists Help With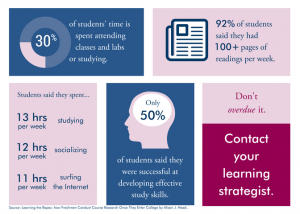 Andrea, Liam, and other learning strategists help students–one-on-one and in group workshops–with all aspects of academic performance including time management, stress management, study strategies, writing, procrastination, critical reading and critical thinking.  They can help you discover your best ways of learning, adapt to university work and expectations, increase your efficiency, identify and pursue your goals, improve your work, and get the most out of your academic learning experience.
Who can use this service
Arts and Science students who are enrolled in SMC courses and all students who are registered at St. Michael's College.