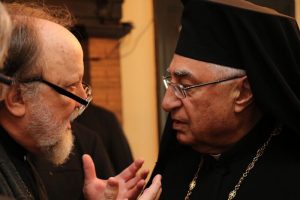 The gates on Elmsley Place stood open on the morning of Monday, October 30, to admit a very important visitor to campus: Patriarch Youssef Absi of the Melkite Greek Catholic Church. Accompanied by a delegation of Melkite bishops, His Beatitude came to St. Mike's to pay a visit to the Sheptytsky Institute in Windle House, where he was received by Institute director Fr. Peter Galadza.
According to a Catholic News Agency article about the patriarch's election over the summer, the Melkite Greek Catholic Church is based primarily in Syria and Lebanon and comprises around 1.5 million members worldwide. Archbishop Nicholas Antiba, Metropolitan of Bosra, Hauran, and Jabal Al-Arab in Syria, was among the church officials who accompanied the patriarch on his visit. A Byzantine-rite Eastern Catholic Church, the Melkite Church is in full communion with the Holy See.
Fr. Galadza gave a lively presentation on the work and life of the Institute before presenting His Beatitude with an armful of gifts: a Divine Liturgy anthology, copies of the Institute's academic journal Logos, and a history of the first quarter century of the life of the Institute. He also praised the Melkite Church for its traditions of "fidelity, universalism, and scholarship."
The Melkite delegation then visited Founders House, where President David Mulroney met the patriarch and bishops in his office. After a discussion of the University's programs and its support for the Sheptytsky Institute, Patriarch Youssef and those accompanying him departed, and the Elmsley gates closed once again.