To register, please click here.
Please send and queries to events.usmctheology@utoronto.ca.
Admission is free for the keynote lecture on Friday, May 6, at 7 p.m. by Dr. Phyllis Zagano. The lecture takes place in Sam Sorbara Hall, at 70 St. Mary St.
Study Day events take place on Saturday, May 7 from 8:30 a.m.-6:00 p.m. in the Coop (the north end of Brennan Hall) ollowed by Vespers in Loretto College Chapel. The ticket price for students and the unwaged is $11.20, including admin fees, while general admission is $43.00
Optional banquet to follow. Banquet tickets are $53.60, including admin fees.
All events will be held in Brennan Hall, 81 St. Mary St., Toronto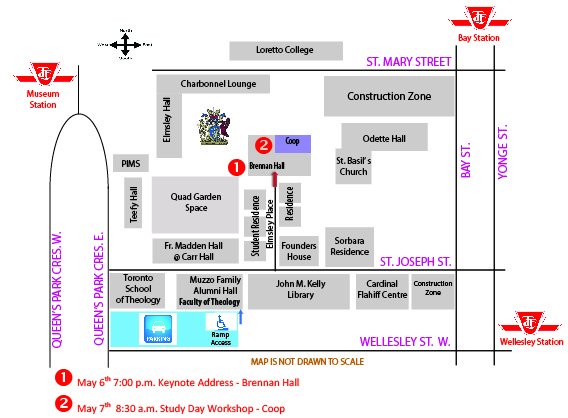 ---
Papers and Related Materials: Password available upon registration
Tentative Schedule:
Time
Event
Friday
 
7pm
Public Lecture

Admission Free

8.30
Reception
Saturday
8.30am
Coffee and Pastries
9.00
Session I: The Pastoral Context
10.15
Coffee Break
10.45
Session II: The Biblical Resources
12.00
Lunch
1.30
Session III: Historical Sources

Brian Butcher

2.45
Coffee Break
3.15
4.30
Break
5.00
Panel Discussion

Panellists include:

Rev. Brian Clough
Sr. Mary Ellen Sheehan, IHM
Shelagh Peterson
Maria Karajovanova
Deacon Steve Barringer

6.00
Break
6.30
Vespers Service
7.15
Banquet