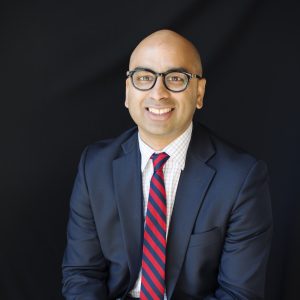 Writer, critic and scholar Randy Boyagoda is Principal and Vice-President of the University of St. Michael's College in the University of Toronto, where he is Professor of English, holds the Basilian Chair in Christianity, Arts, and Letters, and also teaches in the Christianity and Culture program.
Born in Oshawa in 1976 to Sri Lankan-Catholic parents, Professor Boyagoda earned his Bachelor of Arts in English at the University of Toronto (1999), and received his Masters (2001) and PhD (2004) in English from Boston University. In 2005, Professor Boyagoda was a postdoctoral fellow with an institute for advanced studies at the University of Notre Dame, where he was concurrent Assistant Professor of English. In 2006, Professor Boyagoda accepted a position as Assistant Professor of American Studies in the English Department at Ryerson University; that same year, he published his first novel, Governor of the Northern Province, which was a finalist for the ScotiaBank Giller Prize. He also began contributing essays, book reviews, and cultural commentary to a series of publications, including the New York Times, Wall Street Journal, Globe and Mail, National Post, Financial Times (UK), Guardian, Harper's, First Things, Commonweal, Paris Review, and New Statesman, in addition to appearing regularly on CBC Radio. Professor Boyagoda received early tenure in 2009, following the publication of his book Race, Immigration, and American Identity in the Fiction of Salman Rushdie, Ralph Ellison, and William Faulkner. In 2011, he published his second novel, Beggar's Feast, which has since been published around the world to international acclaim, named a New York Times Editor's Choice selection, and also nominated for the 2012 IMPAC Dublin Literary Prize.
Before joining St. Mike's, Professor Boyagoda held a series of administrative positions at Ryerson University, including Chair of the English Department and the founding Director of Zone Learning, a new university-wide experiential learning program. Modeled on business incubators and accelerators that support the rapid creation of new companies and social organizations, Ryerson's Zones offer students the opportunity to pursue multi-disciplinary projects. Notable achievements during Professor Boyagoda's term include Ryerson students crafting a social media strategy for the Vatican, which was presented to the General Secretary of the Pontifical Council on Social Communications; a partnership with St. Michael's Hospital to create a Zone for innovation and entrepreneurship in Biomedical Science; a successful proposal and design development for a six million dollar advanced fabrication facility, to be housed in Ryerson's new multipurpose Church Street Development building; and a collaboration with Covenant House that encourages skills development for its young people through their working on urban renewal projects alongside Zone Learning students.
While serving as Director of Zone Learning, Professor Boyagoda continued to pursue research, scholarship and writing that explores modern American experience and the complex relationship between the sacred and the secular. His most recent book is a SSHRC-supported biography of Fr. Richard John Neuhaus, which was published in 2015 to wide notice and critical acclaim. He is currently working on a new novel and researching an academic study of the role of novelists and intellectuals in postwar American diplomacy and foreign policy.
His service activities include serving as the President of PEN Canada, the national writers' organization that celebrates literature and defends freedom of expression at home and abroad. He also sits on the Board of Governors for St. Augustine's Seminary and is involved with community initiatives at his local parish, Corpus Christi. Together with his wife Anna and their four daughters, Professor Boyagoda lives in Toronto's East End. 
Contact
Rachel Ottenbreit
Executive Assistant
Odette Hall 127
Mailing Address
Office of the Principal
University of St. Michael's College
81 St. Mary Street
Toronto, Ontario, Canada M5S 1J4