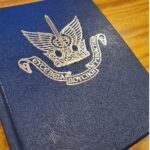 Since 1969 the University of St. Michael's College has awarded honorary degrees as its highest honour, using its statutory authority as an independent university to bestow doctorates on individuals whose achievements embody or advance St. Michael's mission, vision, and values as a Catholic institution of higher learning. This page explains and distinguishes these from other honours the University of St. Michael's College continues to offer, including honorary fellowships, and places on the Legacy Wall in Brennan Hall.
---
Honorary Degrees

Honorary Degrees are awarded to individuals who have achieved world-class excellence and exceptionality over their careers in one or more areas consonant with the Mission, Vision, and Values of USMC. Their esteem should be such that, by virtue of accepting an honorary degree, their presence at Convocation will bring honour and distinction to the University.

Formal recommendations of honorary degree candidates are made by the USMC Senate's Committee on Honorary Degrees and approved by the Senate. Honorary degrees are conferred at the University of St. Michael's College Convocation in the fall.

Previous Honorary Degree Recipients

Recent Recipients

Sr. Mechtilde O'Mara, CSJ (D.S. Litt. 2022)

A 1956 graduate of St. Michael's, Sr. Mechtilde had a distinguished teaching career at both the secondary and post-secondary school levels. She was a member of the St. Michael's College Classics Department, which eventually formed the corpus of the Classics Department at the University of Toronto's Faculty of Arts and Science and was part of Professor James McConica's team editing the works of Erasmus for the world-famous Erasmus Collection published by UTP. Sr. Mechtilde was also a dedicated teacher who was much loved by her students.

In 1991, she became the first Vice-President, Administration, of USMC and worked to enhance the research culture at the University and enhance the funding of faculty travel grants and bursaries. As chair of the recruitment committee. she opened new avenues of recruitment in Hamilton, Niagara, Ottawa, and the Greater Toronto area. In 1994, she was the producer of a recruitment film developed by Villagers Communications that won an award for excellence among Canadian Universities.

As a member of the leadership team for St. Joseph's College, she was a keen support to hundreds of residents over the years. One alumna describes Sr. Mechtilde as "a generous and cheerful presence" who, thanks to her teaching experience, had a great appreciation for the stressors of student work. When the announcement came that St. Joseph's College residence was to close, Sr. Mechtilde proposed to her congregation that they begin a ministry for young adults. The result was Faith Connections, a young adult network run by the Sisters of St. Joseph of Toronto and Fontbonne Ministries, where Sr. Mechtilde served as ministry director for eight years.

Fr. Daniel Donovan (D.D. 2022)

2022 marks Professor Emeritus Fr. Donovan's 85th birthday, the 60th anniversary of his ordination, and his 51st year of teaching at St. Michael's. Fr. Donovan is also an alumnus of the college, graduating in 1958. While working on graduate studies in Europe, he began his education in art, visiting some of the world's great galleries.

After earning a doctorate in Munster in northern Germany, he returned to Toronto, teaching at St. Augustine's Seminary for four years before arriving at St. Michael's in 1971, first teaching at the Faculty of Theology and then in the undergraduate Christianity & Culture program. Since his retirement in 2002, he has continued to teach on a part-time basis and remains an inspiration for his students.

A fixture in Toronto's arts community, Fr. Donovan is known for his insights and the supportive feedback he offers young artists, dedicating his Saturday afternoons to visiting the city's many galleries. In 1997, he made the first of what has become ongoing donations of art to St. Michael's. Today, more than 450 pieces donated by Fr. Donovan are placed around campus. Works from the collection, which include paintings, sculptures, drawings and carvings, have been lent to numerous university and public galleries, including the National Gallery in Ottawa the McMichael Canadian Art Collection, and the Art Gallery of Ontario. Over the years, Fr. Donovan's collection has played an important role in his teaching, whether through his asking students to reflect on various pieces or by having them conduct research on an artist and offering input on potential new additions to the collection.

Professor Gilles Routhier (D.D., 2021)

Professor Routhier's body of scholarly work is both monumental and influential. The author and co-author of more than 40 books, and editor and co-editor of more than 35 others, he has published more than 160 peer-reviewed articles, and more than 180 book chapters. He has given more than 300 academic lectures—across North and South America, throughout Europe and in Africa and Asia—on topics ranging from pastoral and practical theology to ecumenism and ecclesiology. He has been awarded approximately $1M CAD in support of his research at Laval. Through his teaching, Fr. Routhier has shaped a generation of critically minded new scholars and had a measurable impact on our understanding of the history of Catholicism in Quebec, the reception and hermeneutics of Vatican II, ecclesiology, missiology, history of theology, Mariology, and practical and pastoral theology.

Dr. Catherine Shannon (D.S. Litt. 2019)

Dr. Shannon graduated from St. Michael's with a B.A. in History in 1960 and went on to become a historian of Northern Ireland. In addition to her research on the historical roots of partition and the Northern Irish conflict, she worked to organize conferences and symposia during the 1980s and 1990s to promote dialogue between nationalist and unionist politicians. She has written on the impact of the conflict on Northern Irish women, and convened two conferences where women from Northern Ireland and the Republic discussed their aspirations for peace and their roles in achieving it.

In addition to her scholarship and advocacy, Dr. Shannon has served as a guest historian for museum and historical society exhibits. She has also served on the Executive Board of the American Conference of Irish Studies for over a decade and has served as president of the Eire Society of Boston and the Charitable Irish Society of Boston.

Dr. James Heft (S.M., D.D., 2019)

Dr. Heft is a priest in the Society of Mary and has been a leader in Catholic higher education for over three decades. He received his MA in 1971 and his PhD in 1977 from the Faculty of Theology at St. Michael's. For years, he served in a variety of teaching and administrative roles at the University of Dayton, where he chaired the Theology department before working as provost and then university chancellor. He departed in 2006 to found the Institute for Advanced Catholic Studies at the University of Southern California in Los Angeles.

The author or editor of 13 books on topics ranging from intellectual humility and interreligious dialogue to Catholic higher education, Dr. Heft has also published over 175 articles and book chapters. His book Catholic High Schools: Facing the New Realities (Oxford, 2011) was listed as a best-seller in a recent Oxford catalogue, and a new book on the future of Catholic higher education is under review with the same press. In recognition of his long and distinguished service to Catholic higher education, in 2011 the Association of Catholic Colleges and Universities made Dr. Heft the recipient of the Theodore M. Hesburgh award.

Rev. Donald Senior, C.P. (D.D. 2016)

Rev. Donald Senior, C.P., is President Emeritus and Chancellor of Catholic Theological Union in Chicago (CTU), the largest Roman Catholic graduate school of ministry in the United States, where he is also a member of the faculty as Professor of New Testament. Born in Philadelphia, he is a member of the Passionist Congregation and was ordained a priest in 1967. He received his doctorate in New Testament studies from the University of Louvain in Belgium in 1972, with advanced studies at Hebrew Union College in Cincinnati and Harvard University. He served as president of CTU for 23 years. He is a frequent lecturer and speaker throughout the United States and abroad, serves on numerous boards and commissions; and is actively involved in the interreligious dialogue, particularly with the Jewish and Muslim communities.

Professor Sarah Coakley (D.S. Litt 2015)

As Norris-Hulse Professor of Divinity, Sarah Coakley holds the established chair at Cambridge in philosophy of religion. She has previously held positions at the Universities of Lancaster, Oxford, and Harvard, and a visiting professorship at Princeton. She has been awarded honorary degrees by the University of Lund, the University of St Andrew's and General Theological Seminary, New York. In 2012 she delivered the Gifford Lectures in Aberdeen on the topic 'Sacrifice Regained: Evolution, Cooperation and God'. In 2012 she was also elected a member of the European Academy of Sciences and Arts, and in 2013 the President of the British Society for Philosophy of Religion.

Professor John W. O. Malley, SJ (D.D. 2015)

John O'Malley has lectured widely in North America and Europe to both professional and general audiences. He has held a number of fellowships, from the Guggenheim Foundation, the National Endowment for the Humanities, the American Council of Learned Societies, and other academic organizations. He is past president of the Renaissance Society of America and of the American Catholic Historical Association. In 1995 he was elected to the American Academy of Arts and Sciences, in 1997 to the American Philosophical Society, and in 2001 to the Accademia di san Carlo, Ambrosian Library, Milan, Italy. He holds the Johannes Quasten Medal from The Catholic University of America for distinguished achievement in Religious Studies, and he holds a number of honorary degrees. In 2002 he received the lifetime achievement award from the Society for Italian Historical Studies and in 2005 the corresponding award from the Renaissance Society of America. He is a Roman Catholic priest and a member of the Society of Jesus.

Honorary Fellowships

Honorary Fellowships are awarded to individuals whose ongoing work and success aligns with the Mission, Vision, and/or values of USMC. An honorary fellowship draws the candidate into the St. Michael's community for mutual enrichment, inspiration, and encouragement.

Formal recommendations of Honorary Fellows are made by the University Honours Nominations Committee and confirmed by the President. Honorary Fellowships are conferred by the Chancellor, often at the Baccalaureate Mass in the spring. Honorary Fellows are distinct from Fellows of the College, whose selection, opportunities and obligations are captured in a separate Charter.

Honorary Fellows of the University of St. Michael's College

Recent Honorary Fellows

Mary Jo Leddy (honorary fellow, 2015)

Mary Jo Leddy (B.A.; B.Ed.; M.A.; Ph.D.) is a well-known author, activist, refugee advocate and Director of Romero House for Refugees in Toronto. She is also an Adjunct Professor at Regis College, University of Toronto, an international lecturer and frequent radio and TV commentator, and an active member of the

Ontario Sanctuary Coalition and PEN Canada. Leddy was the founding editor of Catholic New Times, an independent national Catholic newspaper.

Donald F. Finlay, CSB (honorary fellow, 2015)

Fr. Finlay is a retired Basilian priest. In his active years, he served as Librarian at USMC as well as Registrar, Mentor and Member of the College Community. He also served PIMS as Librarian. Now retired at Anglin House (95 St. Joseph Street), he is fondly remembered by many in the College for his dedication to the Mission of the College and for supporting the students of the College.

Legacy Wall

Alumni, faculty, staff, or community members who have contributed to the building of the USMC community or brought the values of USMC to their work in the greater community, whether local or global. Nominees for the Legacy Wall in Brennan Hall may be living or deceased. Ceremonies for installations on Legacy Wall can occur at any appropriate time.

Formal recommendations to be placed on the Legacy Wall are made by the University Honours Nominations Committee and confirmed by the President. Honorary Fellowships are often conferred by the Chancellor at the Baccalaureate Mass.
Nominations and Other Honours
Nominations for all University Honours are received by the University Honours Nomination committee via the University Honours Nomination Form and then passed to the appropriate deliberative body for adjudication.
The University Honours Nominations Committee's authority is delegated it by the President of the University of St. Michael's College, to whom it is accountable. The Committee is chaired by the Director of the President's Office. The three principal duties of the Committee are:
1) to invite nominations from the USMC community;
2) to maintain a nominee pool; and
3) to recommend to the President individuals from the nominee pool principally for Honorary Doctorates, Honorary Fellowships, and Legacy Wall additions, and perhaps other honours such as the University of Toronto's Arbor Award or the Order of Canada. (Nominees' files are then passed to the respective deliberative body for each honour.)
Due to their access to the full pool of nominees, the University Honours Nomination Committee may recommend nominees for honours other than those indicated by their nominators.
To nominate an individual for a University Honour, please click here.
———
For undergraduate student financial aid and awards, click here.
For graduation awards, click here.