Professor Irene Morra is Principal and Vice-President of St Michael's College and a professor in the Department of English at the University of Toronto. Prior to her appointment at Toronto, she lived and worked in the United Kingdom, where she was Professor and Director of Studies in English Literature at Cardiff University and a Visiting Fellow at the Institute of English Studies, University of London.
Professor Morra's research and teaching interests are wide-ranging and often interdisciplinary. She has organized major collaborative and interdisciplinary events that have brought together academics, creative artists, and major cultural institutions. She has taught courses on subjects including Shakespeare's Comedies, John Donne, Modern Drama, Literature of the London Blitz, Twentieth-Century American Literature, Reading and Writing Homosexuality in Postwar Britain, and The Film Musical.
Much of Professor Morra's scholarship encourages new ways of thinking about the ways in which the arts (particularly literature, drama, music, film, and television) engage culturally and aesthetically with each other. It also explores and critiques the wide-ranging implications of cultural nationalism, with a particular emphasis on Britain from the nineteenth century to the present day. These various interests have resulted in the publication of scholarly articles on subjects as diverse as Greek and modern drama; intertextuality in the Victorian novel; opera and modernism; British popular music; and the legacy of Shakespeare in contemporary drama, film, and political rhetoric. Her books have examined the creative relationships between modernist writers and opera in the twentieth century; the central role of popular music and popular music culture in contemporary definitions of modern Britishness; the political and cultural New Elizabethanism of the 1950s and its legacy in contemporary literature, arts, and politics; and the diverse, overlooked tradition of verse drama from the nineteenth century into the present day.
Her current book project is Through a Fog Darkly: Britain Noir, a history and analysis of a distinct British noir aesthetic in literature, drama, film, and the visual arts between the 1920s and late 1950s. She is also working on Britain, Canada, and the Arts: Cultural Exchange as Postwar Renewal, a collaborative study of the origins, strength, and legacy of a hitherto overlooked moment of inter-cultural and cross-national exchange.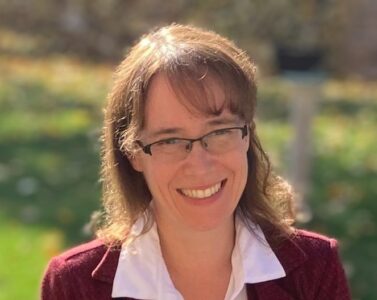 Contact

Iulia Iarca
Executive Assistant
usmc.principalsoffice@utoronto.ca
416-926-7148

Office

Odette Hall 127

Mailing Address

Office of the Principal
University of St Michael's College
81 St Mary Street
Toronto, Ontario, Canada
M5S 1J4