Fr. Morgan Rice is the pastor of St. Basil's Church, the college parish. He is a graduate of the Faculty of Theology, where he earned a Master of Divinity degree in 2009. Fr. Morgan arrived at St. Basil's after serving as Associate Pastor at St. Kateri Tekakwitha Parish in Rochester, New York, for eight years. Born and raised in Corpus Christi, Texas, Fr. Morgan studied mechanical engineering at the University of Virginia and later worked for six years in the engineering field in Houston, Texas.
---
Vulnerability and Life
Last Sunday, the first segment of CBC's The Sunday Edition featured Yale University historian and professor emeritus Frank Snowden, who spoke on how pandemic diseases have shaped human history by exposing and taking advantage of weaknesses, or vulnerabilities, in human society. He said that COVID-19, like other pandemic diseases, "is showing us what our deepest vulnerabilities are in the world that we've made." Capitalizing on those vulnerabilities, the disease is altering life and relationships across the globe.
Vulnerability can be viewed in different ways. If seen as opening us to hurt and loss, we have good reason to avoid it. However, vulnerability, especially in the context of a safe environment with people we trust, can open us to some profound experiences and relationships.
The Triduum that begins tonight with the Mass of the Lord's Supper and ends with the Easter Vigil invites disciples of Jesus to consider vulnerability as a necessary disposition that leads to life in the fullest. Three months ago, I would never have imagined that I would be celebrating tonight's Mass in an empty church without a congregation, without music, and without the washing of feet, one of the most moving aspects of the liturgy. Over the years, I have come to realize that asking individuals to have their feet washed is asking them to be vulnerable—to bare their feet, thus exposing any imperfections, and allow me to touch and wash their feet as I humbly kneel before them. However, taking that risk opens them and me to a powerful experience.
Jesus insisted he wash the feet of his disciples otherwise they would have no inheritance with him (John 13.8). They were to do likewise. "So if I, your Lord and Teacher, have washed your feet, you also ought to wash one another's feet" (John 13.14). This lesson foreshadowed Jesus' ultimate act of love and vulnerability as he submitted to the Cross, which led to the new life of the Resurrection.
COVID-19 has altered life as we know it and likely will continue to do so for some time. While it is showing us vulnerabilities that have opened us to great losses and pain, how might we use vulnerability differently? Jesus shows us the way and that is through relationships—by choosing to be vulnerable with each other, offering our lives in service and love, washing each other's feet so that all might experience greater life.
---
Read other InsightOut posts.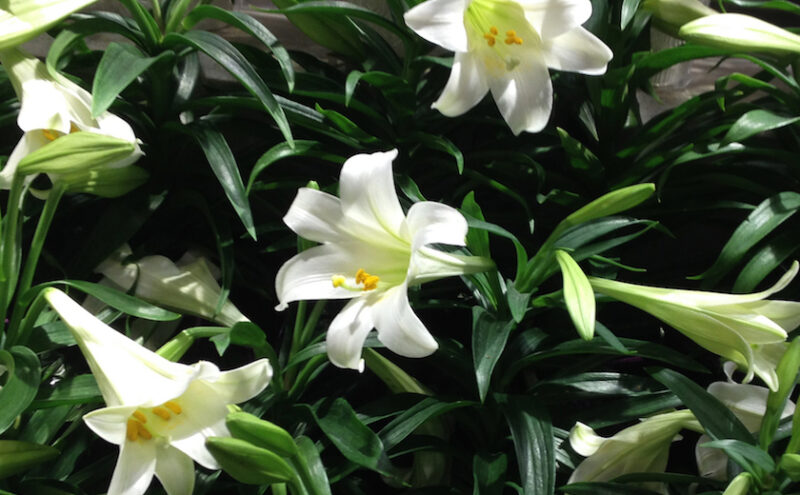 Then Jesus went with them to a place called Gethsemane; and he said to his disciples, "Sit here while I go over there and pray." He took with him Peter and the two sons of Zebedee, and began to be grieved and agitated. Then he said to them, "I am deeply grieved, even to death; remain here, and stay awake with me." And going a little farther, he threw himself on the ground and prayed, "My Father, if it is possible, let this cup pass from me; yet not what I want but what you want." Then he came to the disciples and found them sleeping; and he said to Peter, "So, could you not stay awake with me one hour? Stay awake and pray that you may not come into the time of trial; the spirit indeed is willing, but the flesh is weak." Again he went away for the second time and prayed, "My Father, if this cannot pass unless I drink it, your will be done." Again he came and found them sleeping, for their eyes were heavy. So leaving them again, he went away and prayed for the third time, saying the same words. Then he came to the disciples and said to them, "Are you still sleeping and taking your rest? See, the hour is at hand, and the Son of Man is betrayed into the hands of sinners. Get up, let us be going. See, my betrayer is at hand."
Matthew 26.36-46
The isolation of the Garden of Gethsemane takes on new meaning for many of us in this unprecedented experience of the season of Lent. As we move toward the Triduum, the pinnacle of the Church year, the COVID-19 pandemic and the resulting physical distancing which has closed churches to the public has forced all of us to rethink how we worship, as well as to remember why we do.
Normally at this time, our campus would be alive with students handing in papers, doing last-minute check-ins with professors, returning library books, and preparing for exams. They would also be visiting St. Basil's, our beautiful collegiate church, attending one of the two daily masses, receiving the sacrament of reconciliation, and preparing to observe the passion, death and resurrection. There would be a sense of completion to the students' year, as there would be for faculty and support staff. An academic year would be drawing to a close, just as Easter was about to herald new life.
In our current reality, however, norms have disappeared, which poses multiple challenges. But St. Michael's is a collection of communities, including a community of faith, and so we thought we'd share a few thoughts on how to support each other as we prepare to say, once again, "He is risen!"
St. Michael's alumni members have a long tradition of a Lenten retreat. When they were unable to meet together, Dr. Colleen Shantz, who was to lead the retreat with Dr. Darren Dias, O.P, created a virtual retreat, which you can find here. Thanks to both professors for their efforts.
Dr. Dias, who teaches Trinity in the Faculty of Theology, reminds us there are many ways to mark this holiest of seasons, even if we are not able to access our normal traditions.
For example, "people could do a solitary stations of the cross by walking outside and stopping to say a station prayer 14 times," Fr. Dias suggests. "This would get people outside and attentive to the season."
As well, "families could read and meditate upon the readings of the day. We can promote the domestic church in this way," he adds. He also suggests calling an elderly or isolated person to pray with them over the phone, a very powerful reminder of the injunction of when two or more are gathered.
If you watch our website in the coming days, you'll see homilies from Fr. Darren posted for both Palm Sunday and Easter, and Fr. Morgan Rice, CSB, will contribute the Holy Thursday post to InsightOut, our COVID-19-related blog, on Holy Thursday.
St. Basil's links to some useful supports for prayer during Lent, and we applaud their efforts to help people in prayer at this unusual time. So, too, does the Archdiocese of Toronto, and we are grateful.
One of the nicest links we've seen is this one, which offers a heartfelt alternative to the usual Palm Sunday traditions.
While we may not be physically together on this Lenten journey, we are very much together in spirit, and we look forward to the day when we can gather together and say, "He is risen. Alleluia!"