Congratulations on Your Acceptance and Welcome to St. Mike's!
St. Michael's College is one of the largest and most vibrant colleges in the Faculty of Arts & Science at the U of T.
Founded in 1852 and rich in both history and tradition, St. Mike's will be your home base starting in September. Your years at university will be some of the most exciting and memorable of your life. You will learn from some of the most distinguished minds in the world, and you will make friends and
create memories that will last a lifetime. St. Mike's and the University of Toronto are committed to making our students aware of the
wealth of possibilities on campus and in the city. We will present you with opportunities to learn outside the classroom so that you can complement your academic activities with real world experience.
We offer writing and research support through St. Mike's Research Help Centre, along with the  Personal Librarian Program for first year students through the John M. Kelly Library.
St. Michael's is proud to have the largest College library on campus, a completely refurbished commuter lounge and café, a motivated student government, and a wide range of student clubs, activities and services.
Join one of the many athletic activities, intramural sports team, volunteer with our Out of the Cold program, Student Philanthropy Council and Campus Ministry, take part in SMCSU our student government, join the staff of The Mike, our venerable student newspaper, perform in
our monthly talent show Kelly's Corner, or audition for a St. Mike's musical. Whatever your academic, extra-curricular or career goals, you have taken a fine first step.
We look forward to seeing you soon!
Academic Orientation Dates (note, these events are not mandatory. We will be sending relevant information to all students concerning registration and all matters related to academics. We will also be holding group advising sessions throughout the summer. More information to follow on these):
Tuesday, July 12, from 2pm-4pm
Thursday, July 14, from 2pm-4pm
Monday, July 25. from  4pm-6pm
Wednesday, July 20th from 6pm-8pm
Tuesday, September 6. 10am-12pm. Q & A Session to address all of your inquiries!
Friday, September 9. 10am – 12pm. Q & A Session to address any inquiries.
Academic Orientation sessions will be held in the Muzzo Family Alumni Hall building, 121 St. Joseph Street, Room AH100. 
Next Steps Videos
Be sure to check out the Next Steps videos  – they're short and really helpful in navigating you through your checklist of things to do before classes start in September.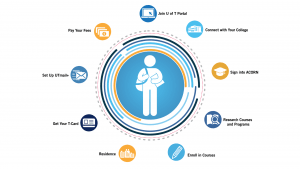 St. Michael's College Office of the Registrar and
Student Services
Muzzo Family Alumni Hall, Room 207
121 St. Joseph Street, Toronto ON M5S 3C2
416-926-7117
ask.smc@utoronto.ca
Residences at St. Mike's: Friendships and Memories to Last a Lifetime
Residence living offers you the convenience of living just steps away from your classes, along with all the other unique opportunities that downtown Toronto has to offer. It's an ideal way to experience the independence of living on your own but with a support network to help guide you through the transition. Each of our residence houses is assigned its own Don who is responsible for fostering community, promoting social and educational events, as well as ensuring the rules of residence are being followed.
St Mike's offers two separate residence operations:
SMC Residence which accommodates both men and women
Loretto College Residence which accommodates women only
Male students who have indicated an interest in residence on the University of Toronto's common residence application (MyRes) will receive information from the SMC Residence only, while female students will receive information from both residences. This information will be sent to you via email so be sure that your email account accepts
messages from the @utoronto.ca domain. You may also want to check your junk mail folder regularly just in case. The University of Toronto
guarantees residence to freshmen students providing some conditions have been met.
Residence Guarantee Criteria
They indicated an interest in residence by completing the University's Common Residence Application (MyRes)
by March 31, 2016;
They receive and accept their offer of admission to the university by June 1, 2016; and
They pay their residence deposit ($600) by the due date on their offer letter/email.
Students must respond to all deadlines and meet all deposit requirements in order to maintain their eligibility.
Any students who would like to live in residence but who do not qualify for the guarantee should visit the St. Michael's residence website for information on how to apply to the waitlist.
stmikes.utoronto.ca/residences/
Residences Contacts
Laura Rabold, Residence Operations Coordinator
St. Michael's College Residence
81 St. Mary Street Toronto, ON M5S 1J4
+1 416-926-7127 smc.residence@utoronto.ca
Angela Convertini, Dean of Women Loretto College Residence
70 St. Mary Street Toronto,
ON M5S 1J3 +1 416-925-2833 loretto.college@utoronto.ca
Next Steps
Your Offer
Make sure you accept your offer of admission by the
stated deadline.
Your Accommodation
If you have confirmed your interest in residence on the U of T Common Residence Application (MyRes), look for
your offer sent via email from the SMC Residence or Loretto College.
Please make sure your email account accepts messages from the '@utoronto.ca' domain. You may also want to check your 'junk' mail
folder regularly just in case. Make sure you accept your residence offer and pay your deposit by the stated deadline. If you require
housing off campus, the UofT Student Housing Services will be able to assist you in your search.
Your Courses
Check the Faculty of Arts & Science Course Calendar and Registration Handbook & Time­table.
Attend the spring SMC Welcome Event & Academic Orientation Session on Saturday, JUNE 4, 2016 or one of the Academic Orientation Sessions in JULY. If you cannot attend any of these sessions at the College, much of the information may be found on this page as well as the Bulletins for Newly Admitted Students and FAQs for Newly Admitted Students.
Students admitted into First Year will be able to view their start time on ACORN / ROSI in MID-JULY and will begin to enrol in their courses at end of July. Exact dates will be posted by late April. Transfer students admitted into Second or Third Year register earlier.
Check the Faculty of Arts & Science Registration Handbook & Time­table. Familiarize yourself with UofT's on-line registration and records system (ACORN / ROSI). We expect that you will have web access on your start date and time. Course selection continues until mid-September but students who delay selecting courses may find many courses and labs filled.
Your Finances
Make sure that you have adequate funding available to cover your costs for the upcoming year. Budget prudently.
If you are an Ontario resident and require financial assistance, apply for the  Ontario Student Assistance Plan (OSAP) as early as possible and no later than JUNE 15 in order to ensure a response prior to September.
If you are from out of province, check with your local funding agency about relevant deadlines.
Your Payment
Pay 65% of your first installment of your academic tuition fee OR defer your fees by MID-AUGUST. Instructions will be in the online 2016-2017 Registration Handbook and Timetable.
For full details onpaying from within Canada or from abroad, see www.fees.utoronto.ca.
If you are accepting an offer to residence, be sure to pay your minimum installment according to the instructions in your acceptance letter.