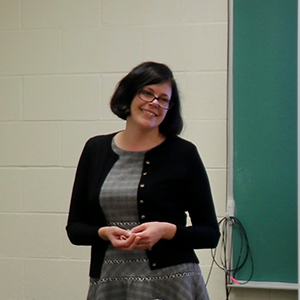 Assistant Professor of New Testament
Dr. Callie Callon is a New Testament scholar at the Faculty of Theology who has also taught at the undergraduate level for St. Michael's.
She is an expert in ancient physiognomy, looking at how early Christians used appearances to praise or impugn others. Her book, Reading Bodies: Physiognomy as a Strategy of Persuasion in Early Christian Discourse, was published in 2019 by Bloomsbury Publishing. Her recent courses have included "The Gospel of Matthew," "The Life and Letters of St. Paul," and "Feminist Interpretations of the Bible."
She earned her doctorate at the University of Toronto's Department for the Study of Religion under the supervision of renowned scripture scholar Dr. John Kloppenborg. After graduating in 2014, Dr. Callon taught courses at the University of Toronto and Queen's University before arriving at St. Mike's in 2017 as a sessional instructor and then accepting a contract position with the Faculty of Theology in 2018.
Dr. Callon describes her teaching as "student-focused" and enlivens her classes with an Ancient Greek word of the day.
Areas of Expertise

Women in Christianity
Early Christianity
Ancient physiognomy
Feminist interpretations of scripture
The New Testament

Links

Publications

Monograph

Reading Bodies: Physiognomy as a Strategy of Persuasion in Early Christian Discourse (LNTS: T&T Clark). 2019.

 

Articles in Peer Reviewed Journals

"Philostratus' Omission of Polemo's Physiognomic Skills: A Brief Re-Examination and a Proposed Explanation," in Classical Philology. 2019.

"Afterword" for a Special Issue of Biblical Interpretation: "Torture, Truth, and Slavery: Engaging the Work of Page duBois" (invited). 2017.

"A Re-examination of Ignatius' use of the term 'leopards,'" in the Journal of Theological Studies. 2015.

"Images of Empire, Imaging the Self: The Significance of the Imperial Statue Episode in the Acts of Peter," in the Harvard Theological Review 106 (3): 331-55. 2013.

"Adulescentes and Meretrices: The Correlation between Squandered Patrimony and Prostitutes in the Parable of the Prodigal Son," in the Catholic Biblical Quarterly 75 (2): 259-78. 2013.

"Secondary Characters furthering Characterization: the Depiction of Slaves in the Acts of Peter" in the Journal of Biblical Literature 131 (4): 797-819. 2012

"Sorcery, Wheels, and Mirror Punishment in the Apocalypse of Peter," in the Journal of Early Christian Studies 18 (1): 29-49. 2010.

"The Parable of the Shepherd and the Transformation of Discourse," co-authored with John Kloppenborg in Early Christianity 1 (2): 218-60. 2010.

"Pilate the Villain: An Alternative Reading of Matthew's Portrayal of Pilate," in the Biblical Theology Bulletin 36 (2): 62-71. 2006.

 

Chapters in Peer Reviewed Volumes

"The Unibrow that Never Was: Paul's Appearance in the Acts of Paul and Thecla," in Dressing Jews and Christians in Antiquity, eds. Alicia Batten, Carly Daniel-Hughes, and Kristi Upson-Saia (Surrey: Ashgate Press): 99-116. 2014. 

 

Forth Coming Contributions to Books (Publication date currently unknown)

 "IDelos 1519: Tyrians Devoted to Herakles Honor a Member and Priest of their Synod." In John S. Kloppenborg and Richard S. Ascough.  The Aegean Islands, Syria-Palestine. Vol. IV of Greco-Roman Associations: Texts, Translations, and Commentary. Beiheft zur Zeitschrift für die neutestamentliche Wissenschaft. Berlin and New York: Walter de Gruyter, 2017.

"IDelos 1521: A Translocal Egyptian Koinon."  In John S. Kloppenborg and Richard S. Ascough. The Aegean Islands, Syria-Palestine. Vol. IV of Greco-Roman Associations: Texts, Translations, and Commentary. Beiheft zur Zeitschrift für die neutestamentliche Wissenschaft. Berlin and New York: Walter de Gruyter, 2017.

"IDelos 1705: Shippers Honour a Nikaian from Bithynia." In John S. Kloppenborg and Richard S. Ascough. The Aegean Islands, Syria-Palestine. Vol. IV of Greco-Roman Associations: Texts, Translations, and Commentary. Beiheft zur Zeitschrift für die neutestamentliche Wissenschaft. Berlin and New York: Walter de Gruyter, 2017.

"IDelos 1714: Oil Merchants Dedicate a Temple and Statue of Heracles." In John S. Kloppenborg and Richard S. Ascough. The Aegean Islands, Syria-Palestine. Vol. IV of Greco-Roman Associations: Texts, Translations, and Commentary. Beiheft zur Zeitschrift für die neutestamentliche Wissenschaft. Berlin and New York: Walter de Gruyter, 2017.

"IDelos 1733: Dedication to Hermes (Mercury) and Maia by the Italian Hermaistia." In John S. Kloppenborg and Richard S. Ascough. The Aegean Islands, Syria-Palestine. Vol. IV of Greco-Roman Associations: Texts, Translations, and Commentary. Beiheft zur Zeitschrift für die neutestamentliche Wissenschaft. Berlin and New York: Walter de Gruyter, 2017.

"IDelos 1779: Dedication of an Altar to Roma."  In John S. Kloppenborg and Richard S. Ascough. The Aegean Islands, Syria-Palestine. Vol. IV of Greco-Roman Associations: Texts, Translations, and Commentary. Beiheft zur Zeitschrift für die neutestamentliche Wissenschaft. Berlin and New York: Walter de Gruyter, 2017.

"IDelos 2328-2330: Dedications in a proseuche." In John S. Kloppenborg and Richard S. Ascough. The Aegean Islands, Syria-Palestine. Vol. IV of Greco-Roman Associations: Texts, Translations, and Commentary. Beiheft zur Zeitschrift für die neutestamentliche Wissenschaft. Berlin and New York: Walter de Gruyter, 2017.

 

Book Reviews and Notes

The Oxford Handbook of Early Christian Apocrypha, eds. Andrew Gregory and Christopher Tuckett (2016). Religious Studies Review (forthcoming).

The Body in Biblical, Christian and Jewish Texts ed. Joan E. Taylor. Religious Studies Review 42/1: 40. 2016.

Slandering the Jew: Sexuality and Difference in Early Christian Texts by Susanna Drake. Religious Studies Review 42/1: 48. 2016.

Social and Economic Life in Second Temple Judaism by Samuel L. Adams. Religious Studies Review 42/1: 38-39. 2015.

Secret Scripture Revealed: A New Introduction to the Christian Apocrypha by Tony Burke. Religious Studies Review 41/3: 120. 2015.

Jews and Anti-Judaism in the New Testament: Decision Points and Divergent Interpretations by Terence L. Donaldson.  Studies in Religion/Sciences Religieuses 41 (2): 313-14. 2012.

Presentations

"Helping Students Negotiate the Variety of Jesuses in an Introductory New Testament Class," Annual Meeting of the Society of Biblical Literature, November 23, 2019.

"Galatians and Paul's Letter Collection," Canadian Society of Biblical Studies, June 3, 2018.

"The Use of Physiognomy as Rhetorical Strategy in Fourth Century Religious Competition," Annual Meeting of the Society of Biblical Literature, November 21, 2016.

"He Had Neither Form Nor Beauty: The Physiognomic Curiosity of the Negative Descriptions of the Physical Appearance of Jesus," Annual Meeting of the Society of Biblical Literature, November 21, 2015 (invited).

"Humorous Invective as a Component of Persuasion in Early Christianity: An examination of references to self-castrating beavers and pumpkins as a test case," Projecting the Secular: An Interdisciplinary Graduate Student Conference, Queen's University, Kingston, March 7, 2015 (invited).

"When is a Text not a 'Text'?  Early Gospels and Material Culture" (co-writer and presenter with Erin K. Vearncombe), Annual Meeting of the Society of Biblical Literature, November 22, 2014.

"Humorous Invective as a Component of Persuasion in Early Christianity," Annual Meeting of the Society of Biblical Literature, November 23, 2014.

"Physiognomy as a component of characterization in the Acts of Peter," Canadian Society of Biblical Studies, St. Catherines, ON, May 24, 2014.

"The Physiognomy of a Heretic: Physiognomic Polemic as a Component of Persuasion in Demarcating 'Insiders' and 'Outsiders,'" Religions of Mediterranean Antiquity Colloquium, University of Toronto, February 3, 2014.

"The Physiognomy of a 'Heretic': An Examination of the use of Physiognomy as a Rhetorical Tool of Persuasion in the Hetero-Orthodox debate," Annual Meeting of the Society of Biblical Literature, Baltimore MD, November 25, 2013.

"Those Effeminate Bastards!: A Re-Examination of the Leopards of Ignatius (Rom.5:1)," Canadian Society of Biblical Studies, Victoria, BC, June 3, 2013.

"Beardless and Base-Born: Physiognomic Polemic in Ignatius' Use of 'Leopards' in Romans 5:1," Graduate Colloquium, Department of Religion, University of Toronto, February 28, 2013.

"What Athens had to do with Jerusalem, and the Academy with the Church: Shedding Light on the Heresiologists with the Model of the Argument from Disagreement," Seminar on Conversion and Initiation in Antiquity: Shifting Identities — Creating Change, Ebeltoft, Denmark, December 4, 2012.

"The Unibrow that Never Was (?) and the Not-So-Many Faces of Paul: A Proposal to give the Physical Description of Paul a Makeover," Canadian Society of Biblical Studies, Waterloo, May 28, 2012.

"Beyond Central and Peripheral to the issue of Contested "Common Ground"? Or: What Athens had to do with Jerusalem, and the Academy with the Church: Shedding Light on the Heresiologists with the Model of the Argument from Disagreement," Annual Graduate Symposium at the University of Toronto, March 30, 2012.

"Response to Erin K. Vearncombe's 'Cloak and Dagger: Cloaks, Conflict and Mark 14.51-52'," Religions of Mediterranean Antiquity Colloquium, University of Toronto, December 1, 2011.

"Magic, Miracle, and a Strategy of Demarcation in the Acts of Peter," Annual Meeting of the Society of Biblical Literature, San Francisco, November 21, 2011.

"The Unibrow that Never Was (?) and the Not-So-Many Faces of Paul," Religions of Mediterranean Antiquity Colloquium, University of Toronto, November 3, 2011.

"Adulescentes and Meretrices: the Correlation between Squandered Patrimony and Prostitutes as drawn from Greco-Roman Comedy in the Parable of the Prodigal Son," Canadian Society of Biblical Studies, Fredericton, NB, May 2011.

"Secondary Characters Furthering Characterization: The Depiction of Slaves in the Acts of Peter," Annual Meeting of the Society of Biblical Literature, Atlanta, GA, November 22, 2010.

"The Parable of the Shepherd and the Transformation of Discourse," (co-writer and presenter with John S. Kloppenborg), Annual Meeting of the Society of Biblical Literature, New Orleans, LA, November 22, 2009.

Education

PhD, Religious Studies (2014) — University of Toronto
MA, Religious Studies (2008) — University of Toronto
BA Hons (2006) — University of Toronto