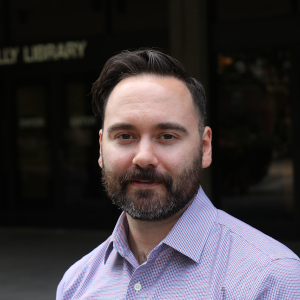 Interim William D. Sharpe Chief Librarian

Kelly Library 142
James is the Interim William D. Sharpe Chief Librarian at the John M. Kelly Library. James completed both his Bachelor of Arts (Honours) degree, majoring in Book and Media Studies and Indigenous Studies, as well as his Master of information degree at the University of Toronto specializing in archives and records management. James is currently pursuing a Master of Education degree from the Ontario Institute for Studies in Education (OISE) in the University of Toronto.
James is a past president of the Archives Association of Ontario (AAO) and the Toronto Area Archivists' Group (TAAG). He has served on committees with the Association of Canadian Archivists (ACA) and is a dedicated member of the archival community.
0000-0002-5586-7352
Research Interests

Selected Publications & Presentations

Roussain, J. (2020). Pedagogue in the Archive: Reorienting the Archivist as Educator. Archivaria, 90, 70-111.

Roussain, J., & Vong, S. (2020). From researcher to curator: Reimagining undergraduate primary source research with Omeka. In C. Young & E. A. Wilson (Eds.), Quick Hits: Teaching with the Digital Humanities (pp. 78-87). Bloomington, Indiana: Indiana University Press.

Education

Bachelor of Arts (Honours) at the University of Toronto, majoring in Book and Media Studies and Indigenous Studies
Master of Information (MI) at the University of Toronto
Master of Education (in progress) at the University of Toronto

Subject & Selection Areas