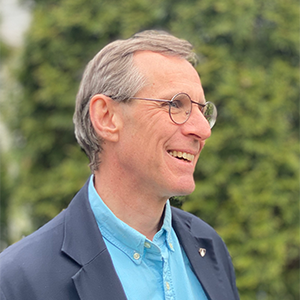 Associate Professor
Odette Hall 123
Michael O'Connor is Associate Professor, Teaching Stream, in the Christianity and Culture program and Book and Media Studies.
His research interests include music and liturgy, early modern intellectual history (especially Renaissance Rome), Christianity and the arts, and history of biblical exegesis. Recent courses have included "Ritual and Worship" and the First Year Foundations Seminar "The Sistine Chapel: History, Image, Use."
Professor O'Connor is the director of the St. Michael's Schola Cantorum and the college Singing Club. A board member of the Society for Christian Scholarship in Music and the Royal School of Music, Canada, he is also active as composer, arranger, and music editor.
He arrived at the University of St. Michael's College in 2005. He formerly served as Warden of the Royal School of Music, UK and Lecturer in Theology, Ushaw College, UK. Professor O'Connor holds degrees from Pontifical Gregorian University, Rome (STB, STL), and Oxford, Oriel College (DPhil).
Areas of Expertise

Christianity and the arts
History of Christianity
Christianity and education
Church music
Music and liturgy
Early modern intellectual history
Renaissance-era Rome
History of Biblical exegesis

Links

Selected Publications

Music, Theology, and Justice, co-edited with Hyun-Ah Kim and Christina Labriola (Lanham: Lexington, 2017).

Cajetan's Biblical Commentaries: Motive and Method (Leiden: Brill, 2017).

"The Liturgical Use of the Organ in the Sixteenth Century: the Judgments of Cajetan and the Dominican Order," Religions 5, no. 3 (2014): 751–766.

"The Singing of Jesus," in Jeremy Begbie and Steven Guthrie, eds., Resonant Witness. Conversations between Music and Theology (Grand Rapids: Eerdmans, 2011), 434–53.

Education

DPhil — Oriel College, University of Oxford, UK

Licentiate of Sacred Theology — Pontifical Gregorian University, Rome, Italy

Bachelor of Sacred Theology — Pontifical Gregorian University, Rome, Italy