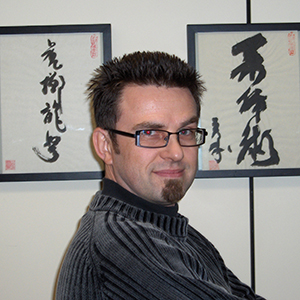 Head of Technical Services
Kelly Library 136
Working with a technical services team of two technicians and a processing assistant, Remi is responsible for managing all aspects of technical services in the Kelly Library, including acquisitions, cataloguing, and processing.
Remi also enjoys his Collection Development duties – as a selector for the Italian and Slavic collections working closely with faculty of the University of Toronto language departments located on the campus of the University of St Michael's College.
Remi graduated with a Bachelor of Arts and Science (Hon. B.A.) from the University of Toronto (double major: History & Italian Studies) in 1999; and then continued his studies as a graduate student at the Faculty of Information Studies (UofT) obtaining the degree of Master of Information Studies (MISt) in November 2002.
Research Interests

Digital Humanities
Linked Data
Cataloguing

Selected Publications

Pulwer, Remi.  Enough! Lulu, 2021.

Pulwer, Remi. "[Haiku]." Annual Selection 2010 – Judge's Comments: 'Haiku in season'. Selected by Isamu Hashimoto. The Mainichi, 2010.

Pulwer, Remi. "[Haiku]."  Haiku in English Tsunami Special. Selected by Isamu Hashimoto. The Mainichi, 2013.

Pulwer, Remi. "Poetry by Remi Pulwer [Rime, Traffic, Don't, Cannot Reach You With My Sight]." Wax: Poetry & Art (February 2016).

Pulwer, Remi. Pojde Nowym Sladem. Lulu, 2019.

Education

University of Toronto – Master of Information Studies
University of Toronto – Bachelor of Arts, Honours, in History and Italian Studies

Subject & Selection Areas

Italian Studies
Slavic Studies