On Wednesday July 19, St. Michael's alumni, friends, and supporters gathered at the prestigious 18-hole Lebovic Golf Club in Aurora for the 18th annual USMC Golf Classic. After an engaging morning on the course, attendees enjoyed an afternoon program emceed by USMC Chief Advancement Officer Kathryn Elton, which included raffle drawings for a variety of prizes. Renowned course architect Doug Carrick offered remarks on how he designed Lebovic's championship course, and current student Angelo Serrentino thanked participants on behalf of the St. Michael's student body.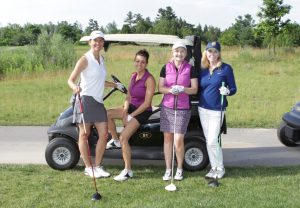 Each year the USMC Golf Classic raises funds to support research, scholarships, and student aid. This year's tournament brought in approximately $150,000 for the school, and the sum of contributions since the first tournament in 2000 now sits at over $2.5 million. Proceeds from the 2017 tournament will help fund student wellness and learning support programs at St. Michael's, and will also help the school to keep pace with the growing needs of current and future students through the renewal of facilities.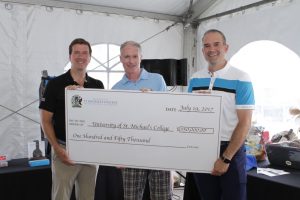 The 2017 USMC Golf Classic would not have been possible without the efforts of Golf Committee Co-Chairs Jim McGovern (Managing Director & CEO, Arrow Capital Management), Barry McInerney (President & CEO, Mackenzie Investments), and David Scandiffio (President & CEO, CIBC Asset Management). This group of distinguished St. Mike's alumni generously volunteered their time to make this year's tournament a success. The Lebovic Golf Club also did much to support the event.
Watch a video of the event here:
Sponsorship opportunities for future tournaments as well as additional photos of this year's event can be accessed here. The St. Michael's Office of University Advancement wishes to thank all the sponsors whose generosity has made the Golf Classic a perennial success, and looks forward to seeing everyone back out on the links in 2018.