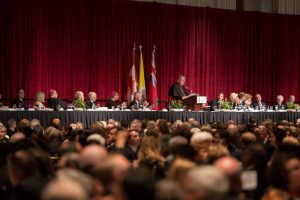 Tables draped in white filled the enormous lower level hall of the Metro Toronto Convention Centre on Thursday, October 26, for the 38th Annual Cardinal's Dinner. Chaired this year by St. Michael's President David Mulroney, the dinner is intended to bring together leaders in religious, political, and business communities across the city, who join with members of the hundred-plus parishes that make up the Archdiocese. Proceeds from ticket sales have raised millions of dollars for local charities since Cardinal Carter began the tradition almost four decades ago.
The evening's formal program began at 7:00 p.m. after the entry of the head table to the main hall. Figures such as Kathleen Wynne, Premier of Ontario, Andrew Scheer, leader of the Conservative Party of Canada, and USMC alumni Bonnie Crombie, Mayor of Mississauga, and Victor Dodig, President and CEO of CIBC, were joined by Archbishop Luigi Bonazzi, Apostolic Nuncio to Canada, Cardinal Thomas Collins, USMC President David Mulroney and Dr. Moira McQueen, Director of the Canadian Catholic Bioethics Institute, at the head table.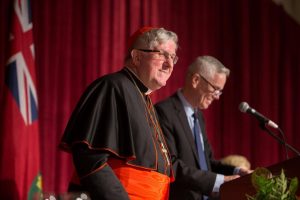 Discussing the pastoral plan for the archdiocese during his keynote address, Cardinal Collins made mention of the contributions of the University of St. Michael's College to the welfare of the city. "In the last two years extraordinary developments have been occurring at St. Michael's," the Cardinal said. His Eminence highlighted the work of USMC Principal Randy Boyagoda in debuting the Gilson Seminar in Faith and Ideas while also hiring six new Assistant Professors to support the school's sponsored programs. He also praised the recent arrival of the Sheptytsky Institute of Eastern Christian Studies, "a glorious enrichment of the theological, cultural, intellectual and spiritual life of our whole community."
As some 1700 guests listened, the cardinal suggested that St. Michael's is an exemplary case of the potential for Catholic educational institutions to "prepare the young for their service to society." A cross-generational and inclusive perspective on stewardship brought this theme to its conclusion. "A profound disposition of the heart and mind which transforms everything we do," stewardship is essential to the welfare of a city as diverse as Toronto, where teachers and professors can inculcate civic virtues in the lives of students from numerous backgrounds and communities.
"Each of us has been entrusted with many gifts, and… all will benefit if we fruitfully develop them," the cardinal said. In a hall full of business leaders, educators, and representatives of numerous political and religious communities, these final remarks centered on the theme of the common good, and the evening's formal program ended with applause.