Toronto lawyer and St. Michael's alumna Rosanne Rocchi has been elected Chair of Collegium, the principal of the two bodies that govern the affairs of the University of St. Michael's College.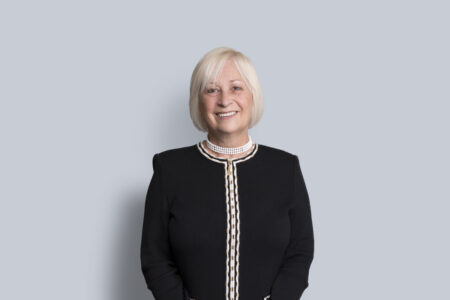 Rocchi (SMC 7T3), counsel with Miller Thomson LLP in Toronto, holds an LL.B and LL.M in taxation from Toronto's Osgoode Hall Law School. The first lay woman to serve as Collegium Chair, she has experience in corporate governance, including serving on the Board of Governors of Regis College from 2005-2011, as a director of an investment management arm of a chartered bank from 1999-2001 and serving as Alternate Governor, Toronto Maple Leafs Hockey Club, National Hockey League, 1989-1991.  
"I look forward to assisting President (David) Sylvester in his mission to make the University a vibrant centre of higher education in the Catholic tradition," Rocchi says.
Elected to a two-year term, Rocchi chairs a board of 20 members which includes representatives from various constituencies, including alumni, the Basilian Fathers, the Sisters of St. Joseph and the Loretto Sisters, students faculty, staff, and the Archdiocese of Toronto.
"Since joining Collegium as an alumni member in 2019, Rosanne has offered keen, insightful guidance, including as a member of our Governance Review Committee," says University President David Sylvester. "Rosanne will offer strong, capable leadership to the University as we continue working toward the goals of St. Mike's 180, our strategic plan."
Sylvester also thanked outgoing Chair Paul Harris, for his years of service to St. Michael's as a Collegium member, including his years as Chair.
"On behalf of the University, I extend our gratitude to Paul for his dedicated leadership and work on numerous committees. His commitment to St. Michael's, including during the COVID-19 pandemic, has helped us not only maintain but also strengthen our position as Canada's leading Catholic university," he says.
Under St. Michael's bicameral governance, the University's Senate, populated by faculty members, oversees academic matters, while Collegium safeguards the property and funds of the University, ensuring that it has the resources to carry out its mission while operating in accordance with the best academic practices and the University's bylaws.