For the Metropolitan Andrey Sheptytsky Institute of Eastern Christian Studies, (MASI), July saw the return of its renowned Study Days program after a four-year hiatus, as well the arrival of two top Patristics scholars to lead a week-long seminar for doctoral students that drew participants from Canada, the United States and Europe. Rounding out this summer's offerings at MASI was an intensive course in Byzantine Eucharistic Liturgies. Through these various offerings, each addressed to a unique audience, the Institute continues to address the needs of the church, the academy, and those who simply want to learn more about their faith.
Leading the Patristics seminar were MASI's two keynote speakers for their summer offerings, Fr. John Behr, PhD, who is the Regius Professor of Humanity at the University of Aberdeen, and Dr. Lewis Ayres, who is Professor of Catholic and Historical Theology at Durham University. Fr. Behr's speech was entitled Reason Persuading Necessity: Gregory of Nyssa on the Human Being, while Dr. Ayres' was entitled Justinian's Vision of Christ: Necessary for Orthodoxy Today?"
The ongoing interest in, and engagement with, the Church Fathers is a good sign for the church, says Fr. Behr, who notes that only by understanding the origins and development of church thought can we begin to understand today's challenges and respond effectively.
Dr. Ayres agrees, noting that beyond the subject-specific insights into church history and thought gained through reading great minds of the early church, there is also a broader appeal across the humanities, and that comes from delving into how arguments are developed and presenting. Exposure to great thought benefits all readers, he says.
But for students, one of the greatest benefits of attending the Patristics Seminar was the opportunity to watch two long-time colleagues engage in a discussion, often – but not always – agreeing, and modeling for the doctoral students respectful, productive academic discourse. 
"Prof. Fr.  Behr and Prof. Ayres certainly modelled rigorous conversation. What touched me most is that this conversation clearly flowed, for each instructor, from years of dedicated scholarship pursued in faith," says seminar participant Emily Barnum, a doctoral student from the University of Chicago, where she is studying New Testament and Early Christian Literature. "Nothing animates our study of these great texts more than approaching them from within a life of prayer. It was a great gift to study together during the day and pray together in the evening."
The decision to offer a seminar led by two academics is one of the ways MASI serves the community, Fr. Behr and Dr. Ayres agree.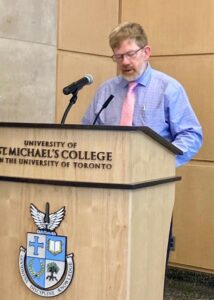 "Thirty years ago, when I was starting out, Toronto was one of the great places to study theology," says Dr. Ayres, noting the city remains a strong draw for theological studies. Having two academics teaching together presented a unique chance to view issues in a variety of ways.
Fr. Behr also offered praise for MASI for inviting both academics to lead the workshop, noting that it gave participants a chance to see how questions – and answers – are formulated. Overall, he adds, the week gave students both firm information in a key subject area as well as the opportunity to ponder academic approaches to the classroom, a vital consideration for those who will become professors.
MASI was born out of an intensive summer program from its early days at Chicago Theological Union, when founder Fr. Andriy Chirovsky began a program of study at California's Mt. Tabor Monastery.
Co-sponsored by St. Augustine Seminary, MASI's Study Days program provides "an immersive experience in Eastern Christianity, both in its rhythm of prayer and in patterns of thought," says the Institute's Fr. Andrew Summerson, PhD, who helped organize this year's classes. "Through Study Days, we bring the best of our tradition to the wider church. After a four-year hiatus, re-starting study days returns us to our original charism and is a good sign that post-COVID we are beginning to operate at full capacity in our service to the church and to the academy." 
The Metropolitan Andrey Sheptytsky Institute of Eastern Christian Studies is a centre of higher learning, research, ecumenical understanding, and prayer. It operates as an autonomous academic unit in the Faculty of Theology at the University of St. Michael's College (USMC) in the University of Toronto. Based in Windle House at the heart of the USMC campus, the Institute specializes in the theology, spirituality, liturgy, history, and ecclesial polity of the Eastern Christian Churches, both Orthodox and Catholic.
The summer offerings at MASI were conducted in partnership with Pontifical Institute of Mediaeval Studies, the Centre for Medieval Studies, the Orthodox School of Theology at Trinity College, and the Lumen Christi Institute at the University of Chicago.