Toronto Archbishop Francis Leo, an accomplished academic who has served in a variety of roles within the Roman Catholic Church in Canada, the United States and Australia, has been named Chancellor of the University of St. Michael's College.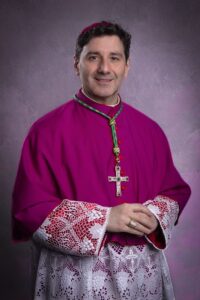 "We are delighted to welcome Archbishop Leo as our new Chancellor and we look forward to his presence in our community," University President David Sylvester says. "We also extend our gratitude to Cardinal Thomas Collins for his many years of service in the role."
As stated in the University of St. Michael's College Act (2005), the Chancellor, who is also a member of St. Michael's Senate, presides at University convocations and confers degrees. Archbishop Leo becomes the sixth person to serve as Chancellor of the University. His appointment was made by the University's Collegium, St. Michael's governing board of directors. Prior to being named Archbishop of Toronto in February of this year, Archbishop Leo served as Auxiliary Bishop of Montreal. A respected academic who speaks English, French, Italian, and Spanish, Archbishop Leo has taught philosophy and theology and served as a Judge for the Canadian Appeal Tribunal. He is President and founding member of the Canadian Mariological Society. He is a Knight of the Holy Sepulchre of Jerusalem as well as a member of the Priestly Fraternity of St. Dominic (Third Order Dominican).
Archbishop Leo will be installed as Chancellor immediately prior to the Baccalaureate Mass on June 12.