This article written by Michael Salvatori, Director of Continuing Education appeared in the Catholic Principals' Council of Ontario magazine, Principal Connections.
---
As a language teacher and learner, I have always found proverbs to be rich tools for reflection and valuable springboards for discussion.
The French proverb, Nul ne sait ce que l'avenir nous réserve (no one knows what the future holds), continues to ring true and to aptly describe the relative unpredictability of the future.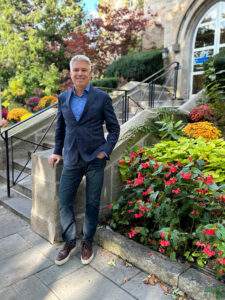 Following 20 years working in professional regulation including 10 years as Registrar and CEO of the Ontario College of Teachers, I look forward to a future of possibilities as I embark on a new venture as Director of Continuing Education at the University of St. Michael's College in the University of Toronto. Returning to St. Michael's where I studied as an undergraduate student in the past represents for me an intentional step toward the future.  
As I undertake this new role and the opportunity to expand the Continuing Education Division, I reflect about our future as a global community and the power of education to shape that future.
Is the future, in fact, so uncertain?
I believe that a degree of certainty of the future resides in our capacity to positively influence it through socially responsible, ethical, and thoughtful decisions and actions in the present which take into consideration the environment and our well-being.
As educators and school leaders, I believe that you are uniquely positioned to advance positive social change through education and transformative leadership in your learning communities. One of the Ontario College of Teachers Standards of Practice for the Teaching Profession, Leadership in Learning Communities, promotes the creation of collaborative, safe and supportive learning communities.
Within these learning communities there is an opportunity to help students develop critical thinking and problem-solving skills which they can apply in their own lives, and which will position them to consider and influence the greater community. Together with parents and the broader community, as educators and leaders, you help students examine issues in our world such as risks to the environment, the exclusion of members of our communities and the peaceful resolution of conflict.
The creation of safe and brave spaces for reflection on these issues builds an important foundation for the development of social responsibility and sustainable practices among our students. This reflection also supports our endeavours to bring meaning to our life and work and to connect with personal values such as fairness, inclusion and justice.
However, the responsibility for education is not yours alone. As educational leaders you also play a vital role in investing in your communities to create opportunities for collaboration and shared responsibility. Investing in communities and the potential for collective impact requires strategies and skills that complement those employed for traditional school and district community engagement initiatives such as school councils and parent involvement committees.
What does investment in the community look like when there is a focus on social responsibility, sustainability and addressing past and current practices that impede our efforts to establish and maintain a flourishing world within which the planet is cared for, human rights are protected, and inclusion is promoted?
What kind of investment in the community is needed to develop and sustain practices that have a positive social purpose?
One of the ways to seek answers to these key questions and to develop strategies to strengthen communities is through education. The Graduate Diploma in Social Responsibility and Sustainability offered by the University of St. Michael's College, designed for working professionals, adopts an interdisciplinary approach to sustainability by incorporating perspectives from business, law, ethics, social sciences, and environmental studies.
The program enables participants to undertake hands-on, real-world projects that create or co-create adaptive solutions to complex social and environmental challenges. Opportunities to connect one's own values and to think critically about one's worldview are embedded within the program to help participants understand the value of bringing their "whole self" to work and understanding and using their agency to effect change.
I invite you to consider the program as part of your ongoing commitment to building and maintaining learning communities focused on social responsibility and change. Information on the program and applications for the 2024 cohort can be found on the St. Michael's website: Academics-Continuing Education. https://www.csr-stmikes.ca/
The best way to predict the future is to create it. This quotation has been attributed to several thought leaders and it describes very well the great opportunities ahead for Continuing Education at St. Michael's. I would humbly suggest a slight modification to this meaningful call to action: The best way to predict the future is to co-create it.
What are the contemporary and diverse learning opportunities, formats and topics that will serve our students, alumni and the Catholic education community well? I am interested in your feedback and ideas and in co-creating with you the future of Continuing Education at St. Michael's. I invite you to help us to build the learning systems we need to create a flourishing world at a time of great environmental and social change.
Please let me know (michael.salvatori@utoronto.ca) how St. Michael's can support you in your important and complex work helping young people find their place in our world now and in the future… and stay tuned for updates from us!