Dr. Irene Morra cites St. Mike's academic heritage, its intellectual goals, and its emphasis on community as among the reasons she has agreed to serve as the University's next Principal, the first woman to hold the position. The undergraduate division of USMC, St. Michael's College is one of seven colleges within the U of T's Faculty of Arts & Science.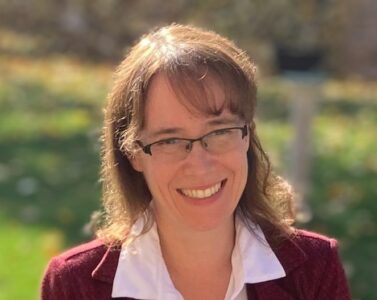 Morra, a long-time Faculty member in English Literature at Cardiff University, is currently a Visiting Professor of English Literature at the University of Toronto. Dr. Morra will assume her role as Principal and will also be appointed to the UTSC (University of Toronto Scarborough) Department of English on December 1, 2022.
"I'm drawn to St. Michael's because it epitomizes, for me, the very ideal of a university experience," says Morra, a St. Michael's alumna who graduated from the University of Toronto with a B.A. in English Literature, Musicology, and French Literature in 1997. After earning an M.A. from Queen's University's Department of English in 1998, she returned to the University of Toronto, earning her PhD from the Department of English, in the Faculty of Arts and Science, in 2002.
"Academically, (St. Michael's is) characterized by an exciting heritage and ever-developing culture of intellectual ambition and persistent, interdisciplinary enquiry," she observes. "This emphasis is inextricable from the commitment of St Michael's to creating an environment that helps to develop, foster, and support the overall well-being of every individual within its community and beyond: as the very motto over Brennan Hall reminds us — mousike, gymastike, and eusebeia."
Morra's academic and teaching interests are extensive and interdisciplinary. Much of her scholarship encourages new ways of thinking about the ways in which the arts (particularly literature, drama, music, film, and television) engage culturally and aesthetically with each other. It also explores and critiques the wide-ranging artistic, social, and political implications of cultural nationalism, with a particular emphasis on Britain from the nineteenth century to the present day. These various interests have resulted in the publication of four books and a number of scholarly articles on subjects as diverse as Greek and modern drama; intertextuality in the Victorian novel; opera and modernism; British popular music; and the legacy of Shakespeare in contemporary drama, film, and political rhetoric.
Her current book project is Through a Fog Darkly: Britain Noir, a history and analysis of a distinct British noir aesthetic in literature, drama, film, and the visual arts between the 1920s and late 1950s. She is also working on Britain, Canada, and the Arts: Cultural Exchange as Postwar Renewal, a collaborative study of the origins, strength, and legacy of a hitherto overlooked moment of inter-cultural and cross-national exchange.
Morra's teaching and administrative experience is equally broad. She has taught across every year of undergraduate and graduate study and designed over thirty courses on subjects including Shakespeare's Comedies, Modern Drama, Twentieth-Century American Literature, Reading and Writing Homosexuality in Postwar Britain, and The Film Musical. As Director of Studies for English Literature at Cardiff University, she oversaw the implementation of new degree programs and undertook full oversight and planning of yearly curriculum offerings. She implemented new structures for students and faculty to come together to discuss course design, student well-being, and the management of student physical and mental health across University structures. Beyond Cardiff University, she has organized major collaborative and interdisciplinary events in London (England) that have brought together academics, creative artists, and major cultural institutions from Britain and North America.
"I find it exciting to be coming to work at a University that is centred on an ideal of community shaped by the diverse gifts and experiences of its individuals and a collective sense of larger social responsibility," she says. "I don't see my career goals at St. Mike's in terms of personal ambition, therefore, but as working to serve this ideal in the midst of ever-changing challenges and opportunities."
University President David Sylvester cites Morra as an ideal candidate for the Odette Hall office, to lead the College, and work with Dean Melanie Woodin and other colleagues in the Faculty of Arts & Science to provide students with transformational educational opportunities.
"Dr. Morra's academic interests, her administrative talents, and her appreciation for the unique nature of St. Michael's will serve the University well," Sylvester says. "As a leader she brings to the role the experience, the insights, and the imagination to further enhance St. Michael's standing as Canada's leading Catholic University."
Dr. Sylvester also offers thanks to Dr. Nicholas Terpstra for serving as the Interim Principal for the past several months, noting that his presence ensured a smooth and seamless period while the search for the new Principal was conducted.
About the University of St. Michael's College
The University of St. Michael's College is a Catholic institution of higher learning that is federated with the University of Toronto, one of the world's leading research universities. St. Michael's College is the undergraduate division of the USMC, and one of seven colleges within the U of T's Faculty of Arts and Science.