Dr. Michael Salvatori, a career educator and author with extensive experience in university administration and teaching as well as at the secondary and primary school levels, has been named the new Director of Continuing Education at the University of St. Michael's College.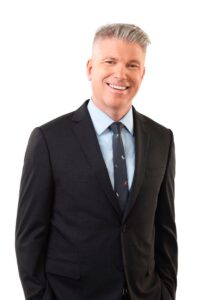 "As an alumnus of St. Michael's College (SMC 8T9) I am delighted to take on this role and to have the opportunity to serve the university community that has played such an important role in my personal and professional development," Dr. Salvatori says. "As a committed life-long learner and career educator I look forward to the opportunities to enhance St. Mike's role in providing meaningful, engaging, and contemporary ongoing learning opportunities for students, alumni, and the greater community. "
As Director, Dr. Salvatori will lead the renewal and expansion of the University's Continuing Education division. While overseeing existing programs such as the Diploma in Social Responsibility & Sustainability and the Catechesis of the Good Shepherd Certification, he will also design, deliver, and administer new non-degree courses, workshops, and other learning opportunities for a broad audience of adult learners, including Catholic teachers. His role includes responsibility for advancing the mission and strategic objectives of the University by developing new sustainable programming based on the needs of the community and grounded in market research.
"In Dr Salvatori St. Michael's has a Director of Continuing Education who has an impressive understanding of pedagogy and program management, extensive practical experience in the classroom, and a passion for St. Mike's. These skills and talents will serve him well as he re-envisions our Continuing Education division, offering our alumni and other members of our community exciting learning opportunities," says University President David Sylvester.
For more than a decade, Dr. Salvatori served as CEO and Registrar of the Ontario College of Teachers. He has served as President of the board of directors for the Council on Licensure, Enforcement and Regulation (CLEAR) and French for the Future and is a lifetime member of the Canadian Association of Second Language Teachers and the Ontario Modern Languages Teachers' Association. He is currently a faculty member of CLEAR's Executive Program for Regulators and a member of Western University's Alumni Association Board of Directors. Dr. Salvatori comes to St. Michael's from Niagara University Ontario where he has served most recently as Vice-President. An Associate Professor in the NU College of Education, he has been teaching a foundations course on legal principles in education in Ontario and an elective course on contemporary issues in education in the Bachelor of Professional Studies program which leads to teacher certification in Ontario.
Dr. Salvatori earned a PhD in Curriculum, Teaching and Learning from the Ontario Institute for Studies in Education at the University of Toronto. He also holds MEd and BEd degrees from the University of Western Ontario and a BA from the University of Toronto. Long a champion of second language education, he is fluent in French, Italian, English, and German and is author and co-author of numerous textbooks and teacher resources. He assumes his new role on October 2, 2023.