By Catherine Mulroney
It is fitting that the Faculty of Theology's Commissioning Mass takes place during the Easter season, a time when we focus on the new life — and new direction — offered us through the Resurrection. At this annual Mass, which takes place after the winter semester has wrapped up, students, faculty, alumni and staff gather to pray for those who will be graduating and heading out into the world to apply the knowledge and skills learned during their studies, whether in parish ministry, the classroom, a religious community, or any of the countless places you'll find our graduates.
This year's Commissioning Mass was particularly special as Faculty alumnus Bishop Robert Kasun, CSB, joined us as our celebrant and homilist. In his homily, Bishop Kasun spoke of both the privilege and responsibility inherent in receiving a theological education. He then led the assembled in the prayer over those being commissioned: "Ever-loving God, through Christ you sent the Holy Spirit among us, your disciples, who are commissioned to bear witness to your presence in the world. We pray especially in this Commissioning Mass for all graduates of the University of St. Michael's College. May all their future endeavours redound to your glory and be brought to fruitful completion, in your name, Father, Son and Holy Spirit."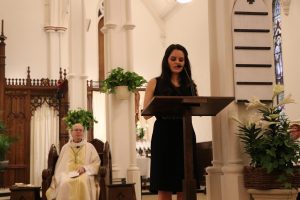 In keeping with Faculty tradition, both a basic degree and an advanced degree student then offered a reflection, and each student touched on the notions of privilege and responsibility mentioned by the Bishop.
Carla Marcoccia, who will graduate this November with a Master of Divinity degree, spoke of the transformation she witnessed in herself while studying at the Faculty.
"Had it not been for the years of instruction in the M.Div. program, I would not have been able to effectively serve the youth that I minister to," Carla told the assembled. "Being a scholar in theology is a calling from God; it is a vocation that requires self-surrender to God's will and the willingness to serve where God needs you to do His work… St. Michael's has challenged me intellectually through scholarship grounded in the Catholic tradition, while also inspiring and guiding me in my formation as a minister… I feel equipped to serve yet I leave yearning to deepen my knowledge about theology and Christ."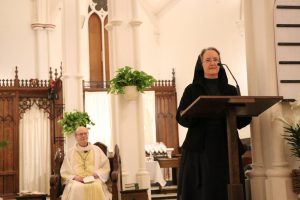 Carla was followed by Sr. Mary Angela Alexander, RSM, who offered fulsome thanks to the faculty, library, staff and her student colleagues for the experience she has had while working on her M.A..
"One of the gifts of studying here has been the opportunity to read more, and hear more, of the theology of other Christian traditions, and study with students from a wide variety of backgrounds," Sr. Mary Angela explained. "The open atmosphere of the classroom has given me a very positive experience in ecumenical cooperation, for which I am grateful. It is making me a better listener, a better person, a better Christian. There are a thousand, thousand ways to the heart of Jesus; and the Father is calling us by a thousand, thousand ways. Wherever I go from here, I take with me the clear example of teamwork at St. Michael's: you know your goal, then divide the work among those who can think with imagination and compassion about how to get it done. In this way, the practical, intellectual and spiritual needs of the students can be met, and their growth encouraged. "
Mass was followed by a brief reception, during which alumni caught up with faculty, while soon-to-be-graduates introduced family and friends to each other. There was, as always, a bittersweet feel to the event, with all assembled aware that this was one last opportunity for al to gather around the Eucharistic table before jobs are started and holidays begin and life changes yet again.
The day's Collect was an apt reminder of why we were gathered, beseeching God to "dispose our minds… that what we celebrate by professing the faith we may express in deeds."
Carla elaborated on lived faith in her reflection, touching on the day's Gospel of the miraculous catch of fish.
"As we set sea today, I pray we remember to listen to God's instruction in our lives, that we obey where we are being led and know it in our hearts that whatever we face at sea — weather a storm, raging seas, calm waters or sunny days — when our boats return to shore Jesus is there waiting for us, with a fire and food, ready to sustain us until we return back to our boats and set sail to do God's work in the world again," she said.
We look forward to seeing the class of 2017 at the November 11 graduation and hearing their stories of where their journeys have taken them.