To illustrate how St. Michael's One programs can have an impact on students' lives, Ren Manolo cites the story of the skeleton with the lapis lazuli in her teeth.
Manolo describes herself as a very shy highschooler from a small suburb who was motived by a desire to make friends when she applied to the inaugural cohort of the Boyle Seminar on Scripts and Stories in 2018.
Manolo felt that the small size of the program class – about 20 students- would help her to make connections with classmates. And as someone majoring in genome biology, she felt attending the Boyle Seminar would help broaden her horizons.
This month, students from that first cohort, along with those in the initial cohort of the sister program, the McLuhan Seminar in Creativity and Technology, will graduate, enriched, they say, by all the special seminar classes offer.
"I was able to see the ways in which research in science and the arts both diverge and overlap and how they can learn from each other," Manolo says, and notes that the seminar's trip to Ireland, during which they were able to view mediaeval manuscripts, including the Book of Kells, was a learning experience she'll never forget.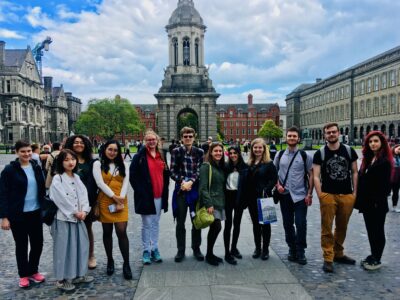 And when Dr. Alison Moore made reference in a lecture to the mediaeval skeleton with the lapis lazuli in her teeth and what it could mean – was the deceased an artist privileged enough to trusted with work extremely valuable materials, for example? — the story fascinated Manolo, who saw the possibilities of tying modern science with the history of centuries earlier. Manolo will soon begin graduate work at McMaster University in Hamilton, studying Black Death infections in mediaeval England, a marriage of her science education with her passion for mediaeval studies.
Cohort classmate Raechelle Farray agrees. As someone majoring in geography, Farray viewed the annual Boyle Seminar trip to Ireland as a way to learn about a place she'd never been.
"Going to Ireland allowed me to read off a page and then move on with what this can offer. It's one thing to look at a map but it's another to be in that place and learn from it," she says.
The interactive assignments that are one of the hallmarks of the One Seminars, for example creating a quill pen, gave her a real sense of history and the experience of people long before her time. And, she says, "It was fun!"
And fun is a not insignificant aspect of life in the One seminars, whether it's mediaeval movie night, or book clubs or impromptu get-togethers driven by the ability to get to know your classmates.
McLuhan Seminar graduate Simran Dhir speaks with enthusiasm about her program. As a biology student taking courses across the University of Toronto campus, she wanted to branch out academically and the McLuhan seminar seemed appealing, especially as it would introduce her to a small group of fellow St. Michael's students.
One class in, she was hooked.
"(Dr.) Paolo Granata's classes really challenged my understanding of how we learn," she says, adding that the mix of students in the class, including commerce, history, science and philosophy students, really enriched conversations.
One of the aspects of the class Dhir particularly appreciated was the range of assignments. During one class, students were sent out to find a favourite place in Toronto and then explain why it mattered. Then there was the project that asked students to create a game and perform a card trick related to the game, an entirely new experience for many.
"We were never placed in a box and our ideas were always listened to," she says.
One of the highlights of the class was a trip to various high-tech sites and start-ups in the San Francisco area, including a stop at LinkedIn, where two young employees spoke at length about developing the freedom to learn, including how to learn about what career paths are a good fit.
St. Michael's One Seminars began with the Gilson Seminar In Faith and Ideas, which includes a trip to Rome. The success of that program led to the introduction of the Boyle and McLuhan seminars in 2018.
As Dhir says of her program, "this really changed my outlook on life, opening up my mid to reach out. I am so grateful this was my first connection to my college."
Congratulations, Boyle and McLuhan students!