In this story from the Spring 2021 President's Report, Registrar and Director of Student Services Giancarlo Mazzanti discusses the range of supports and services that students receive at St. Michael's.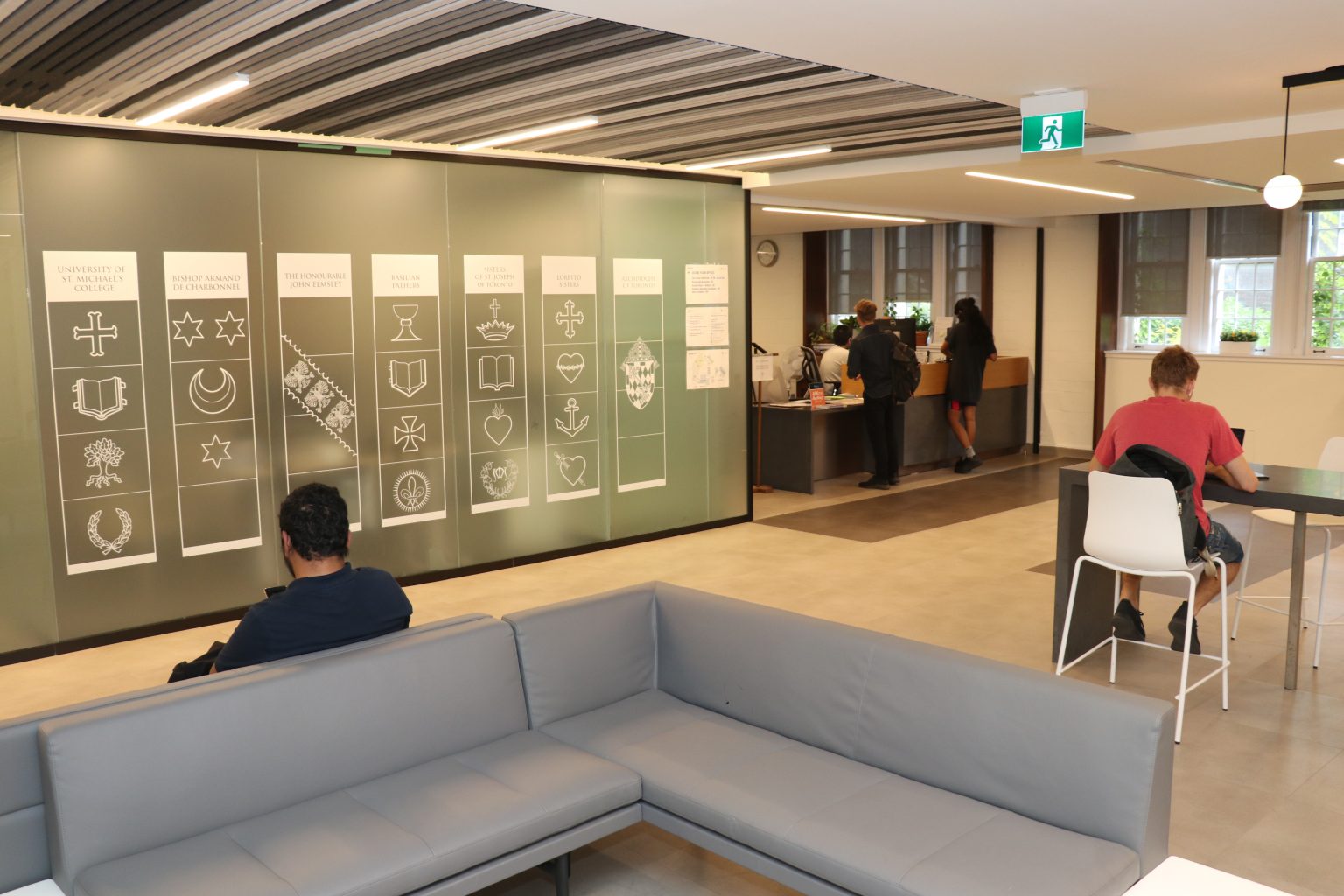 Giancarlo Mazzanti was sitting in a town square in Germany when he was tapped on the shoulder by a passerby. The man had seen Mazzanti's St. Mike's jacket and, as a fellow alumnus, wanted to make the connection. The anecdote, Mazzanti says, reflects the significance of profile the University of St. Michael's College has not only locally but also worldwide.
"We have a great reputation around the world," he says, noting it's not unusual for him to hear from potential students in Switzerland, Hong Kong and New Jersey all in the same week. "We have a wonderful history, but we are also creating history, both with stellar students and with members of our alumni who are leaders in the public eye, whether in politics, health care, education, business or any of the endless places St. Michael's alumni find themselves."
Mazzanti, the university's Registrar and Director of Student Services, says there are many reasons why St. Mike's is such a draw for students, from its reputation as Canada's top Catholic university to its convenient location in the centre of Toronto and its status as a federated college within the University of Toronto, which is consistently ranked among the top schools in the world.
Students are drawn by a reputation for strong academics, including the SMC One programs for first-year students, which promise unique course offerings and, in healthy times, international travel. Another draw is the recent increase in the number of full-time faculty members, all with exceptional profiles.
"These are the type of professors who appeal to high-flying students," he says. "We are part of current conversations and our courses speak to that."
The John M. Kelly Library, one of the U of T's largest, offers plenty of study space and a ground-floor café. Students like to know they are just steps from the library, he says.
But Mazzanti thinks another crucial reason students are drawn to study and live at St. Mike's is a reputation for a caring, welcoming environment that helps them achieve their best academically and socially. The result is that students graduate having developed skills that serve them—and their neighbours—throughout their lives.
"The richness of our community offers a diversity of debate, a chance to learn about other people's lives and experiences, whether you're sitting in the dorm common room or stretched out on the grass in the quad. This kind of knowledge is essential to our students' futures."
Students are also able to access a strong range of supports at St. Mike's.
"Consider our First Year Check-in Program, which pairs incoming students with professors. Students have the opportunity to reach out to the professor assigned them for an informal chat or two," he says. "It's not specifically about academics, but it's a great way for students to get used to speaking with professors, and for them to know they have someone they can go to if they are finding it hard to navigate university."
But the first-year program is just one of many supports the school offers students. As demonstrated so well during the pandemic, when they quickly adjusted to the new normal of connecting with students all over the world, St. Mike's academic advisors are dedicated to helping students with course and program selection and scheduling.
And there is plenty of help for students who are finding the adjustment to university expectations challenging. St. Mike's provides access to academic learning strategists and wellness counsellors, who can all help students discover their own most successful ways of learning, how to adapt to university expectations, and how to get the most out of their academic life.
Similarly, the writing centre offers one-on-one appointments for students looking for guidance on all aspects of the writing process, from researching and outlining to drafting and editing. There are also supports in place for math and computer science students.
And while not all students applying to—or attending—St. Mike's are Catholic, Mazzanti says there is a deep appreciation for the school's roots, and an awareness among those of other religions that St. Mike's is a school that understands the importance of faith and respects those who practise, regardless of background.
"We invite conversations with people of all faiths. We are a microcosm of the world as it could be," says Mazzanti. "That's who we are, and it is a privilege to be of service to others."
---
From University of St. Michael's College President's Report, Spring 2021