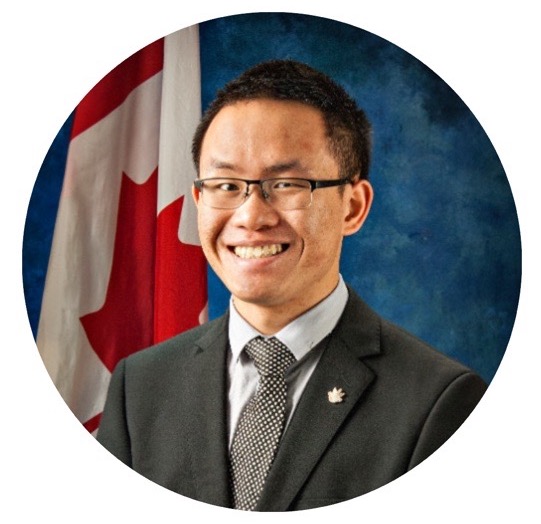 "The University of St. Michael's College Faculty of Theology serves the Church by educating and forming its sons and daughters, and I am proud to call myself an alumnus of this Faculty," says Hugo Tang, who will be granted a Master of Theological Studies degree on Saturday, November 14.
Tang says he wondered whether he was making the right choice when he decided to enrol, wondering whether the Faculty might be "too liberal" and fearing "that I was not capable of such mature and high-level discussion, given my relative youth and inexperience.
"I noticed, however, a spirit of fraternity combined with academic rigour which attracted me to apply to the Faculty," he says, and that feeling was supported by the recommendations of several members of his parish who had graduated from St. Mike's.
When he started classes he was encouraged by the academic rigour, combined with a sense of community and a small yet diverse student body.
"The diversity of the student body produced some interesting and fruitful "theologizing" in class and beyond," he recalls. Whether lay or religious, fresh graduates or mature students, each brought a new and unique perspective to the table. Being a bit of a nerd for theology, and warmly welcomed by all, I soon felt at home amidst the other students and faculty."
As St. Mike's is one of the seven member colleges of the Toronto School of Theology, Tang had the chance to meet students from other colleges, including the two other Catholic schools — Regis College and St. Augustine' Seminary.
"In our classes, I witnessed that it's alright for people to disagree. People can (and should) co-exist fraternally even if they hold different opinions," he says. "We should, however, be ready and willing to challenge and support our opinions and beliefs with arguments, facts, and references to source documents. I think as a society today, we have too often lost the ability to agree to disagree, that we put up walls around us. Rather than fulfilling us, these walls suffocate us and darken our world."
Reflecting on his time at the Faculty of Theology, he says, humbly, of his Master of Theological Studies degree, "The degree is a bit of a misnomer: I am not a 'master' at theology. I have not and will never master theology, for theology is the study of God, God who is omnipotent, omniscient, and omnipresent. I truly believe that everyone is a theologian, because each one of us, whether intentionally or not, is seeking God in his or her own way, through the pursuit of all that is good, true, and beautiful."
Hugo says his studies have given him the framework and vocabulary to allow him to continue to grow. He says among the skills he has gained are an enhanced ability to argue a point, the ability to express himself and speak for an extended period of time, and writing lengthy papers.
"Everyone should study theology— maybe not a full master's degree, but at least a few courses. Catholics, myself included, are largely under-catechized. I did not realize this until I began this degree. Given that our faith is more and more countercultural, we need well-formed disciples to live and preach the Gospel in the world. We need to do more than simply memorize the faith but make it our own through reason."
Visit the Faculty of Theology's Fall Convocation 2020 page to learn more about this year's graduates and to celebrate their unique achievement.