Sunlight fell through a canopy of branches on the tables and chairs arranged outside Brennan Hall for a barbecue event for international students on Wednesday August 30. With temperatures hovering at a cool 22 °C, around 30 new students from abroad chatted with older student mentors about their future lives at St. Mike's over a picnic spread of pasta and potato salad, beef or veggie burgers, hot dogs, and desserts.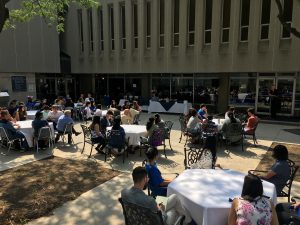 The barbecue marked the midpoint of Step Up, a weeklong U of T program intended to help international students acclimate to life at the university. Students gathered for lunch at their home colleges, and at St. Mike's, they had an opportunity to meet President David Mulroney, Principal Randy Boyagoda, Registrar and Director of Student Services Giancarlo Mazzanti, and Dean of Students Duane Rendle during their meal.
Foustina, a fourth-year mentor, described the first-year experience as difficult for some students, given the size of the university and diversity of the available programs. She said having a mentor "would have helped me a lot" to know what opportunities and programs are available, and how to find community at the school more quickly.
New first-year student Sasha sat at Foustina's table for the afternoon program. Sasha grew up in Beijing and intends to pursue Statistics at U of T. As the luncheon kicked off, President Mulroney stood to welcome the students and offer remarks on the importance of their presence at St. Mike's. He related the international student experience to his own career in the Foreign Service. "Feel free to come and talk to me," he invited the audience. He would later stop by Sasha's table and speak with her in Mandarin.
Principal Randy Boyagoda spoke next about his father's experience 50 years ago as a new student from Sri Lanka at the University of Toronto, where he grappled with the confusions of life in a new country by himself. Principal Boyagoda drew an important contrast for his audience: "You are not alone; look around you." He emphasized the importance of "seeking the continuities" between one's home community and school community while making the most of the university experience.
Standing next to the Coop, where current students were working to prepare materials for Orientation Week, Registrar Mazzanti gave students a positive vision for the continuity Principal Boyagoda encouraged them to seek out. Many students come to St. Mike's for its history and reputation, Mazzanti said, but it's important to realize that by becoming St. Mike's students, "you will be this history." Dean Rendle brought the event to a close with an overview of student life at St. Mike's, the "part of university education that takes place outside of the classroom" and which seems to form the bulk of the memories of past students.
The present group finished their food and were soon off to tour the St. Michael's campus, the cool air around them perfectly anticipating the fall semester that is about to begin.