Simon Patrick Rogers is the special collections archivist at the John M. Kelly Library. He earned his Master's degree in Information Studies (archival stream) from the University of Toronto in 2008 with an additional specialization in Book History and Print Culture. He has extensive experience processing, arranging, and appraising archival materials and is also active as a faculty instructor for the Book and Media Studies program at the University of St. Michael's College. He currently serves on the University's Collegium. He has published numerous articles on diverse topics including archives, municipal history and architecture, music, literature and the field of monetary appraisal.
---
A Busy Fall for Kelly
It has been a busy fall in the Kelly Library's archives and special collections, at the end of a long, tumultuous year full of upheaval and trial. In spite of the closure of the rare book reading room to researchers, we have been active behind the scenes with some exciting new acquisitions to the collections.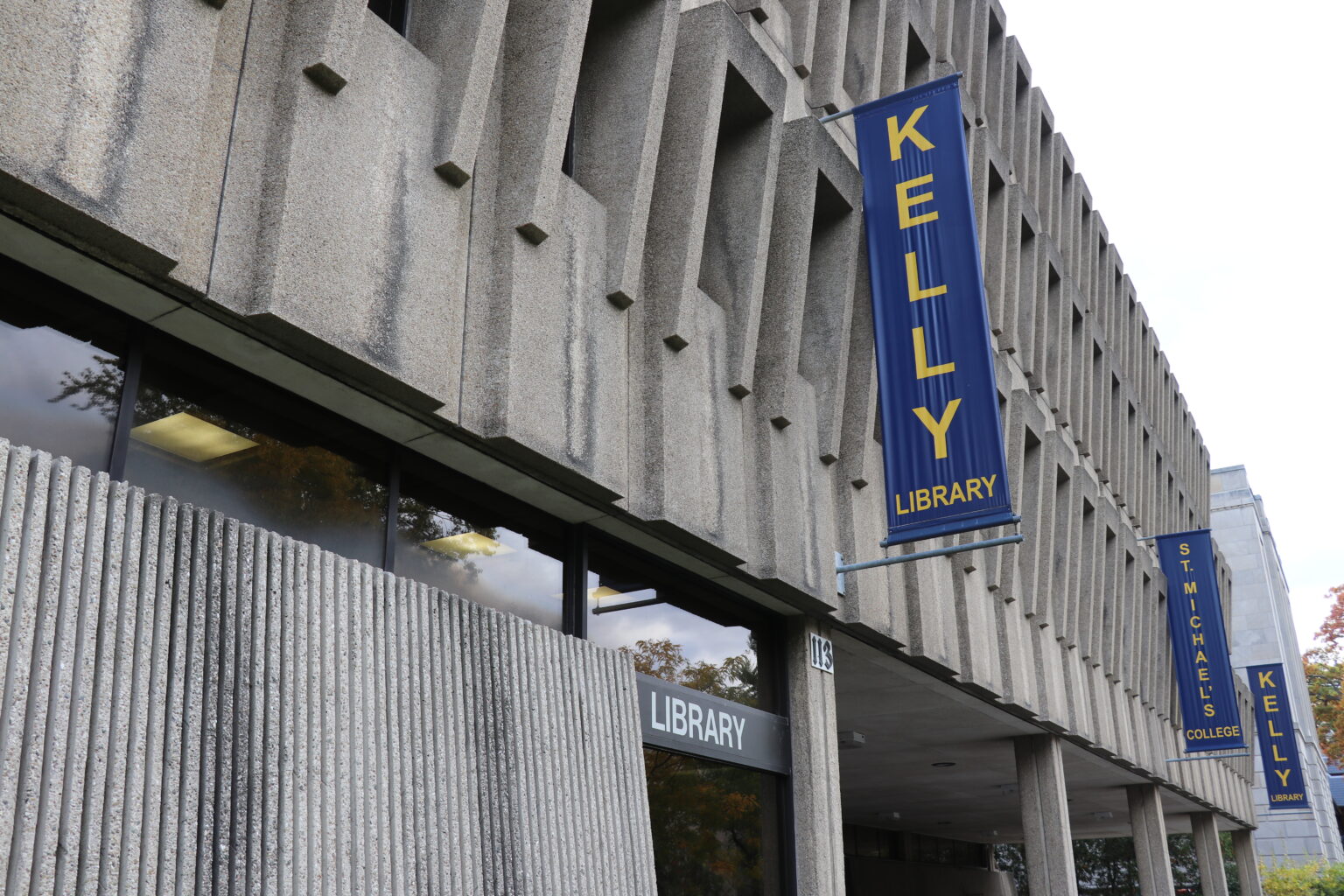 A major accomplishment for us was receiving a wonderful donation of photographs for the Henri Nouwen Collection from San Francisco-based photographer Kevin F. Dwyer, a gift which includes some of the best photographs taken of Nouwen just before his death. A formal announcement of the acquisition, complete with a look at some of the photos, will come in January, 2021.
In other Nouwen news, we have hired a new processing archivist to work on the backlog of Nouwen materials, and especially to focus on important collections of letters and materials collected posthumously in the archives. The successful candidate for this position, Teresa Wong, started on December 1st and joins us most recently from the completion of a prestigious internship at the Getty Institute in California. The position was made possible by a generous donation from Henri's brother Laurent Nouwen, and the Henri Nouwen Society. We are very excited to begin work on these important collections and to make available for the first time new collections to researchers online through the discover archives database and Collections UofT portals.
I am also delighted to announce the recent acquisition of the administrative archives of the Canadian Alternative Investment Cooperative and Foundation. This important organization in the history of social justice in Canada began in 1984 and recently finalized its dissolution. The archive will provide researchers new insights into Catholic social movements in Canada inspired by responses to Apartheid and to the Second Vatican Council of the 1960s. The co-op's mandate was to work with registered charities, non-profits, and co-ops to promote alternate economic structures leading to long-term structural change in underprivileged and marginalized communities. They managed loans and financing for a whole range of social enterprises across Canada, including many thriving and firmly established cooperative businesses still in operation. These papers will complement our other social justice collections, such as the L'Arche Canada and L'Arche Daybreak collections, and the papers of the Catholic New Times journal.
There are some further donations in the works, too, that I look forward to announcing in 2021. It has been exciting to build our collections and work with the donors to understand the histories and backgrounds of these new archives.
As we concentrate on working from home, I have been able to do some more direct research work with patrons, especially with providing access to already-digitized materials. Unfortunately, many of the archival collections are not yet digitized. Sometimes this is because of access restrictions or copyrights, but other times materials could be made more digitally available. We have been assembling the equipment to build a digital preservation studio in the Kelly and building the in-house capacity to digitize and preserve those items that can be digitized. We already have the equipment to digitize many of the most common kinds of media we find in our collections, such as photographs, textual records, legacy material on floppy disks, and other born-digital collections, as well as all kinds of audio and video formats. It is exciting to be a part of this process, especially now as we see more and more materials coming into archives that require some kind of digital preservation just to access their contents. It can be a little like detective work to even figure out the software formats of legacy media, and the process of digitization can also be a little like conservation work, as materials are cleaned or restored where damage to the original media format has taken place over time.
Personally I miss the office. A lot of my work is very dependent on having physical access to the collections and, like many of my colleagues, I am feeling the long haul of logging so many computer hours and interacting virtually through video meetings. I also miss the camaraderie of the office space and the kinds of connection that I can make through chatting and small talk with my fellow librarians over my daily pilgrimages to the coffee maker or the staff dining hall.
It has not been all bad, however. I am more mindful and appreciative of life at home and am blessed to have had this extra time with my wife and son. We did some garden projects this spring and summer and enjoyed the harvest. We went camping when we could. I bought a really nice hand-cranked coffee grinder and do a virtual exercise class in the mornings with a great trainer in Ottawa. In some ways this attention to the routines of domesticity is very much like archival work. I hope we can all maintain some appreciation for simple pleasures as we look forward to life after COVID.
---
Read other InsightOut posts.